Day Hike - Puʻuloa Petroglyphs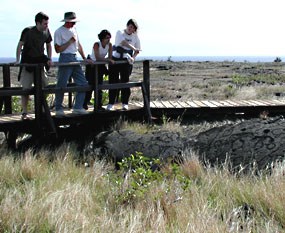 Walk in the footsteps of the kūpuna (elders) to Puʻuloa (hill of long life), a sacred and awe-inspiring gallery of kiʻi pōhaku (images carved in stone). These simple etchings document the life and culture of the Native Hawaiian people. The poho (cup-like depressions) cradle the piko (umbilical cord) of their children. It brought hopes of receiving the blessings of a long and prosperous life.

This coastal trail traverses a 500-550 year old lava field to one of the most extensive petroglyph fields in Hawaiʻi. A site that has approximately 23,000 petroglyphs, many viewable at a boardwalk constructed for this purpose.
Difficulty: Moderate
Distance and hiking time: 1.4 miles (2.25 km) round trip. Approximately 1 to 1.5 hours.
Trail begins: Puʻuloa parking area on Chain of Craters Road.
Bring: Water, food, hat, sunscreen and rain gear. Be prepared for hot, dry, wet, windy weather conditions.
Safety: Hiking on flow fields can be hazardous due to deep earth cracks, uneven and unstable terrain, and razor-sharp lava.
The petroglyphs are very fragile. Stay on the boardwalk. Walking on the lava surface will fragment the delicate petroglyphs and destroy them.
Learn more about the meaning and history of Puʻuloa.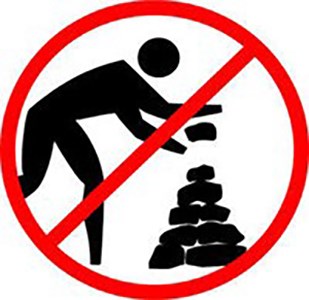 Leave rocks in their rightful place.
Park staff may use ahu (stacked rocks) to mark some trails and keep visitors safe. Please do not create new ones. The stacking of rocks can be culturally offensive, disorienting to hikers, and potentially against the law.
Last updated: September 30, 2021