Day Hike- Nāhuku (Thurston Lava Tube)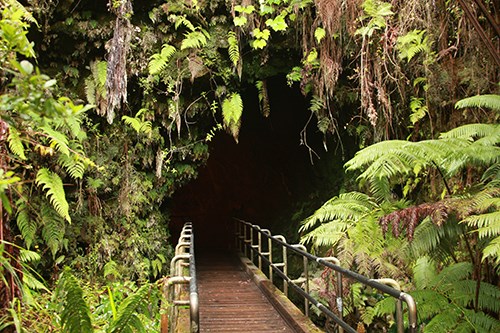 Walk through a verdant rainforest and listen for the calls of native birds before entering a 500-year old lava tube where a river of 2000 degree fahrenheit (1093° celsius) lava once flowed. Its Hawaiian name, Nāhuku, means "the protuberances," which possibly refers to the lava drippings that once hung from the ceiling. Unfortunately, those disappeared due to souvenir collectors after the tube was discovered in 1913. Entire ecosystems of creatures live in these fragile environments found throughout the Island of Hawaiʻi. Please be respectful and do not touch the walls or any hanging roots.

For a longer and more scenic adventure, explore Devastation Trail, Uēaloha (Byron Ledge), the Kīlauea Iki loop, and Nāhuku all in one hike by parking at the Devastation Trailhead or Puʻupuaʻi. Parking at the lava tube and Kīlauea Iki Overlook is extremely limited and is likely to be full during peak hours. Want to avoid the crowds? Start your lava tube adventure before 9 a.m. or after 4 p.m.
Trailheads: Nāhuku (Thurston Lava Tube) parking area and Kīlauea Iki Overlook. Parking at Nāhuku (Thurston Lava Tube) is extremely limited.
Difficulty: Moderate
Distance: 1.5 mi (2.4 km) round-trip walk from Kīlauea Iki Overlook. 6.0 mi (9.7 km) round-trip from Devastation Trailhead (including the Kīlauea Iki loop), an additional 1.0 mi (1.6 km) from Puʻupuaʻi
Bring: Water, snacks, sturdy footwear, and rain gear
Safety: Do not walk along Crater Rim Drive.
The lava tube is lit 8 a.m. to 8 p.m. Flashlights are recommended outside of those hours.
Restrooms near the lava tube are open from 9 a.m. to 5 p.m
Help protect this incredible resource by not touching the walls or delicate tree root systems hanging down. Use only your eyes to experience the lava tube.
Learn more about these amazing caves and how they are formed.
Last updated: September 30, 2021