Drive Chain of Craters Road
Chain of Craters Road is an Exceptionally Scenic and Spectacular Drive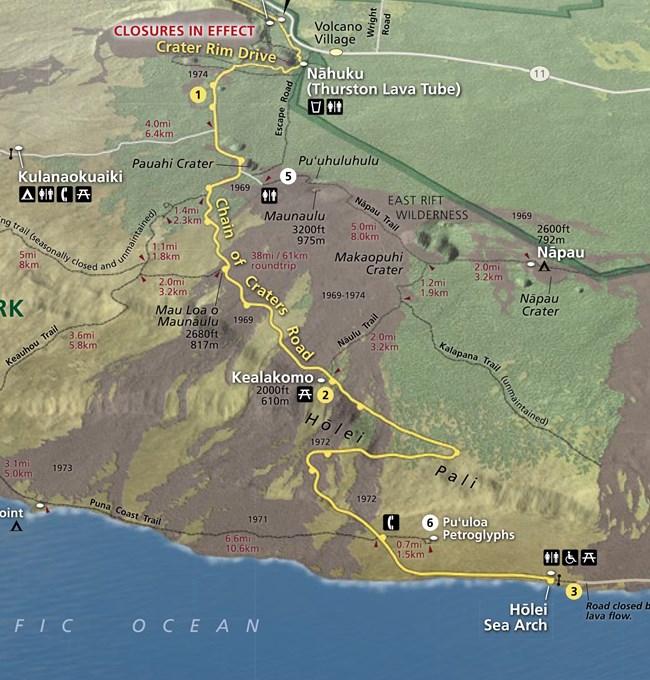 Chain of Craters Road (formerly Cockett's Trail) was dedicated on April 15, 1928. Built at a cost of $148,000, it ended at the rim of Makaopuhi Crater. Chain of Craters Road to the coast (to Kalapana) from Makaopuhi was opened in 1965, and then partly buried in 1969 at the start of the Maunaulu eruption. Post-Maunaulu eruption, Chain of Craters Road was realigned and reopened in June 1979.
The coastal region of the park was home to a number of villages; Kamoamoa, Lae 'Apuki, Kealakomo and others. Numerous trails, home sites, heiau (temple), petroglyphs and agricultural sites attest to the complex uses of this area over the centuries since first human settlement.

During the 13th Century, Hawai'i's first luakini heiau (a temple designated for human sacrifices) was built by Priest Pa'ao. Waha'ula (red mouth) Heiau was consecrated to the God Kū and remained in use till 1819 after King Kamehameha died. This and thousands of other archeological sites have been buried under lava since 1969.
During the eruption of Puʻuʻōʻō, lava flowed repeatedly over Chain of Craters Road/Highway 130. The park's acreage was been increased by hundreds of acres and nearly 9 miles (14.5 km) of road were inundated by the flows. In June 1989, Waha'ula Visitor Center and associated buildings were burnt and covered by lava. The Waha'ula Heiau was surrounded by lava more than once and finally buried entirely in August 1997. The Kamoamoa village site, heiau, campground, picnic area, and black sand beach were covered by lava in November 1992.
Presently, Chain of Craters Road is 18.8 miles (30.3 km) to the end of the road. No food, water, or fuel is available along Chain of Craters Road. Vault-type toilets are available at Maunaulu parking area and at the end of the road.
Below are stops along this tour, in order heading southwest from the Kīlauea summit. Click on stops for more information.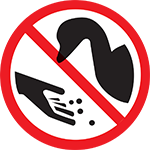 Nēnē Protection
Nēnē (the Hawaiian goose) is a federally protected species that needs your protection. Watch for nene on roads. Cars are the leading cause of adult nēnē deaths in the park. DO NOT FEED the nēnē. Nēnē that are fed by visitors learn to beg for food and approach moving cars.