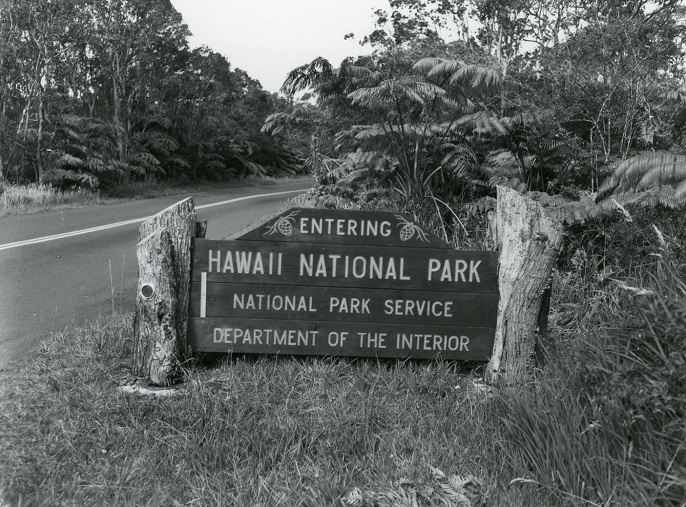 News Release Date:
December 17, 2015
Contact: Jessica Ferracane, 808-985-5018
Hawaii National Park, HI
– Hawai'i Volcanoes National Park celebrates its 100th anniversary in 2016, and everyone is invited to participate in the year-long celebration from New Year's Day through December 31, 2016. Here's a glimpse at the special centennial events below, with more being planned. Keep up with the latest and bookmark the
centennial page
on the official park website.
Mark your calendar for these upcoming centennial events: 
After Dark in the Park & Centennial Hike Series.
Starting in January, and running monthly through December 2016, Hawai'i Volcanoes National Park will offer a centennial-themed After Dark in the Park program on a Tuesday night about a fascinating facet of the park's 100-year history. The following Saturday, a ranger-guided excursion will connect visitors in person and on foot to the topic discussed. The Centennial Series events are free and co-sponsored by the Friends of Hawai'i Volcanoes National Park, but park entrance fees apply. No advance registration is required. View the entire lineup
here
! 
2016 Fee-Free Dates. The National Park Service also turns 100 in 2016 and wants everyone to celebrate! All national parks, including Hawai'i Volcanoes National Park which celebrates its own centennial anniversary in 2016, will waive entrance fees on 16 special days in 2016:
• January 18 – Martin Luther King, Jr. Day 
• April 16-24 – National Park Week (9 days) 
• August 1 – Hawai'i Volcanoes National Park bonus fee-free day to celebrate 100 years! 
• August 25-28 –  National Park Service Birthday Weekend (4 days) 
• September 24 – National Public Lands Day 
• November 11 – Veterans Day 
Social Centennial.
Virtual visitors are encouraged to take part in the Hawai'i Volcanoes National Park centennial, dubbed the "Socientennial." Every #ThrowbackThursday, starting December 31, 2015 through December 29, 2016, the park will share a photograph and description of a historic event, artifact, or piece of art on its official
Facebook
,
Instagram
and
Twitter
pages. The #ThrowbackThursday Socientennial series was researched and organized by park archivists, and includes black-and-white as well as color images that include an 1896 painting by D. Howard Hitchcock of lava within snowy Moku'āweoweo, the summit caldera of Mauna Loa; NASA astronauts doing geological research at Kīlauea Iki in 1960; the former Hawaii National Park sign before the name change to Hawai'i Volcanoes National Park, and much more. The images are not well known to the public, and reveal a fascinating glimpse of the last 100 years of park history.
NPS Quilt Show – March 2016.
Inspired by the centennial of the National Park Service, Nebraska artists selected 13 national parks, including Hawai'i Volcanoes National Park, as inspiration for a traveling collection of quilts. The park will publicly display the quilts in March. The quilts were created by Fiber Works, a group of textile artists from the Lincoln-Omaha area. Dorothy Heidemann-Nelson, a retired chemist, created the quilt that represents Hawai'i Volcanoes National Park, incorporating kapa cloth created by a Hawai'i Island kapa maker. The designs of the quilts, along with statements from the artists, can be viewed
here
.
Marching into the Community.
Park rangers and staff from Hawai'i Volcanoes National Park will march in several community parades in 2016, including the Merrie Monarch Parade in downtown Hilo on April 2 to raise awareness about the 100th anniversary. Look for our float! Banners featuring the park's centennial logo will festoon park visitor centers through 2016, and Downtown Hilo. The National Park Service centennial will also be recognized during the annual Rose Parade on New Year's Day. Themed "Find Your Adventure," the Rose Parade theme plays on the NPS 2016 awareness campaign,
Find Your Park
. 
A New Museum for the Next Century. Hawai'i Volcanoes National Park will unveil a new museum in the former 1932 Administration Building that will exhibit art, photographs, artifacts, and other historic objects that relate to the park's establishment and scope of collections. It will be a few years before the new museum is complete, but the restored lobby area of the building (once part of the Volcano House hotel and called the 'Ōhi'a Wing) will serve as the studio for the park's artists-in-residence in December 2015, and in May, August and December 2016. The plans for the new museum will be the subject of an After Dark in the Park talk on Nov. 15, 2016 at 7 p.m. at Kīlauea Visitor Center, and a guided tour of the museum will be offered Nov. 19, 2016 at 10 a.m. 
36th Annual Hawai'i Volcanoes National Park Cultural Festival & BioBlitz, Saturday, August 27, 2016, 10 a.m. to 3 p.m. Free! This year's festival honors the park's centennial anniversary. Themed E Ho'omau (to perpetuate; to continue in a way that causes good to be long-lasting), the 36th annual cultural festival invites people of all ages to engage in authentic Hawaiian cultural practices and learn how native Hawaiians lived closely to the land as its stewards. Enjoy hula and music, watch skilled practitioners demonstrate their art, and try your hand at Hawaiian crafts. This year's festival will again include a "BioBlitz," a fun and hands-on opportunity to observe and document the biodiversity that thrives in the lava flows and native rainforests of Kīlauea Volcano, led by individuals and organizations at the forefront of conservation, science and traditional Hawaiian culture. Visitors can learn about the importance of conservation and biodiversity through interactive exhibits at the festival. 
Hawai'i Nei Juried Art Exhibition.
The native flora and fauna of the five national parks of Hawai'i Island will inspire artists as one of the featured categories for the Hawai'i Nei 2016 annual juried art exhibition, during the National Park Service and Hawai'i Volcanoes National Park centennial anniversaries. While Hawaiʻi Nei encourages artwork highlighting all species native to Hawaiʻi Island, in order to be eligible for this featured category, amateur and professional artists of all ages are invited to submit works of art celebrating the native plants and animals of Hawai'i Volcanoes National Park, Pu'uhonua o Hōnaunau National Historical Park, Kaloko-Honokōhau National Historical Park, Pu'ukoholā Heiau National Historic Site, and the Ala Kahakai National Historic Trail. The Hawai'i Island art competition is open to Hawai'i Island artists, is sponsored by Three Mountain Alliance, Mauna Kea Forest Restoration Project, the Hawai'i Island Natural Area Reserves System, and Wailoa Center in Hilo's Wailoa State Park, and takes place in November and December annually. Visit
www.hawaiineiartcontest.org
for more information. 
Hawai'i Volcanoes National Park celebrates its 100th birthday in 2016. Founded on Aug. 1, 1916, Hawai'i Volcanoes was the 15th national park established in the U.S., predating both the establishment of the National Park Service (Aug. 25, 1916) and Hawaiian statehood (Aug. 21, 1959). Today, its 333,086 acres provide countless ways to connect with Hawaiian culture, active volcanoes, and native plants and animals. Last year, nearly 1.7 million park visitors enjoyed the site and added $136,838,700 to the local economy and supported 1,672 area jobs.
-NPS-