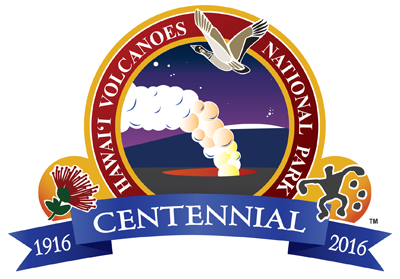 Hawai'i Volcanoes National Park is celebrating its 100th anniversary in 2016! Founded on August 1, 1916, the park was the 15th national park, predating both the establishment of the National Park Service itself (August 25, 1916) and Hawaiian statehood (August 21, 1959).
From New Year's Day 2016 through December 31, 2016, Hawai'i Volcanoes National Park will celebrate our 100th anniversary, and we invite everyone to join us! Some of our exciting plans to commemorate a century of stewardship include a Centennial Hike series and corresponding After Dark in the Park programs; the annual Hawaiian Cultural Festival & BioBlitz; parade participation; a national parks quilt show; and much more.
Whether you're a repeat visitor, a national park traveler, or a virtual adventurer, Hawai'i Volcanoes National Park hopes that our 100th anniversary will inspire you to experience this park and connect with the fascinating geology, biology and culture that we strive to protect and perpetuate well into the next 100 years.