News Release
Hawai'i Volcanoes National Park encourages safe and respectful eruption viewing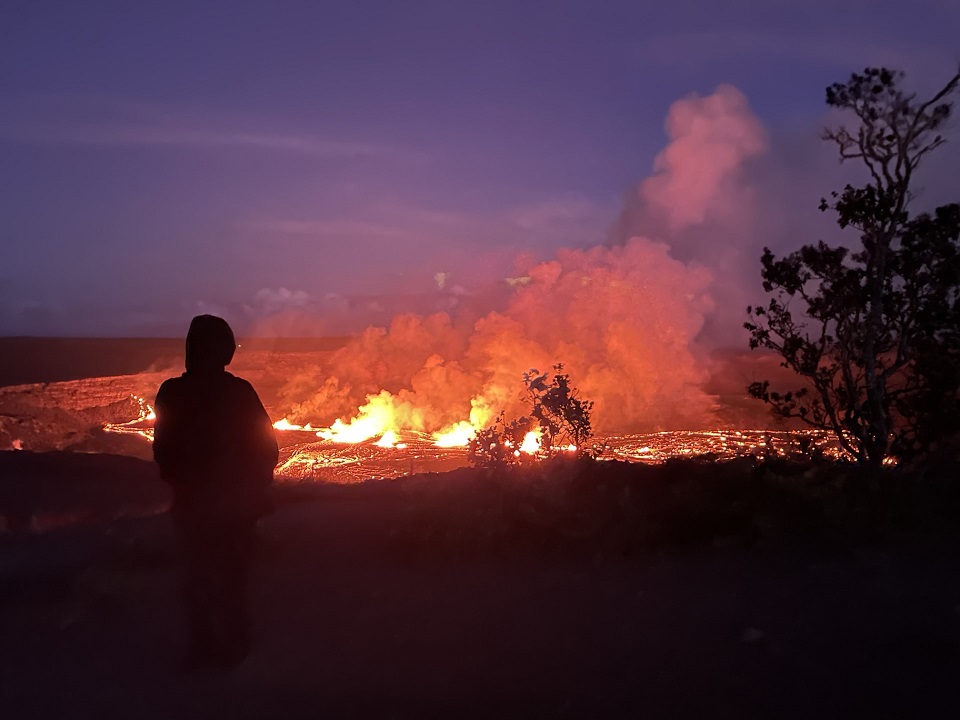 News Release Date:
September 11, 2023
Contact: Jessica Ferracane, 808-985-6018
HAWAII NATIONAL PARK, Hawaiʻi –
For the fifth time in almost four years, Kīlauea volcano has a dramatic new eruption in its summit crater with multiple lava fountains feeding a lake of molten rock. 
As an influx of visitors arrives to witness the eruption, everyone is urged to stay safe and be respectful of the hazards and sacredness of Kīlauea by doing the following: 
•  Volcanic eruptions can be hazardous and change at any time. Stay on marked trails and overlooks. Do not enter closed areas. Avoid cliff edges and earth cracks, they are unstable. 
•  Hazardous volcanic gases present a danger to everyone, especially people with heart or respiratory problems, infants, young children and pregnant women. 
•   Observe the eruption quietly and respect Native Hawaiian cultural practitioners who honor the sacred legacy of this land and give them space to practice their customs. 
•  Slow down and drive safely. Expect long waits for parking spaces at popular vantage points like Kīlauea Overlook. 
The Keanakākoʻi viewing area is closed due to high concentrations of sulfur dioxide (SO2) and volcanic particulates, and will remain closed until it is safe to reopen. Scientists with the U.S. Geological Survey Hawaiian Volcano Observatory measured preliminary sulfur dioxide (SO2) emission rates up to 100,000 tonnes.  
Optimal viewing of the lava lake and fountains is available at Uēkahuna, Kīlauea Overlook and areas along Crater Rim Trail as of Monday afternoon. Conditions can change at any time.   
The eruption began Sunday, September 10 around 3:15 p.m. and all activity is confined within the summit crater in Hawaiʻi Volcanoes National Park. There is no threat to homes or the community at this time. There is a temporary flight restriction above Kīlauea caldera of 1,500 feet AGL. 
Check the park website
 for eruption viewing information, hazard and closure updates.
Last updated: September 13, 2023