News Release
Newest Kaʻū silversword site in Hawaiʻi Volcanoes National Park sows promising results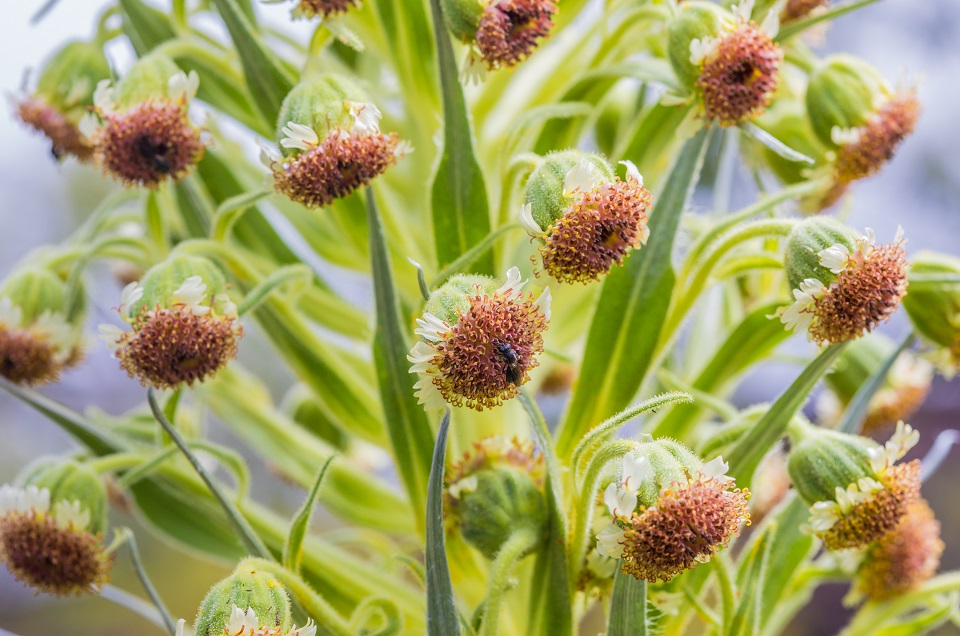 News Release Date:
May 3, 2023
Contact: Jessica Ferracane, 808-985-6018
HAWAII NATIONAL PARK, Hawaiʻi –
The critically endangered Kaʻū silversword is staging a comeback within Hawaiʻi Volcanoes National Park, thanks to decades of collaborative conservation efforts and a stroke of luck. 
Kilohana is a high-elevation haven on the slopes of Mauna Loa where National Park Service biologists and partner agencies have re-established the endemic silver-leafed plants. A few years ago, a member of the park's fence crew looked down and noticed a wee rosette-shaped plant growing in the dry, rocky ground. It looked like a tiny 'āhinahina (silversword). It was a chance discovery that confirmed Kaʻū silverswords (
Argyroxiphium kauense
), while exceedingly rare, were present in the park's upper Kahuku Unit miles from any known populations. Five more plants were found during follow up surveys.  
"That was one of the best texts I've ever received," recalls Sierra McDaniel, Hawaiʻi Volcanoes National Park's natural resources program manager. "We were already reintroducing plants at two sites on Mauna Loa, but to think there could be a third population really galvanized our enthusiasm," she said.
While Kilohana and the other remote, protected areas are closed to the public, a
new digital storymap
produced by the park shares the story of intense effort and collaboration across generations to protect the Kaʻū 'āhinahina and the ecosystems in which they grow. 
At Kilohana, park biologists and conservation partners planted 330 young silverswords and more than 152,000 seeds within a protected fenced area between October 2021 and October 2022. So far, the initial survival rate of the plants is 97%, good news for a plant that blooms once then dies. 
"One of the reasons the initial survival rate is so high is because Kilohana is fenced and that prevents invasive non-native goats, sheep and pigs from coming in and devouring the 'āhinahina," McDaniel said. "Fences are our best ally in protecting endemic plants and ecosystems."
For more information about 'āhinahina in Hawaiʻi Volcanoes National Park, please visit the new
storymap
and
park website
. 
Other agencies working hard alongside Hawaiʻi Volcanoes National Park to save Kaʻū silverswords include the University of Hawaiʻi Pacific Cooperative Studies Unit; the U.S. Geological Survey; Hawaiʻi Division of Forestry and Wildlife; Hawaiian Silversword Foundation at the Univesity of Arizona; U.S. Fish and Wildlife Service, Pacific Islands Office; Kupu; Three Mountain Alliance; and the Hawaiʻi Plant Extinction Prevention Program. 

-NPS-
Last updated: May 3, 2023