News Release
National Park Service seeks leads on theft of artwork from Volcano House hotel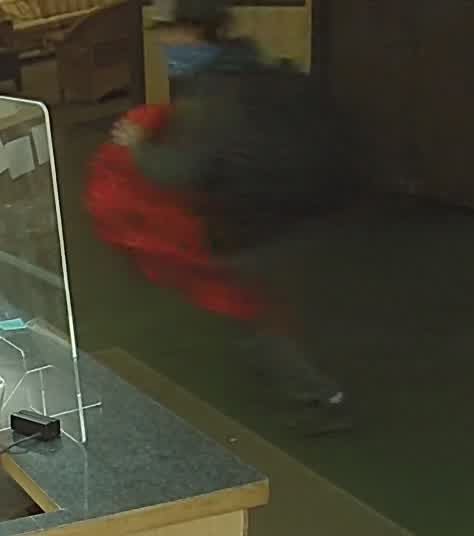 News Release Date:
January 19, 2023
Contact: Jessica Ferracane, 808-985-6018
Note: this news release was updated on January 26, 2023
HAWAII NATIONAL PARK, Hawaiʻi
– National Park Service law enforcement officials seek the public's help in identifying a person of interest wanted for questioning in the theft of Hawaiian cultural artwork from the Volcano House hotel.
An image extracted from the hotel's video surveillance system shows a man carrying a red cloth shortly before hotel security noticed the missing artwork. 
On Friday, January 13 around 11:45 p.m., someone stole a contemporary replica of a traditional feather helmet worn by high-ranking Hawaiian chiefs called a mahiole. The striking crimson and yellow mahiole was crafted by renowned local artist Rick San Nicolas and was displayed in a case near the front desk of the hotel. 
Anyone with information is asked to contact the National Park Service by calling or texting 888-653-0009. Tips can also be submitted online at 
https://go.nps.gov/SubmitATip
or via email at
nps_isb@nps.gov
. 
###
Last updated: January 26, 2023