News Release
New video shares tips for visiting Hawaiʻi Volcanoes National Park during busy holiday season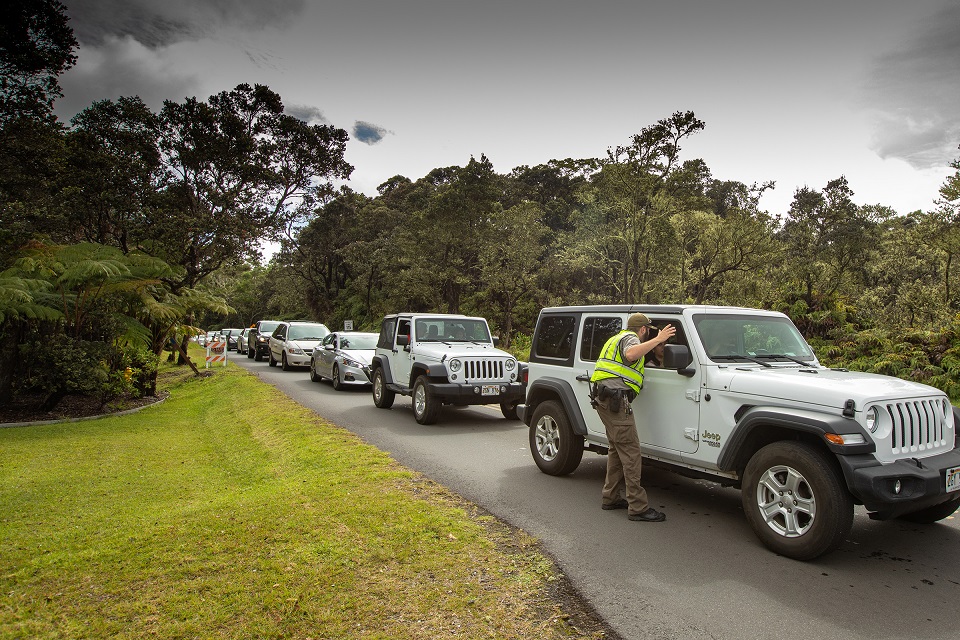 News Release Date:
November 21, 2022
Contact: Jessica Ferracane, 808-985-6018
HAWAII NATIONAL PARK, Hawaiʻi –
There is one thing you can count on during the holidays at Hawaiʻi Volcanoes National Park if you don't plan ahead: crowds. 
Hawaiʻi Volcanoes National Park welcomes almost two million visitors annually. Thanksgiving through January are the busiest times, and visitors should expect extremely high visitor concentations, traffic delays and no parking at popular places during peak hours.  
Don't let festive congestion dampen your spirits. A
helpful new video
shares ranger tips on how to plan ahead for the best park experience: 
1.  Know Before You Go.
Visit the park website
www.nps.gov/hawaiivolcanoes
for eruption updates, alerts, what to do, and more before you arrive. Download the free National Park Service app – it's a terrific source to help you explore the park. 
2.  Be Flexible.
The park is open 24 hours, and the busiest time is between 9 a.m. and 9 p.m. every day. Popular overlooks and parking lots are often full.  Kīlauea summit is the main destination for most visitors, but there are many
places to go
in the park. Have alternate destinations in mind, and strongly consider arriving before 9 a.m. or after 9 p.m. 
3.  Be Respectful.
Kīlauea and Mauna Loa are sacred and cherished landscapes. Be considerate of others and use your indoor voice at overlooks. Leave your mobile sound system at home. Point flashlights and headlamps at the ground to avoid blinding others.   
Please share the new
Hawaiʻi Volcanoes National Park video
with anyone who plans to visit the park. With planning and flexibility, everyone can have a safe and memorable visit this holiday season.   
-NPS-
Last updated: November 21, 2022