News Release
Hawaiʻi Volcanoes National Park shares Hawaiian lifestyle practices with dynamic new video series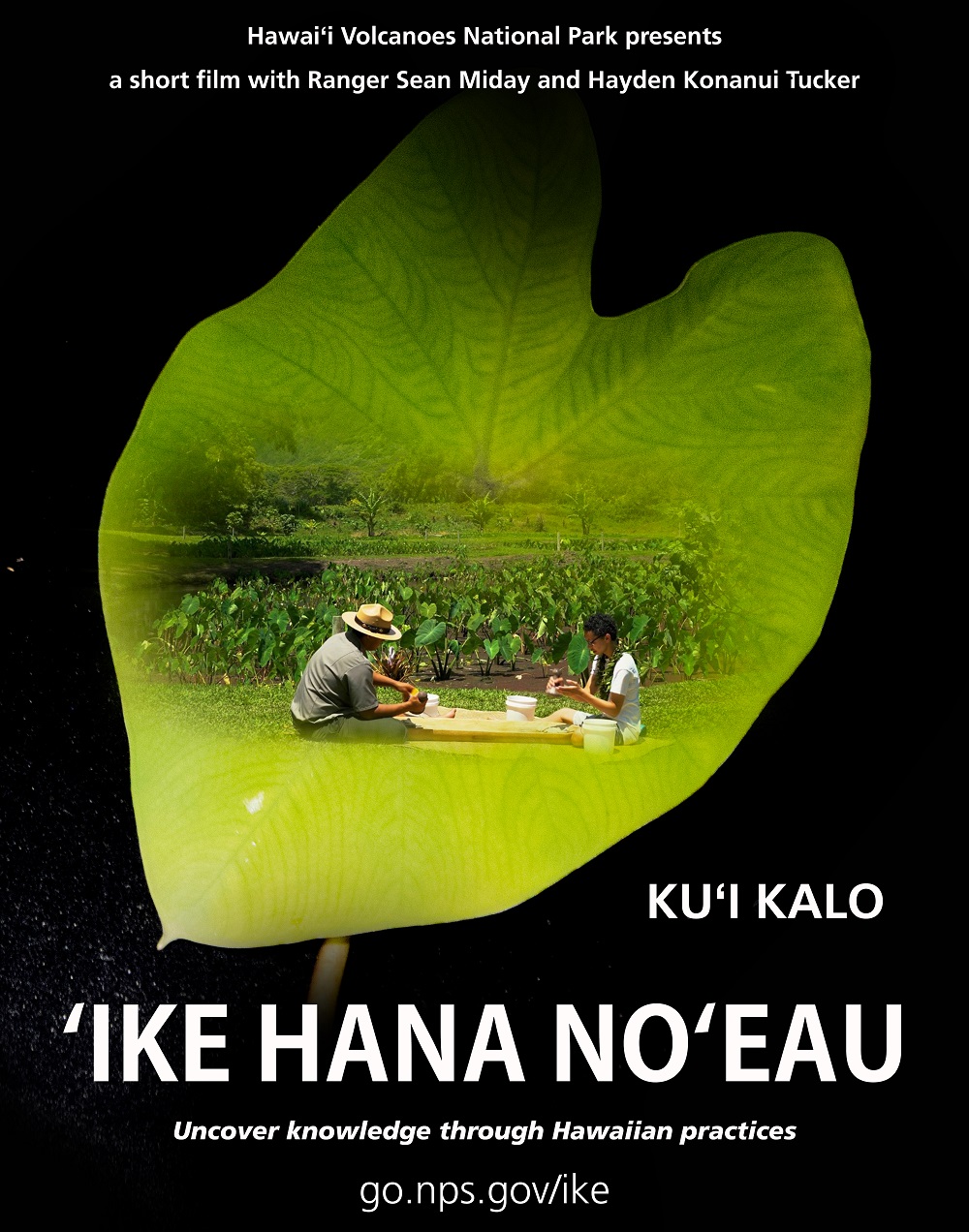 News Release Date:
March 2, 2022
Contact: Jessica Ferracane, 808-985-6018
Hawaii National Park, HAWAI'I –
A captivating new video series produced, created and hosted by Hawaiʻi Volcanoes National Park rangers, shares authentic Hawaiian cultural practices beyond the park to homes and classrooms anywhere.  
The short documentary films are both "talk story" and tutorial and enable a friendly connection to traditional Hawaiian lifestyle practices. Viewers are introduced to three skilled local practitioners who delve into the rituals of kuʻi kalo (making poi), weave lei lāʻī (ti leaf lei), and create an ipu heke ʻole (single gourd drums) in beautiful settings on the island of Hawaiʻi.  
The video series, titled
ʻIke Hana Noʻeau (Experience the Skillful Work),
evolved from the in-person cultural demonstrations hosted by Hawaiʻi Volcanoes National Park at Kīlauea Visitor Center. The in-person programs are on hold, but the park's mission to share authentic Hawaiian culture is stronger than ever. The video host, Park Ranger Sean Miday, is a kānaka (native Hawaiian) who kicks off his boots and rolls up his sleeves to learn important traditions along with the viewer. 
The premiere video,
Kuʻi Kalo,
debuts March 2 and features Kamehameha Schools senior Hayden Konanui-Tucker who demonstrates how to ku'i kalo (make poi) in sacred Waipiʻo Valley. Poi is the staple food of the Hawaiian people and kuʻi kalo is the process of pounding cooked taro corms to make poi. For many Native Hawaiians, this process is a way to connect with their older brother Hāloanakalaukapalili who in a cosmology story fed them and continues to feed them today. 
In the second episode slated to debut in early April, Ranger Sean visits Keokea Beach in Kohala and learns to weave lei lāʻī hula adornments with Cheryl Cabrera. And in May, gourd master Kalim Smith shows Sean how to grow and shape ipu heke ʻole, a single gourd drum instrument vital to hula. 
All three videos will be shared for free on the park website,
go.nps.gov/ike
and
YouTube page
.
Big Island Television
, which airs in more than 6,000 hotel rooms on the island of Hawaiʻi and on Spectrum channel 130, will also broadcast the ʻIke Hana Noʻeau videos to a wide audience starting March 5 with
Kuʻi Kalo
. 
"The target audience for the ʻIke Hana Noʻeau videos is a mix of visitors, kānaka maoli wanting to learn or reconnect to their culture, local residents, educators and students. The park is excited to reach this broad audience by collaborating with the tourism industry, local broadcasters and other partners," said Park Superintendent Rhonda Loh. "We hope everyone will watch, learn and treasure these videos as much as we do," Loh said. 
The videos were produced by the Hawaiʻi Volcanoes National Park 'Ike Hana Noʻeau team which consists of Park Rangers Keoni Kaholoʻaʻā, Sean Miday, Daniel Anekelea Hübner, and Lanihuli Kanahele. The hui (team) members are kānaka maoli (native Hawaiians) who are passionate about the perpetuation and sharing of their culture through the use of media. Each video is around 20 minutes in duration, and all are accessible with audio description, closed captions and ʻōlelo Hawaiʻi translation. 
The park's non-profit partners, the
Friends of Hawaiʻi Volcanoes National Park
and the
Hawaiʻi Pacific Parks Association,
helped support and fund the ʻIke Hana Noʻeau video project.

###
Last updated: March 2, 2022