News Release
An Enlightening New Experience in Thurston Lava Tube
Date:
February 2, 2018
Contact:
Jessica Ferracane
, 808-985-6018
Park staff installed a new electrical system with 12 energy-efficient amber LED lights to illuminate the 400-foot-long lava tube – plus an additional amber spotlight to shine light on a low part of the cave ceiling. The lights will automatically turn on every day at 10 a.m., and will go out at 8 p.m. The cave will remain open overnight, but it will be pitch black inside from 8 p.m. until 10 a.m. the next day.
Visitors must carry their own light source if planning to explore the lava tube in its dark, natural state before 10 a.m. or after 8 p.m. Park rangers recommend head lamps and flashlights; cell phones are not recommended as the only light source.

"When we turned the lights off to install the new electrical system, visitors told us they were in favor of leaving an option for a 'lights out' natural cave experience in Nāhuku," said Park Superintendent Cindy Orlando. "We're excited that the new lighting schedule satisfies visitors, is better for the environment, and supports our goal for a sustainable future," she said.

The new lighting system also increases visitor safety by illuminating the interior, and protects the cultural integrity of the 'ana (cave) by inhibiting the growth of non-native plant and algae species.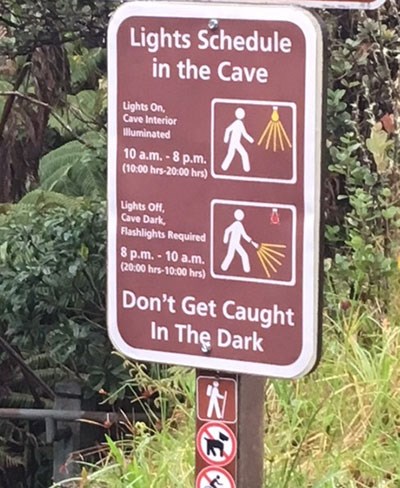 Located near the summit of Kīlauea Volcano off Crater Rim Drive, Nāhuku and its lush rainforest trail are popular features in the park. An eruption from Kīlauea 550 years ago produced vigorous streams of lava, and the long, hollow tunnel was left behind when the molten rock drained away.
The native rainforest surrounding Nāhuku is home to endemic plant, bird and insect species, like the Happyface Spider. Visitation is heaviest between 10 a.m. and 2 p.m., and parking is limited to 30 minutes.

-NPS-
Last updated: February 2, 2018