Not Just a Walk in the Park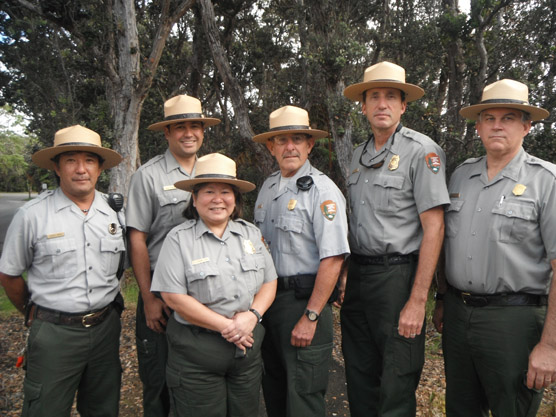 News Release Date:
February 17, 2012
Contact: Jessica Ferracane, 808-985-6018
Hawaii National Park, HI -- Over the holidays, hundreds of hikers in Hawaiʻi Volcanoes National Park braved a 10-mile roundtrip trek over jagged terrain to witness molten lava cascading into the Pacific at the West Kaʻiliʻili ocean entry. Many were unprepared for the arduous backcountry journey.
While there were no serious injuries or deaths, the attraction of the ocean entry resulted in five search-and-rescue (SAR) operations by park rangers in December, bringing the park's total of SARs to 21 in 2011 - a number that park officials want to reduce.
A backcountry rescue may take up to 12 hours. On Christmas night, it took even longer to rescue a woman with a broken wrist from the West Kaʻiliʻili flow field. Due to darkness and insufficient landing zones, a helicopter rescue was impossible. Instead, a park ranger hiked out nearly five stormy miles in the dark from the end of Chain of Craters Road, and located the injured woman. He set up shelter on the remote lava field and stayed with her through the night. At daybreak they hiked five grueling miles back to the road where an ambulance waited - 16 hours after she called for help.
"Hikers need to be aware that SAR missions take time, and that launching a helicopter in the dark or in inclement weather is extremely dangerous. If it's not worth the risk of flying, we have to wait for daylight, or for better weather, or try to get the injured person out on foot," said the park's Emergency Operations Coordinator John Broward. "Hikers should be prepared to spend the night as it's a very real possibility."
Information on how to prepare for a backcountry adventure is available on the park website at https://www.nps.gov/havo/planyourvisit/hike_bc.htm, from park rangers, and most hiking clubs. All overnight backcountry hiking and camping requires a permit, obtained from the park's new Backcountry Permit Office at the Visitor Emergency Operations Center (VEOC). 
It's not just lava flows and their associated geologic hazards that present dangers to hikers at Hawaiʻi Volcanoes. The park offers more than 150 miles of hiking trails, and many unspoiled and diverse backcountry destinations ranging from sea level to 13,677 feet. On Mauna Loa, altitude sickness and cold-related emergencies such as hypothermia must be considered. Along the coast, high temperatures and lack of shade can cause severe dehydration, heat exhaustion or heat stroke. Hikers who stray off trails or hike after sunset risk becoming lost. While GPS units are handy, Broward and his team recommend packing a compass and a map, which don't require batteries.
With Spring Break on the horizon, hikers are reminded to prepare themselves and to remember that Hawaiʻi Volcanoes National Park is an inherently wild place, and not just a walk in the park.
-NPS-
Last updated: February 28, 2015