September 2021 eruption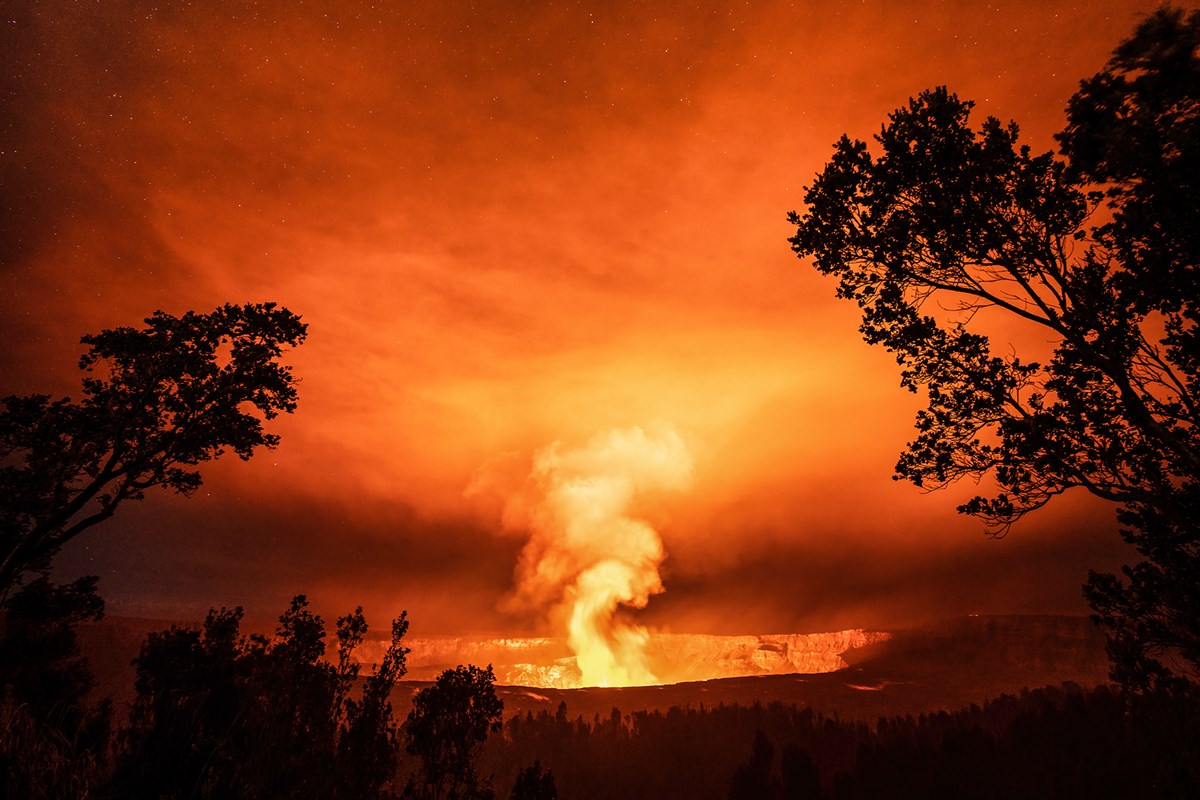 On September 29 at 3:20 pm HST, the USGS Hawaiian Volcano Observatory (HVO) detected a fissure eruption within Halemaʻumaʻu crater in Kaluapele (the
Kīlauea
summit caldera). The new eruption began four months after the end of the
previous Kīlauea eruption
which ended on May 26, 2021. The crater floor has risen by about 154 feet (47 meters) since lava emerged on September 29. According to the
USGS Hawaiian Volcano Observatory
observation on October 22, lava continues to erupt from a single vent in the western wall of Halemaʻumaʻu crater. All lava activity is confined within Halemaʻumaʻu crater. Check the
volcano eruption status
for the latest developments.
Visit our keyboard shortcuts docs for details
Duration:

41.608 seconds
The eruption at Halemaʻumaʻu has come up with a C-shaped spatter rampart around fountaining lava where the source is submerged in the rising lava lake. This video was taken with a 600 mm camera lens on 10/22/2021.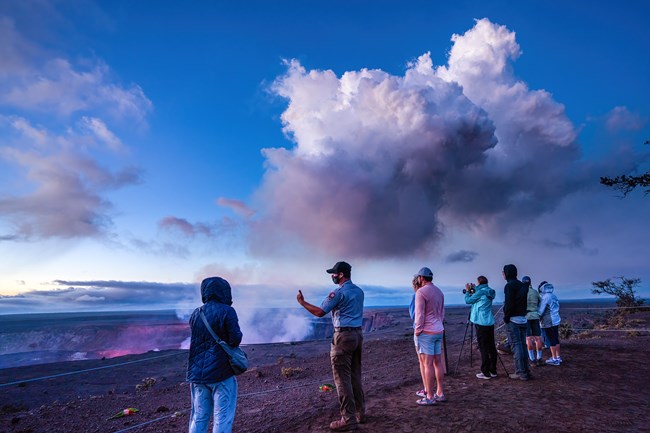 What can you see in the day?
Visitors arriving during the day can view the volcanic gas and steam from the eruption within Halemaʻumaʻu crater. Koaʻekea, white-tailed tropicbirds, are often observed flying above the crater.
The eruption is visible from Kaluapele, the summit caldera, along open areas of the rim. Lava fountains are only visible only from the south caldera rim at Keanakākoʻi Overlook. Avoid crowds and traffic by visiting this overlook during the day.
Weather conditions such as fog and rain may obscure eruption views.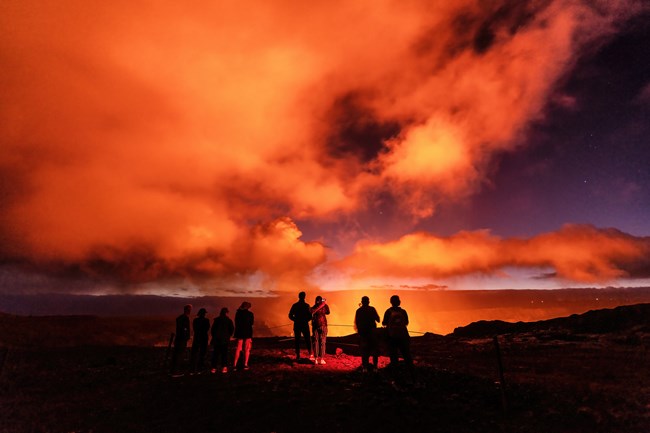 What can you see at night?
The massive 134-acre lava lake made of molten rock casts a magnificent reddish orange glow into the dark sky. The glow reflects onto the gas plume wafting out of the volcano, and to any clouds above the summit crater, Halemaʻumaʻu. Jagged crater walls are illuminated, showing the scars from the 2018 summit collapse.
The bursting spatter cone and lava lake is visible from the south rim along Old Crater Rim Drive after a moderate hike. For easier viewing, the lava lake is occasionally visible from Kīlauea Overlook, and 200 yards (180 meters) east of Uēkahuna along Crater Rim Trail near a large concrete foundation.
Bring a flashlight! Weather conditions such as fog and rain may obscure eruption views.
Eruption Viewing Tips
Park landscapes are sacred places for many people. Please be respectful and allow others to practice their culture privately.
Maintain social distance of 6 feet from others and wear a mask to reduce the spread of COVID-19. If you are sick, visit another day.
Volcanic eruptions can be hazardous and change at any time. Stay on marked trails and overlooks, and avoid earth cracks and cliff edges. Do not enter closed areas.
Hazardous volcanic gas can be a danger to everyone, especially people with heart or respiratory problems, infants, young children, and pregnant women. Check the air quality before and during your visit.
Slow down and drive safely. Expect long waits for parking spaces at popular vantage points like Uēkahuna (formerly the Jaggar Museum) and Keanakākoʻi.
Check the weather. At 4,000 feet above sea level, the summit of Kīlauea can be raining and cold at any time. Bring a rain jacket; wear long pants and closed-toe shoes. Bring a flashlight if visiting at night. Weather conditions such as fog and rain may obscure views.
Where are the best eruption viewing locations?
Use the drop down menu below for information on the six best viewing locations. Check out a 
park map
 and 
Plan Your Visit page
 before arriving at the park to select your itinerary and options. Or better yet, download the new 
NPS moble app
.
Please note parking lots are often full.
 If you are planning to see the glow at night, pack your patience and expect traffic delays, full parking lots, and walking extra distances to access overlooks. Don't forget to bring a flashlight! Check the 
parking page
 to find out when each parking lot is typically full.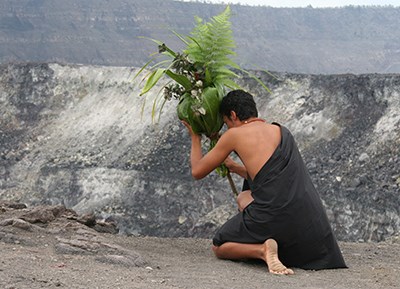 More than just an eruption
While
Kīlauea
is one of the most active volcanoes in the world, known for many celebrated past eruptions, it is also a sacred landscape filled with wahi pana (legendary places) such as
Uēkahuna
,
Puʻuloa
,
Kaʻauea
, and others. Your visit can be more meaningful by learning about some of the deep connections with Native Hawaiian culture. Explore this website to learn about the Hawaiian volcano deity
Pele
and the many
moʻolelo
(stories) associated with these incredible lava landscapes.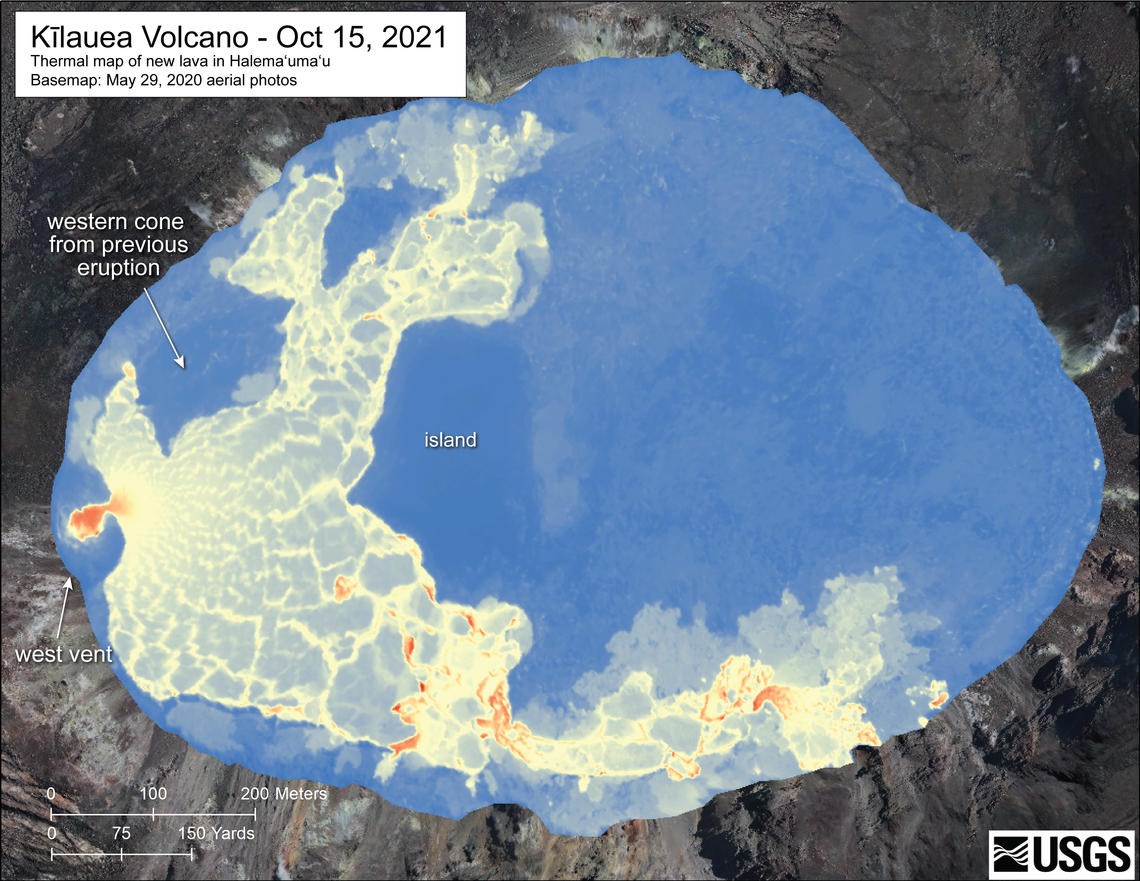 Before and after eruption comparison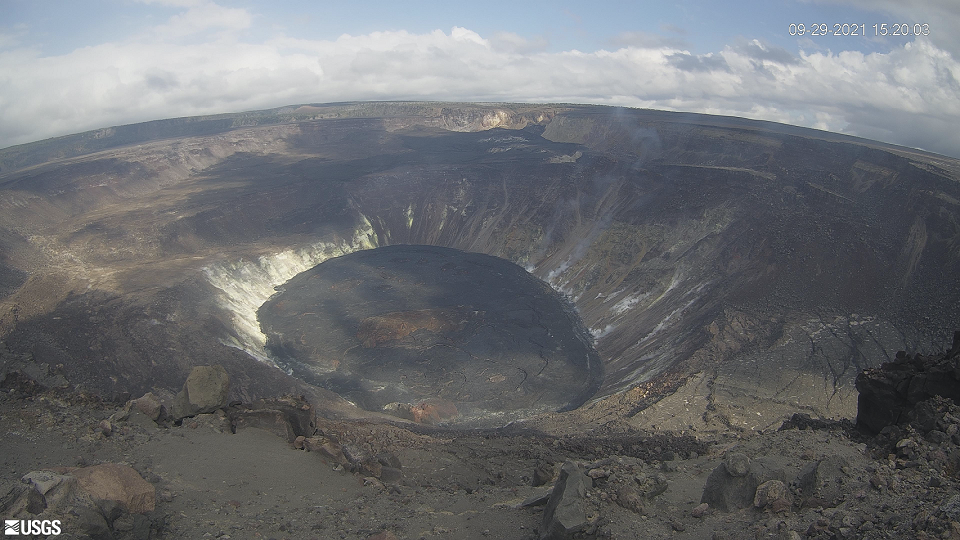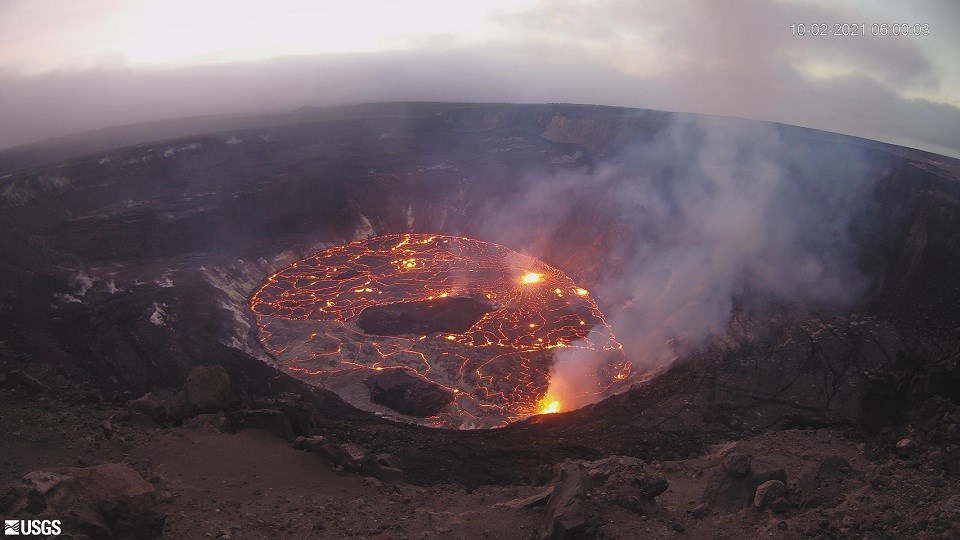 Left image
KWcam image taken on September 29, 2021, at 3:20 p.m. HST. This image shows the lava lake that was active within Halemaʻumaʻu crater at the summit of Kīlauea from December 2020 until May 2021 just prior to a new eruption beginning.
Credit: USGS webcam image
Right image
KWcam image taken on October 2, 2021, at 6 a.m. HST. This image shows the ongoing eruption within Halemaʻumaʻu crater at the summit of Kīlauea. The eruption began the afternoon of September 29, 2021.
Credit: USGS webcam image
Eruption Chronology
Eruption chronology courtesy of the USGS Hawaiian Volcano Observatory
On September 29, at 3:30 pm HST, three fissures opened east of the large island near the center of the lava lake that was active within Halemaʻumaʻu crater from December 2020 until May 2021. The new fissures generated lava flows on the surface of the previous lava lake surface.
At approximately 4:43 p.m. HST, another vent opened on the west wall of Halemaʻumaʻu crater.
The new eruption is generating a vigorous plume of volcanic gas. The volcanic gas, which includes sulfur dioxide (SO2), interacts in the atmosphere with oxygen, moisture, dust, and sunlight over minutes to days and forms volcanic air pollution, or VOG, which can be transported downwind. An estimated 85,000 tonnes of sulfur dioxide emissions were generated during the first day of the eruption, dropping to an estimated 20,000 tonnes per day on September 30 and 12,900 tonnes per day on October 1.
Lava was slightly visible from multiple open areas of the park on the night of September 30.
By October 1, the growing lava lake within Halemaʻumaʻu is estimated to have risen roughly 89 feet (27 meters) since the eruption started on September 29. The estimated area of the lake is about 134 acres (54 hectares).
On October 2, USGS field crews measured lava fountain heights of approximately 7 meters (7.7 yds) from the main vent and 1.1-2.2 yards (1-2 meters) from the southernmost vents. Occasional fountain height bursts have been observed over the past 24 hours, including a burst this morning with estimated heights of 55-66 yards (50-60 meters).
Lava continued to erupt from multiple vents within Halemaʻumaʻu through October 3 and 4. During that time, the lava lake rose approximately 6.6 feet (2 meters). Due to the location of vents, the lava lake is not level across its surface; areas closer to the vents are higher in elevation. Sustained lava fountain heights of 16-33 feet (5-10 meters) were observed.
On October 6 observers noted that the lava lake level rose approximately 2 meters (7 ft) over the past 24 hours with a total rise of about 31 meters (102 ft) since lava emerged on September 29. The total thickness of lava filling Halemaʻumaʻu is now 256 meters (840 ft ) with a lake surface elevation of approximately 774 meters (2539 ft) above sea level. The west vent continues to have the most vigorous fountain with sustained lava fountain heights of about 14–15 meters (49 ft). The lava lake has risen above the base of the vent and the fountain has built a spatter rampart around most of it. Another vent continues to be active in the southern part of the lake with lava fountain heights averaging 3 meters (10 ft). Due to the location of vents, the lava lake is not level across its surface. Areas closer to vents in the west and south part are about 1–2 m (3–7 ft) higher in elevation compared to the north and east end of the lava lake. Crustal foundering, a process by which cooled lava crust on the lake surface sinks into the hot underlying lake lava, is observed on the active surface of the lava lake. The active lava lake surface is perched 1 meter (3 ft) above a 20-meter-wide (66 ft) ledge that extends outward to the Halemaʻumaʻu crater wall.
October 10, 2021. A magnitude 6.2 earthquake hit off-shore southwest of the island of Hawaiʻi, rattling residents. According to the Hawaiian Volcano Observatory, the earthquake was centered about 27 km (17 miles) south-southeast of Nāʻālehu at a depth of 35 km (22 mi). The earthquake had no significant observable affect on Kīlauea volcano except for a few rock falls.
October 15, 2021. The activity of the lava lake within Halemaʻumaʻu crater decreased over the past week. Lava continues to fill the western half of the lava lake from the erupting western fissure. Much of the eastern half of the lake surface has cooled and formed a solid crust. The lava lake measures approximately 1,035 m (3,396 ft) long in the east–west direction and 745 m (2,444 ft) wide in the north–south direction. SO2 gas emission rates remain elevated and were measured at approximately 5,400 tonnes per day.
October 19, 2021. USGS Hawaiian Volcano Observatory scientists estimated 4.2 billion gallons of lava (15.9 million cubic meters) have filled the lava lake since the summit eruption began three weeks ago on September 29. The lava lake has filled the crater to about 46 meters (151 ft) since lava emerged on September 29.
October 24, 2021. The rising lava lake was oberved for the first time from Kīlauea Overlook and continues to be visible from Uēkahuna and Keanakāko'i.
October 26, 2021. Low lava fountains a few meters (yards) tall were common. Sometimes fountains would reach up to 12 meters (39 ft). The cone was measured at 25 meters (82 ft) above the active lava lake surface. Lava is ponding within the cone and flows down the spillway—which is about 7 meters (23 ft) long—supplying lava into the lake below.
Last updated: October 26, 2021