Rapid 'Ōhi'a Death
Help prevent the spread of this terrible disease.
What is ROD?
Rapid ʻŌhiʻa Death (ROD) is newly identified fungal disease currently attacking and killing ʻōhiʻa on Hawaiʻi Island. This fungus clogs the tree's vascular system, depriving the canopy of water, and may kill ʻōhiʻa very quickly. ʻŌhiʻa is the keystone species in Hawaiian forests, and ROD has the potential to cause major ecosystem disturbances that will negatively impact watersheds, cultural traditions, natural resources, and quality of life.

Infected 'ōhi'a trees may have individual branches or entire canopies of recently dead and still attached brown leaves. The tree's sapwood may have dark and unusual staining and a fruity odor, though signs of the fungus may not be visible on the outside of the tree. Additional testing is needed to confirm ROD, since 'ōhi'a may also die from other diseases, drought and injury.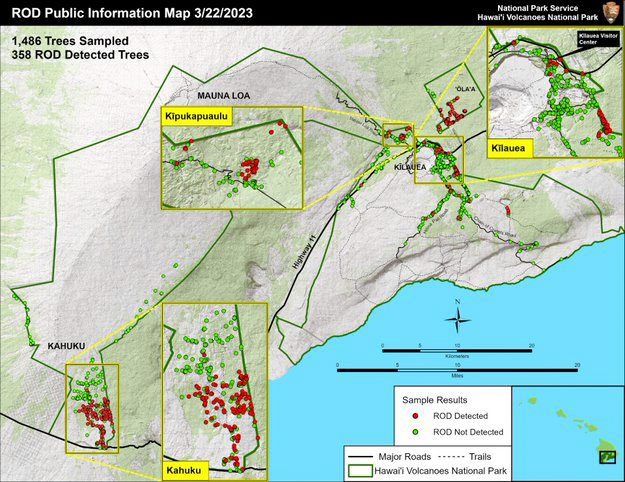 Where is ROD?
ROD has been found mostly on Hawaiʻi Island, although cases have also been detected on Maui, Oʻahu, and Kauaʻi. In the park, ROD infected trees have been confirmed in the lower elevations of the Kahuku unit, in the Ka'ū District. More recently, infected trees have been identified in Kīpukapuaulu, 'Āinahou, and Chain of Craters Road near Ko'oko'olau Crater. More than 1,000 trees have been sampled throughout the park. A small number of isolated ROD infected trees have been found in the rainforests surrounding the Kīlauea Visitor Center and areas including Volcano House and Thurston Special Ecological Area. It is important to note that patches of dead trees are found throughout the park, and these do not appear to be caused by ROD.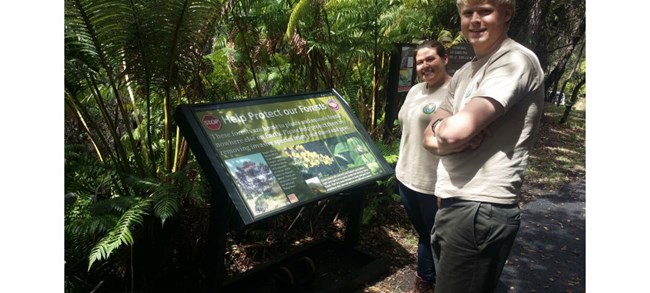 Help stop the spread!
Help protect ʻōhiʻa - the keystones species of the native rainforests of Hawaiʻi.
Stay on established trails. This will help prevent the spread of ROD throughout Hawaiʻi.
Clean shoes before and after entering forests. Brush off all soil and prepare by bringing and spraying your shoes with 70% rubbing alcohol or a freshly mixed 10% bleach solution.
Wash gear and clothing in hot soapy water.

For the most recent Statewide information, maps and updates on Rapid 'Ōhi'a Death please visit:
http://cms.ctahr.hawaii.edu/rod/Home.aspx

Hawaiʻi Volcanoes 2019 ROD Update
Last updated: March 24, 2023