Jaggar Museum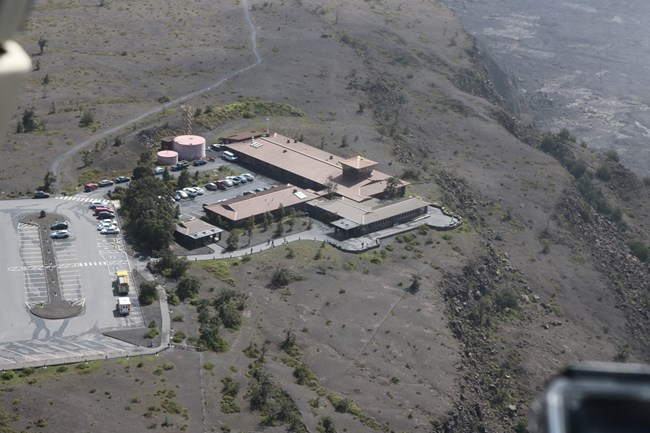 The Jaggar Museum was the first park museum in Hawai'i Volcanoes National Park, sharing volcano science and Hawaiian culture with millions of visitors over many decades. The last major renovation of the Jaggar Museum building and exhibits occurred in the mid 1980s and saw the addition of the U.S. Geological Survey (USGS) Hawaiian Volcano Observatory to the surrounding building complex.
In 2018, a new eruption of Kīlauea volcano changed the island of Hawai'i forever. From May through August the summit area of the park was dramatically changed by tens of thousands of earthquakes, towering ash plumes, and a massive collapse of Kīlauea caldera. Both the Jaggar Museum and Hawaiian Volcano Observatory were severely damaged from the thousands of earthquakes during the eruption.
One of the most treasured visitor contact stations, the Jaggar Museum, will soon be demolished. The building sustained significant structural damage and recent assessments from NPS geomorphologists determined the ledge on which the Jaggar Museum sits is "extremely unstable", limiting the use of the buildings and grounds. Since the eruption ended, the National Park Service (NPS) and USGS have been working on a disaster recovery project to repair and replace critical infrastructure that was damaged during the 2018 eruption.

In December, 2022, the park released the final plans for the Disaster Recovery Project. The project intent is to repair, replace, relocate or remove critical park infrastructure and USGS-operated facilities and equipment damaged during the 2018 eruption and summit collapse.

Under the final plan, the National Park Service (NPS) will:

• Demolish three damaged structures at Uēkahuna Bluff on the Kīlauea summit including the former Jaggar Museum, the Okamura Building and the Geochemistry Annex.
• Repair and restore access to the existing overlook area at Uēkahuna adjacent to the former Jaggar Museum.
• Replace the Jaggar Museum visitor center function by renovating and expanding the existing Kīlauea Visitor Center (KVC) by the park entrance.
• Realign Crater Rim Drive near the park entrance and install a roundabout to impove safety.
• Allow USGS to construct a replacement field station adjacent to the ball field by Kilauea Military Camp in the park.

Check out the full and final Disaster Recovery Project details.
Last updated: December 14, 2022