Prince Jonah Kūhiō Kalanianaʻole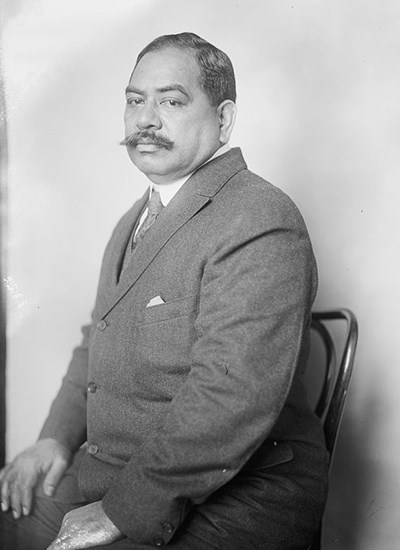 He was a royal prince, a revolutionary, and a Hawaiian Delegate to the United States House of Representatives for 10 terms. Prince Jonah Kūhiō Kalanianaʻole Piʻikoi, known primarily as "Kūhiō" (or by his childhood nickname "Prince Cupid") is the only member of Congress ever born into royalty.

Kūhiō was born on March 26, 1871. When King David Kalākaua assumed the throne of the Hawaiian Kingdom, it was the start of a new dynasty in the islands and Kūhiō and his two older brothers were declared royal princes.

In January, 1893 the Hawaiian monarchy was overthrown by American businessmen. In the last weeks of 1894, Kūhiō joined other native Hawaiians in an attempt to restore the monarchy. They were unsuccessful, and Kūhiō was among those arrested for treason. He served a year in prison. Upon his release, he left Hawaii and vowed never to return to a Hawaiʻi that appeared inhospitable to Hawaiians. Kūhiō eventually returned from this self-imposed exile to take part in politics in post-annexation Hawaiʻi.

Kūhiō was often called Ke Ali'i Maka'āinana (Prince of the People) and is well known for his efforts to preserve and strengthen the Hawaiian people. Among his many accomplishments in Congress for the Kanaka Maoli are:
He restored the Royal Order of Kamehameha I in 1903.
He introduced the first bill for Hawai'i statehood (1919).
He introduced the Hawaiian Homes Commission Act (1920), a government-sponsored homesteading program for native Hawaiian people.
In 1928, he founded the Hawaiian civic club movement whose mission is to provide scholarships for Hawaiian students; perpetuate the Hawaiian heritage, traditions, language and culture; and pass legislation beneficial to the Hawaiian community.
He obtained funds to construct Pearl Harbor.
As a Hawaiian congressional delegate, Prince Kūhiō introduced the Hawaiʻi National Park bill in 1916, which sought to establish a Hawaiʻi National Park covering land on Kīlauea, Mauna Loa, and Haleakalā. Thomas Jaggar, director of Hawaiian Volcano Observatory, testified in support of the bill and President Woodrow Wilson signed the bill into law. Funding for the the new park however was not immediate (as one Oregon congressman complained, "It should not cost anything to run a volcano"). What was founded as Hawaiʻi National Park was later divided into Hawaiʻi Volcanoes and Haleakalā National Parks, and both continue to enjoy the federal funding that Kūhiō fought for.

Prince Kūhiō died in 1922, the last Prince of Hawaiʻi.
Last updated: March 7, 2023