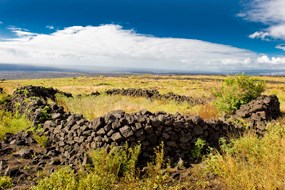 Kealakomowaena: Life on a Lava Landscape
by: Jadelyn J. Moniz Nakamura, Ph.D. and Mara Durst, B.A.
(note: The complete report is available in pdf format (40.7MB) Kealakomowaena)
The place name Kealakomowaena, translated as "The entrance path" and "middle, between or cultivated field, garden or vegetable plot" is a fitting description for the area inhabited by early 15th century Hawaiians through the 1800's. Located in the District of Puna, this ahupuaʻa (land division) extends from 2700' elevation to the shoreline pali (cliff). Early accounts by Euro-American visitors describe the farming and fishing activities that took place in the village of Kealakomo. These initial reports have been confirmed by ethnographic interviews, and ongoing archeological surveys from as early as 1959, by Kenneth Emory, to present day park archeologists.
After the 1969-74 Mauna Ulu eruption 70% of Kealakomo ahupuaʻa was covered by lava. This volcanic activity created a sense of urgency for park management to record baseline archeology and botanical data that may soon be permanently sealed by lava. An additional goal for Kealakomowaena is to open an interpretive trail for public enjoyment and recreation.
"Kealakomowaena: Life on a Lava Landscape" details the archeological findings which were conducted in two phases over a ten year period. The data collected in the 140 acre survey revealed a nearly continuous spread of 189 archeological sites that include 3,324 structures and agricultural features. This report seeks to understand how the makaʻainana (commoner) modified their physical environment for intensive sweet potato farming and their relationship to ocean resource procurement of fish and salt drying activities.