Japanese Detention at Hawaiʻi Volcanoes
More than 100 resident Japanese were interned at Kilauea Military Camp in World War II

Less than 4 hours after the Japanese attack on Pearl Harbor on December 7th, 1941, territorial governor Joseph B. Poindexter invoked the Hawaii Defense Act giving him absolute wartime power in Hawai'i. By mid-afternoon (3:30pm) the decision to place the territory under martial law was made, suspending the writ of habeas corpus and placing control of Hawaiʻi under Lieutenant General Walter C. Short, who became Military Governor.

Kilauea Military Camp within Hawaiʻi Volcanoes National Park (then known as Hawaii National Park), had been a quiet military recreation facility. By the end of the day on December 7th, it became a detainment camp, eventually holding more than 100 resident Japanese. These detainees were just a few of what amounted to about 2,000 persons, 1/3 of which were American citizens, incarcerated from Hawaiʻi.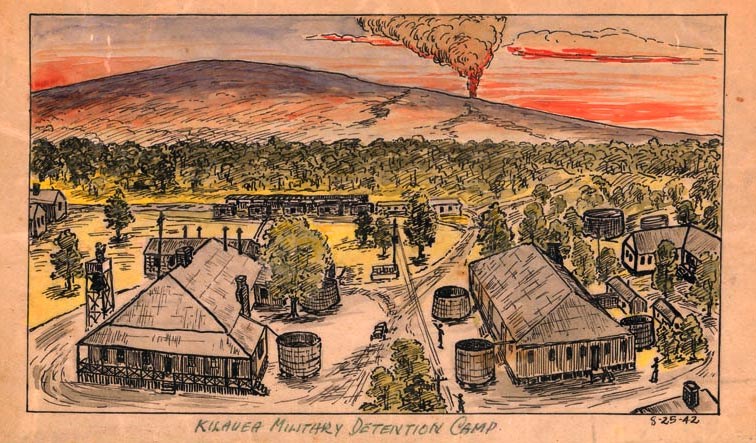 With the advent of war, staff at Hawaii National Park sprung into action to defend the park and support the military. With a ready infrastructure available, Major General Ralph Pennel (who assumed command of the District of Hawaii), set up a headquarters and command post in the park, and KMC became a center of activity. In 1941, it became an important staging ground for the war. From March to October 1942, KMC became the headquarters for the Twenty-seventh Division of the Army.

While the attack on Pearl Harbor was a surprise and shock, the government had been preparing to deal with possible subversion within its borders. Prior to the outbreak of war, the FBI had developed a Custodial Detention List (CDL) of citizens, enemy aliens and foreign nationals that included many Japanese and Japanese-Americans residing in Hawai'i. Information was gathered and analyzed in the heightened interest of national security as Japanese and German military aggression increased. The Alien Registration Act of 1940 required the registration and fingerprinting of all aliens above the age of 14 living in, or entering, the United States. Under this federal act, approximately 6,000 aliens in Hilo and others in outlying portions of the island were registered and fingerprinted. By early 1940, the offices of Military and Naval Intelligence had a list of names and addresses of Issei (first generation immigrants) and Nisei (second generation) who were considered dangerous and would be picked up for detention at the outbreak of war, and a list of individuals who were considered less dangerous but would be put under surveillance during war.
The Federal government decided that in Hawai'i the alien population would be controlled by the War Department. Since there were over 41,000 Japanese aliens, and over 115,000 Japanese citizens in the state of Hawai'i, the War Department concluded it was impossible to place one tenth of the population of Hawai'i in concentration camps. A December 4, 1941 memo from Special Agent R.L. Shivers to the Director of the FBI stated that there were 338 Japanese aliens and nine Japanese American citizens in Hawai'i to be seized immediately. Of those, 82 were from the island of Hawai'i. More were picked up, however, as the war went on and fear of sabotage continued. Against the desires of President Roosevelt, Assistant Secretary of War Mr. Bundy informed the FBI on December 22, 1941 that they were not going to relocate and intern all of the Japanese in the islands. Roosevelt was particularly concerned about the Japanese living on O'ahu and Hawai'i island, and suggested they at least be removed to one of the other islands in the Territory. But the War Department decided they would be selective in who they detained. Thus, they focused on businessmen, consular agents, Japanese language school teachers and principals, Buddhist and Shinto priests, and those who had Japanese military service, or who were deemed to have "extreme nationalistic sentiments" and were therefore considered a danger to American security.
On the day Pearl Harbor was attacked, the War Department ordered that everyone on the CDL be arrested. The FBI and Army Intelligence immediately began to pick up those who had been identified. Altogether, two-thousand Japanese, Germans, and Italians were detained or interned at seventeen locations throughout the islands.
"They were asked to empty their pockets and ...checked. After examination, the eight ... were taken.... The men spoke little and anxiety for the future fate showed in their faces."
— Yoshio "George" Hoshida, Detainee at Kīlauea Military Camp
"Taken From Paradise Isle", 2015

Many Hawai'i Island detainees were taken to KMC, which was transformed overnight from an R&R facility to a prison. The first detainees arrived at KMC in the afternoon of December 7, 1941. While at KMC, detainees were confined to their barracks and were marched to the adjacent mess hall for meals. At approximately ten o'clock every day, for one hour, the detainees were allowed outside for exercise. While at KMC, they were surrounded by guards on foot, and on top of a guard tower. New detainees were brought in continuously. The FBI would come up to question those who were detained, and many were driven down to the federal building in Hilo for their board hearing.

The detainees did not stay at KMC long, because under international law interned aliens could not be held in a combat zone and had to be taken to where hostilities were unlikely. The first group of 106 detainees transferred from KMC to O'ahu on February 20, 1942. The last group of 25 was transferred on May 7, 1942.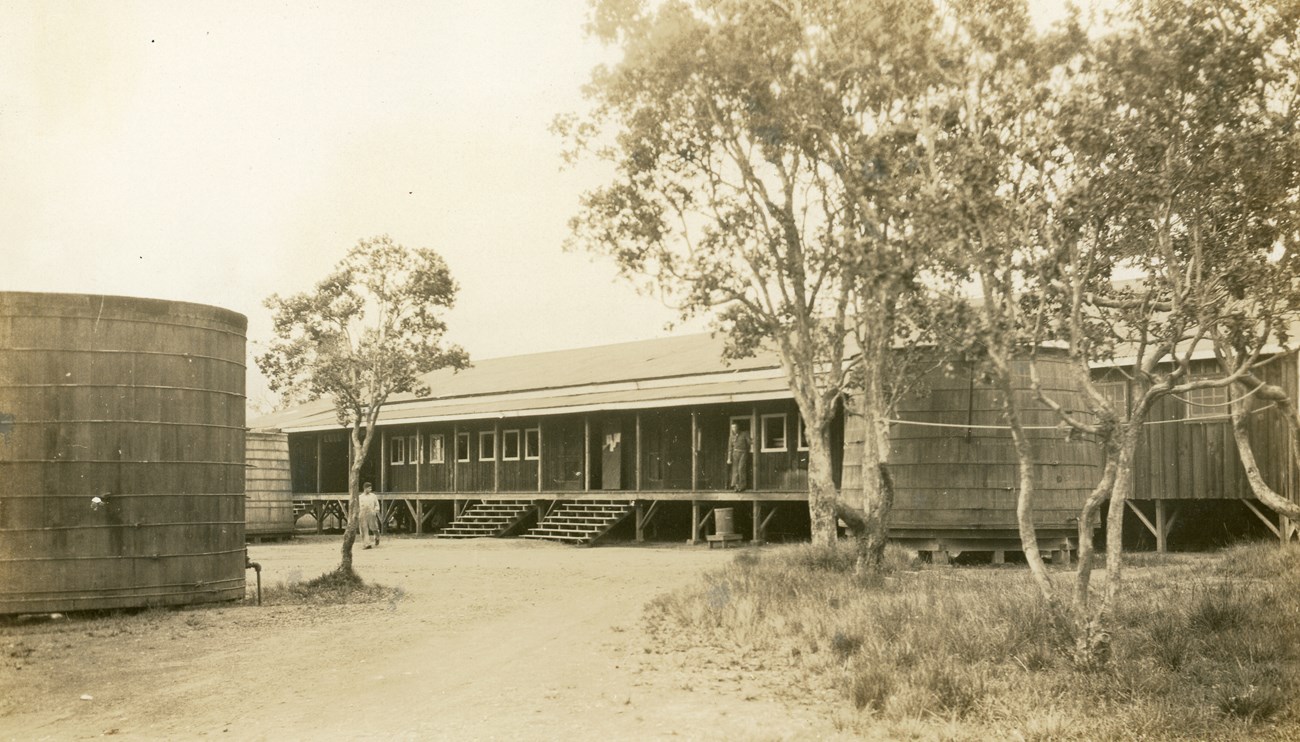 Last updated: June 23, 2022