Plan Your Visit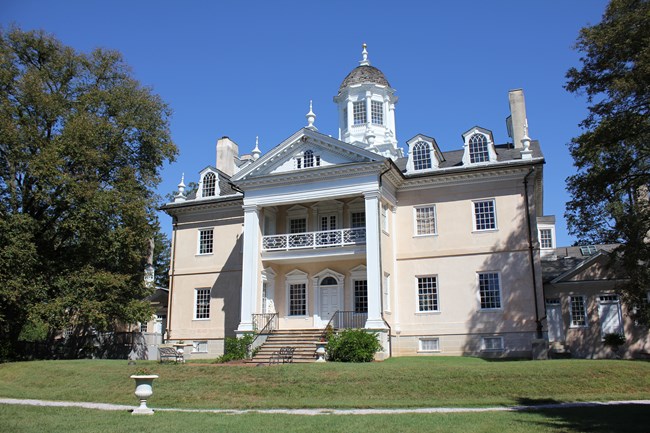 The parking lots are open from 8:30AM-5:00PM. Recreational visitors may access the park from dawn to dusk (parking outside the park when gates are closed).

Restrooms are open Thursday-Sunday 9:00AM-4:30PM (one in Orangery next to the mansion and one in Dove Cote next to the Overseer's House)

The Visitor Center will be open Thursday-Sunday from 9:00AM - 4:00PM. Park maps, brochures, Junior Ranger books, and passport stamps are available. Rangers and volunteers will be available to answer questions and provide needed assistance.

Hampton NHS has resumed opening some of the outbuildings containing exhibits Thursday-Sunday.The Overseer's House will remain closed at this time due to health concerns related to COVID-19.

The Hampton mansion is open for tours only. Mansion tours and other programs are listed on the calendar of events.

Consistent with CDC guidance regarding areas of substantial or high transmission, visitors to Hampton NHS, regardless of vaccination status, are required to wear a mask inside all park buildings.

Park Rangers remain on duty and all regulations still apply. As services are limited and closed to the public, the National Park Service urges visitors to:
· park only in designated areas;
· pack out everything you bring in;
· maintain 6 ft (2 m) social distance from others;
· stay on marked trails; and
· be prepared for no access to the restrooms during the week.

We will to continue to provide updates regarding full operations on our website (www.nps.gov/hamp) and social media channels.

Virtual Visitor Center

Visitors to Hampton National Historic Site can start their visit before leaving home. Download the new NPS App which is the official app for all 420+ NPS sites. The NPS App will act as your virtual visitor center! The multimedia page on our website is a good way to become familiar with the park's history. Virtual tours, self-guided tours, videos, and photo galleries are also found on the same page on our website.
Programs and Events

Programming is on-going and opportunities are listed on the calendar of events. Check our social media and the official website for the most updated information. And don't forget to become a Junior Ranger! Youth of all ages can participate in our Junior Ranger program.

Background
Hampton National Historic Site preserves the core of what was once a vast 25,000 acre estate owned by the Ridgely family from 1790-1948. Hampton NHS is home several state champion trees, a falling garden, dozens of historic structures, and various birds and other wildlife.

A family of great prosperity, the Ridgelys amassed a large fortune in the eighteenth century through the success of the family-owned Northampton ironworks. The family business and estate was supported by the labor of enslaved African Americans, European indentured servants, and paid laborers. In 1783, Captain Charles Ridgely, the first owner of the estate, began construction on the Hampton mansion which boasted a late-Georgian architectural style and the finest luxuries of the time including scenic gardens. Centuries latier, in 1948, the site was preserved by the National Park Service based on the architectural significance of the mansion. In 1980 the Lower Farm, including original slave quarters and farm house, was added to the site. Today there are 63 acres to explore.


Last updated: October 14, 2021