Videos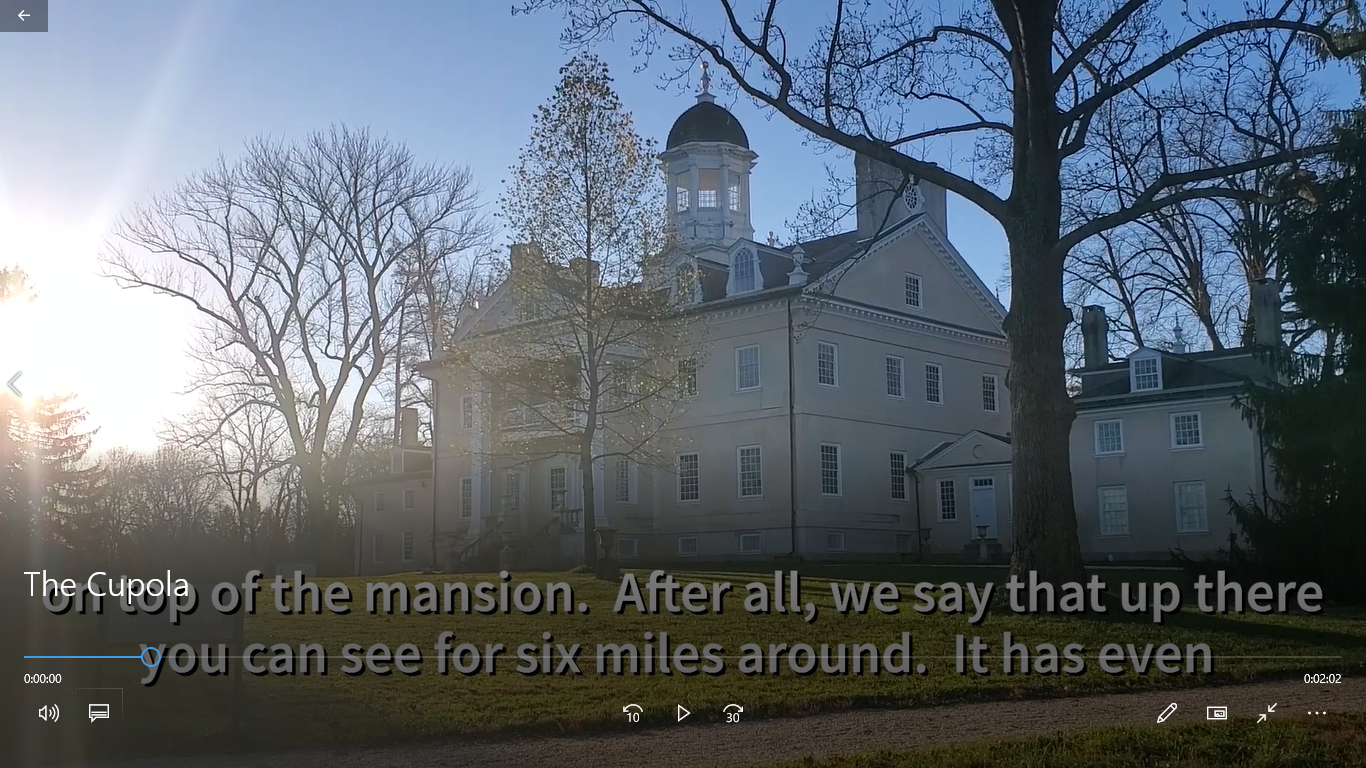 Eyes on Artifacts Series:
The Eyes on Artifacts series are short videos about specific artifacts or areas of Hampton National Historic Site. Each video ties in with a different curriuculum that we are using in our current virtual field trips with Baltimore City Public Schools. This video library is now a resource for all teachers and students. We will continue to create new curriculum-based videos and post them here.
Exploded Cannon!-
The story of Hampton starts with iron. Learn more about the Northampton Iron Furnace and the dangerous work of indentured servants and enslaved persons.
Mark Posey's Brass Buttons
- Zoom in on an extraordinary artifact: a button painted in gold leaf from Mark Posey, a father, husband, and freedom seeker who was at one time enslaved at Hampton mansion and forced to labor as a waiter for lavish gatherings and Ridgely family dinners. Learn more about Mark's work, his surroundings, and his stories.
The Cupola
- A glass tower tops Hampton's mansion on the hill. What can you see from up there? What was the cupola used for?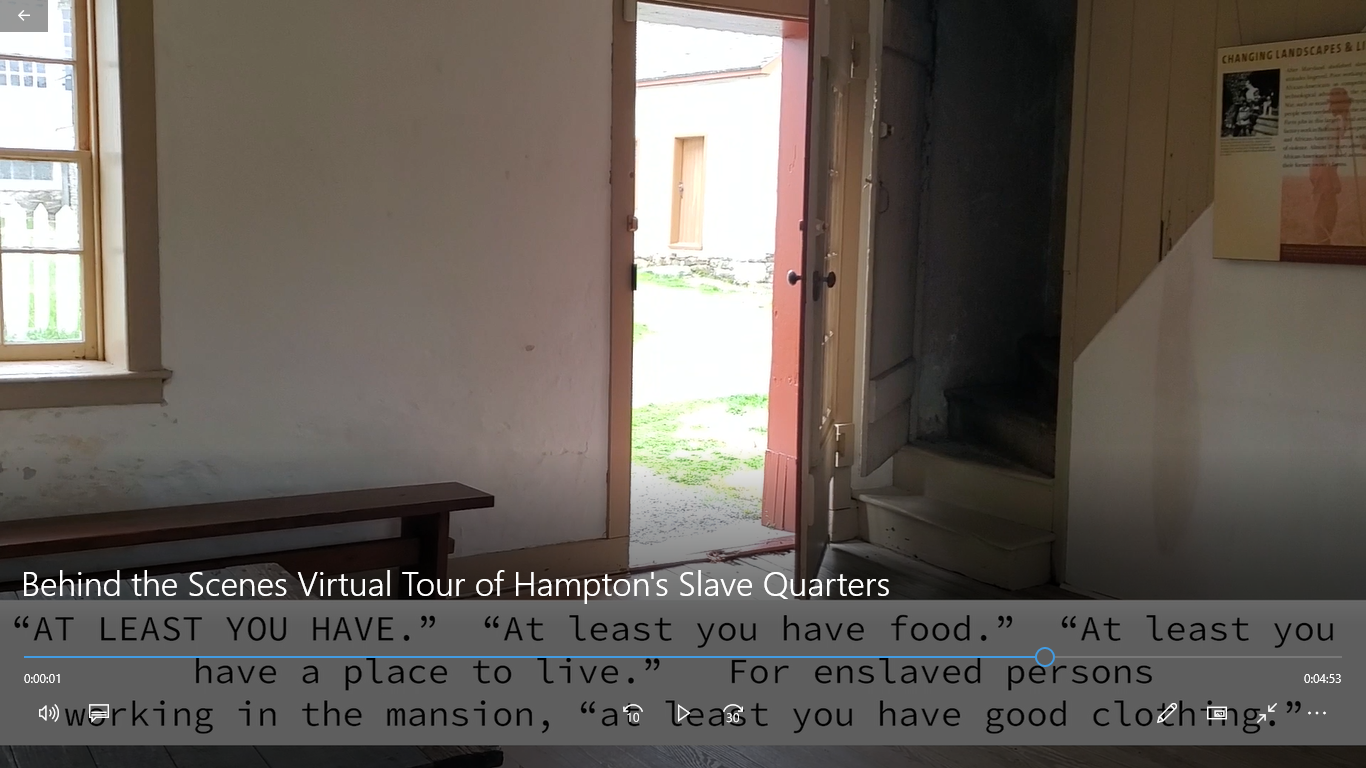 Behind the Scenes at Hampton Series:
The videos in the Behind the Scenes series were created for Baltimore City Public Schools at the very beginning of the pandemic shutdown in spring 2020. The videos were also made available to the public through Baltimore National Heritage Area and University of Maryland, Baltimore County, and used in curriculum at University of Maryland, College Park. These videos are now part of our new digital library for all teachers and students. More videos continue to be created and will be posted here when completed.
Enslaved Carriage Drivers and Jockeys at Hampton
- Look inside the stables at Hampton and learn more about specific responsibilities on the plantation and the people who figured out how to transform their skills into opportunities.
Hampton's Slave Quarters
- The stone slave quarters at Hampton and the buildings surround them tell stories of labor, love and the difficult decisions facing more than 500 enslaved men, women, and children.
Rebecca's Walk
- Rebecca Posey was a teenaged freedom seeker from Hampton, who labored in the mansion alongside of her family. Learn more about what her day-to-day life would have been like and walk through parts of the house where she would have travelled (generally not open to the public).
Holidays at Hampton Series:
This series of videos was created for our virtual Holidays at Hampton 2020 event. Normally, this event is held on a weekend during the holidays, however, due to the pandemic, we had to get creative! We created a series of videos, activities, and social media posts for the 12 days leading up to Christmas. For the entire virtual event, along with instructions on how to make a holly wreath, syllabub, Madeira cake, and your own holiday card, visit:
https://www.nps.gov/hamp/planyourvisit/holidays-at-hampton.htm
Welcome
- Welcome to VIRTUAL Holidays at Hampton 2020!From December 13-24, 2020, we will be sharing daily posts of holiday videos and activities. We will be exploring the different holiday traditions of all of those who lived and worked at Hampton.
Decorations
- Learn how the natural beauty of Hampton's grounds can make a festive home and how to make your own holly wreath! Instructions for making a holly wreath is found on our website (link above).
Religion and African Americans
- Join us to explore the spiritual life of enslaved African Americans for lived and worked at Hampton.
Dining at Hampton
- Join us to explore Hampton's dining room with our curator and learn about the holiday dinners that were held at Hampton throughout the years. You can even make your own syllabub to celebrate in 19th century style! Recipe and more information is found on our website (link above).
Twelfth Night
- Feeling blue after Chrismas ends? In the 18t century, the festivities didn't end on December 25th, they were just beginning! Check out this video about the traditions of Twelfth Night. You can also learn how to make a Ridgely favorite, Madeira cake. The recipe is available on our website (link above)
Last updated: March 19, 2021