Manly Arts Day at Hampton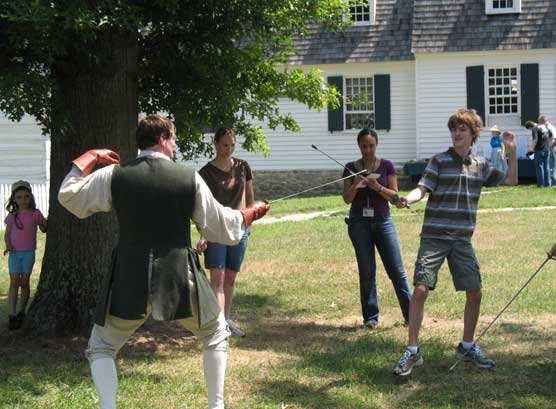 News Release Date:
August 19, 2009
Come to Hampton National Historic Site on Sunday, September 20th from 10:00 a.m. - 4:00 p.m. for a special afternoon of "manly" sport!
Historically young men of all classes learned practical skills, moral lessons and cultural values through "Manly" Arts in the same way as we do from sports today.
Western martial arts were the classroom of masculine culture and character in 1800's Europe and America . Now, of course, we recognize those positive "manly virtues" such as courage, fairness, cooperation, and teamwork as universally desirable.
Ongoing demonstrations of swordsmanship, fencing, boxing, stick fighting, and more will show skills used by men to defend their honor, homes and country in Colonial times to those used by men and women in the Victorian era. (Although historically viewed as "manly" arts, all are welcome to participate in the exercises and demonstrations.) New this year will be a class on Bartitsu the "Gentlemanly Art of Self Defense" as practiced by Sherlock Holmes, and featured in the upcoming film due for release this fall.
Visitors will be able to view an array of historical weapons and practice their own technique using a variety of safe, wooden swords . Guest instructors include two internationally recognized martial artists and authorities Steven Huff and Mark P. Donnelley. They will be assisted by Park Ranger Victor Markland and members of the Mid-Atlantic Society for Historical Swordsmanship.
Such sports were closely tied to the Ridgely family – especially in the early years. Charles Ridgely, the builder of Hampton, and his nephew, the Governor of Maryland, were well-known for prize fighting with fist and cudgel. Subsequent generations served in cavalry units and were necessarily familiar with the use of sabers and other swords.
For more information, please call the park at: 410-823-1309
Admission is free and the site is handicap accessible.
Last updated: February 26, 2015