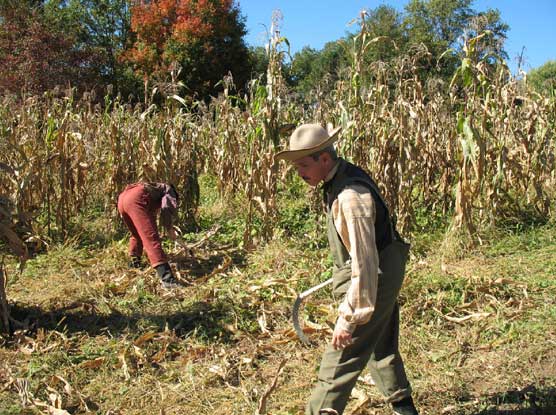 News Release Date:
September 23, 2009
Contact: Kirby Shedlowski, 410-823-1309, x251
October 18, 2009
1:00-5:00 p.m. and 5:30-7:30 p.m.
Help the park staff shuck and grind the corn, try your hand at making butter, watch the blacksmith make tools that would have been used on the farm. Join the annual husking party and learn about its importance to African-American folk culture at 2:00 p.m.! An afternoon full of hands-on opportunities will be sure to keep you busy and help you imagine the many harvests that happened at Hampton.

Then, stick around for an evening full of seasonally inspired tales. Travel by candlelight from the Lower House to the Slave Quarters, to the Tenant Farmer Quarters. Enjoy readings from Edgar Allen Poe, slave tales, and historic legends and folklore from old Towson, - learn how the grim reaper became synoymous with the harvest!

Harvest Day is not just a "corn-y" event, it's a chance to let your love of Hampton NHS "grow."Even if this is not your "field" of interest, you are sure to have fun. Don't say, "Oh 'shucks'" because you missed this fun day, write it on your calendar today! Then, let Hampton Hallows "light" up your night. Nothing holds a "candle" to this chance to "Poe-ke" around the site and hear old tales. As always, don't forget your camera!

For more information contact the park at 410.823.1309, x251.