Visiting The Grange
Hamilton Grange National Memorial preserves the home of Alexander Hamilton, completed in 1802. While New York City changed drastically around the home, it preserves the legacy of Alexander Hamilton and his role in founding the United States. The restored home is now open for visitation and lies on a three-acre plot of land within St. Nicholas Park. Visitors may access the outdoor grounds of the home, or the interior of the home. To plan your visit to Hamilton Grange National Memorial, please use this page as a guide.
To learn more about Hamilton Grange National Memorial before your visit, please enjoy this
introductory video
.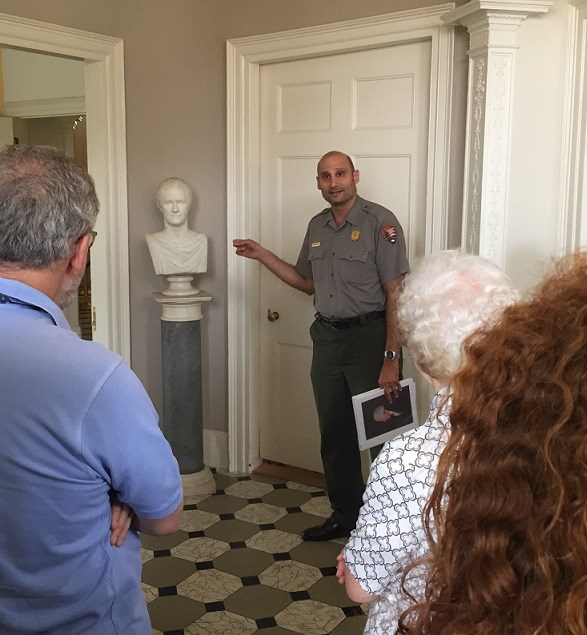 Visitor Center Hours
When you enter The Grange, you will enter through the Visitor Center on the lower floor. Access to the Visitor Center is free and does not require being on a tour. Facilities available include a book store, exhibit space, rest rooms, and park theater where your party may watch the park film.

The visitor center and above-listed amenities are available from Wednesday - Sunday, from 10:00 - 5:00 pm. See below for information about touring the historical floor.
Historical Grange Tours
The only way to access the Historical Floor of Hamilton Grange is on a tour. Tours of Hamilton Grange are 25 minutes in length. The tour is limited to the
historically furnished floor of The Grange
. A ranger or volunteer will be your guide during your tour and answer questions that you may have.
Cost:
All tours are free.
Tour Reservations:
All tours are free, and first-come, first-served. To secure a tour reservation, please arrive onsite with your entire party ready to go. Please be aware that tours may reach capacity before your desired tour time, so please be sure to arrive early.
Hamilton Grange does not offer or require booking of advanced reservations for tours
, unless there are ten or more people in your party. See below for more details.
Have a party of ten or more?
For parties of ten or more, please make a reservation by emailing hagr_info@nps.gov. Please give at least two weeks of advance notice so that we may confirm availability and hold your spot.
For educational groups and reservations, please see
this page
.
Tour Times:
Please note that on
Saturday, June 10th, 2023,
all tours offered will be in a self-guided, open-house format due to the
Caribbean Day Festival
. The Historic Floor will be open for self-guided tours from 10:00 am - 4:00 pm. There is no time limit on self-guided tours, and they usually range in time from 5-30 minutes. All tours that day are walk-up and first-come, first-served.
Hamilton Grange Tour Schedule
Monday
Site Closed; no tours
Tuesday
Site Closed; no tours
Wednesday
11:30 am, 1:30 pm, 3:30 pm
Thursday
11:30 am, 1:30 pm, 3:30 pm
Friday
10:30 am, 11:30 am, 1:30 pm, 2:30 pm, 3:30 pm
Saturday
10:30 am, 11:30 am, 1:30 pm, 2:30 pm, 3:30 pm
Sunday
10:30 am, 11:30 am, 1:30 pm, 2:30 pm, 3:30 pm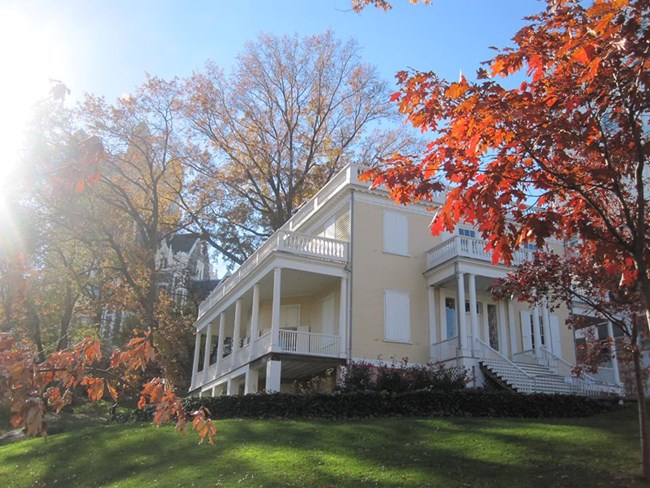 Outdoor Grounds Access
Access to the outdoor grounds of Hamilton Grange is free and reservations are not needed. The grounds are open from Wednesday through Sunday, 9:00 am - 5:00 pm. There are pathways and approximately three acres of park land within Hamilton Grange National Memorial for visitors to enjoy. Hamilton Grange National Memorial is situated within
St. Nicholas park
, a public New York City park spanning 128th Street to 141st Street.
Fees and Passes
All visits to Hamilton Grange, including tours and visits to the visitor center, are free.
Accessibility
Visit this page to review options for accessibility at The Grange.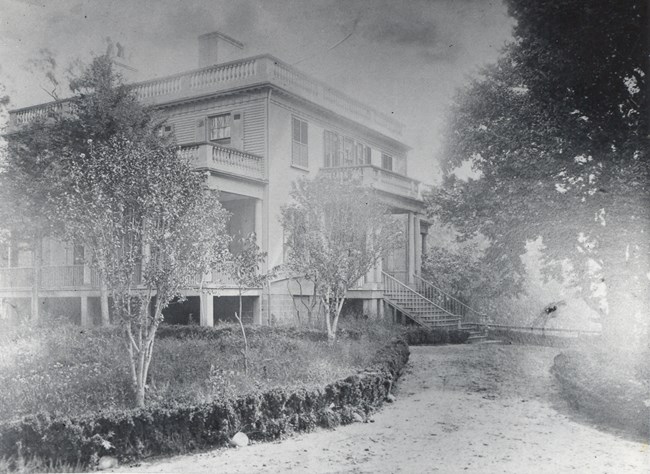 Directions and Transportation
Address
The address of Hamilton Grange National Memorial is 414 w 141st St, New York, NY 10031.
Parking
There is no on street parking on West 141 street between Convent Avenue and St. Nicholas Avenue. Limited street parking is available in the area. Alternate side parking is normally in effect. To learn more about parking, visit this link.
Public Transportation
There are many public transportation options to get to Hamilton Grange National Memorial. From the 1 Train, the 137 St or 145 St stop will get you to the site, or from the A,B,C or D trains, the 135 or 145 St stops will get you to the site. To learn more about public transportation options, please visit this
link.
Last updated: June 3, 2023