Visiting The Grange
Hamilton Grange National Memorial preserves the home of Alexander Hamilton, completed in 1802. While New York City changed drastically around the home, it preserves the legacy of Alexander Hamilton and his role in founding the United States. The restored home is now open for visitation and lies on a three-acre plot of land within St. Nicholas Park. Visitors may access the outdoor grounds of the home, or the interior of the home. To plan your visit to Hamilton Grange National Memorial, please use this page as a guide.
To learn more about Hamilton Grange National Memorial before your visit, please enjoy this
introductory video
.
Operating Hours and Seasons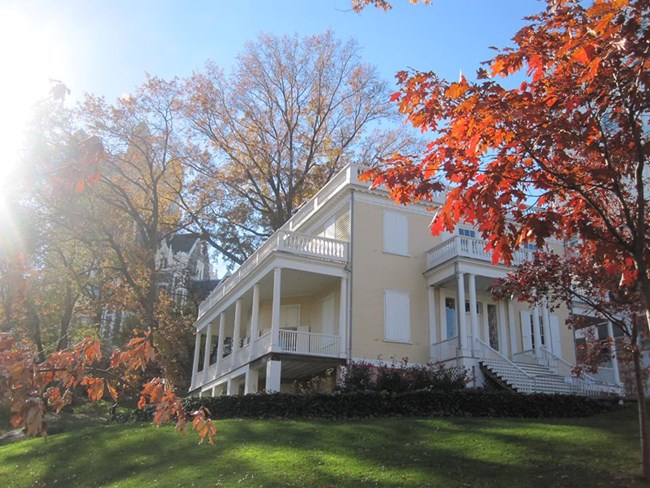 Outdoor Grounds Access
Access to the outdoor grounds of Hamilton Grange is free and reservations are not needed. The grounds are open from Wednesday through Sunday, 9:00 am - 5:00 pm. There are pathways and approximately three acres of park land within Hamilton Grange National Memorial for visitors to enjoy. Hamilton Grange National Memorial is situated within
St. Nicholas park
, a public New York City park spanning 128th Street to 141st Street.
Indoor Access
Hamilton Grange Interior Hours of Operation:
| | |
| --- | --- |
| Sunday | 10:00 am - 12:00 pm and 1:00 pm - 4:00 pm |
| Monday | Closed |
| Tuesday | Closed |
| Wednesday | Closed |
| Thursday | Closed |
| Friday | 10:00 am - 12:00 pm and 1:00 pm - 4:00 pm |
| Saturday | 10:00 am - 12:00 pm and 1:00 pm - 4:00 pm |
Access to the interior of Hamilton Grange requires a reservation for a self-guided tour, which can be either booked in advance, or acquired during our limited offering of walk-up reservations each day. Due to high demand and limited capacity, we strongly recommend booking a reservation
before
your visit to The Grange. Information on how to book a tour is listed below.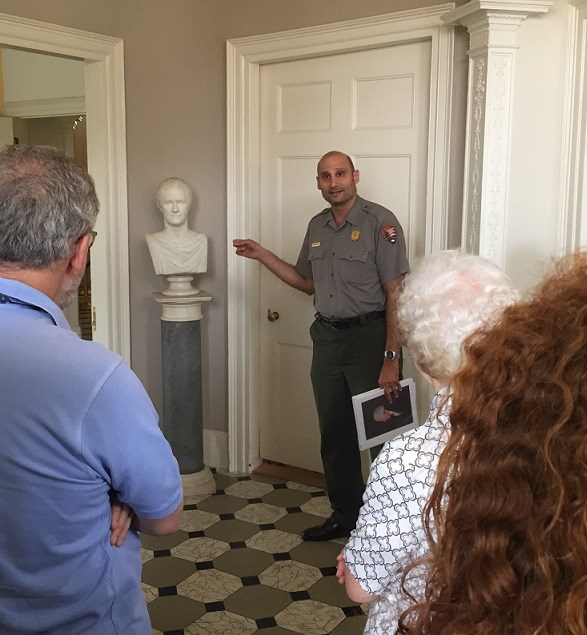 Tour Reservations
The only way to access the interior of Hamilton Grange is on a tour. Tours of Hamilton Grange are 25 minutes in length and self-guided. The tour is limited to the
historically furnished floor of The Grange
. A ranger will be available during your tour to answer questions that you may have.
Please note that tour group sizes are limited to ten individuals.
Booking Your Tour
All advanced reservation tour tickets will be sold through our partner website, recreation.gov.
Release Schedule:
Tickets will be released for sale at 10 am EST one week in advance of the ticket date. For example, if you are interested in a tour ticket for any time on Friday, August 26th, your ticket will go on sale on Friday, August 19th at 10 am EST.
Cost:
While tickets for the tour are free, there is a nonrefundable $1 dollar processing fee for all tickets.
Walk-up tickets:
Free, first-come, first-served walk-up tickets are available each day at selected times. Because we have limited walk-up tickets, advanced reservations are strongly recommended. See the schedule below for the times we offer walk-up tickets.
Tour Times:
Fridays, Saturdays, and Sundays
10:00 am - 10:25 am
11:00 am - 11:25 am
1:00 pm - 1:25 pm
2:00 pm - 2:25 pm
3:00 pm - 3:25 pm*
10:30 am - 10:55am
11:30 am - 11:55 pm
1:30 pm - 1:55 pm
2:30 pm - 2:55 pm
3:30 pm- 3:55 pm
* Walk-up tickets only--first-come, first-served.
Ready to book your tour? Follow the link below.
Fees and Passes
Admission to Hamilton Grange National Memorial is free, but there is a non-refundable $1 processing fee on all transactions placed through Recreation.gov for tickets to enter the house.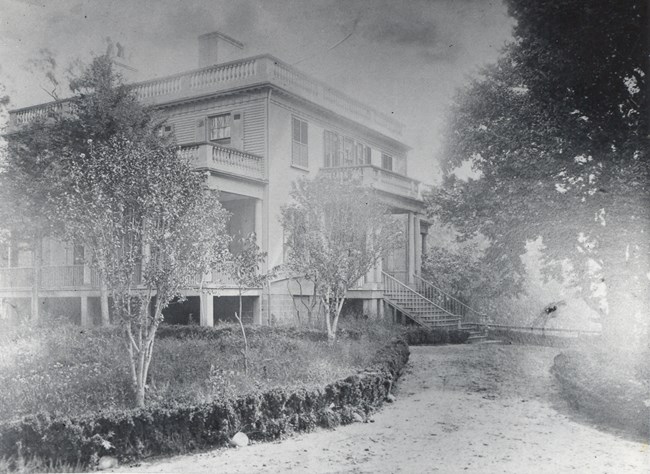 Directions and Transportation
Address
The address of Hamilton Grange National Memorial is 414 w 141st St, New York, NY 10031.
Parking
There is no on street parking on West 141 street between Convent Avenue and St. Nicholas Avenue. Limited street parking is available in the area. Alternate side parking is normally in effect. To learn more about parking, visit this link.
Public Transportation
There are many public transportation options to get to Hamilton Grange National Memorial. There are stops along the 1, A, B, C, and D trains very close by. To learn more about public transportation options, please visit this
link.
Last updated: September 16, 2022