For Teachers
School Group Requests
The staff at Hamilton Grange National Memorial would like to extend an invitation to you and your class! National Parks and National Memorials are places where you and your students can experience the power of history. The information contained in this website will help you prepare for your visit in order to ensure a successful learning experience at our site. We look forward to seeing you and your students during the current school year!
Field Trips to Hamilton Grange
Are free of charge.
Are led by National Park Service Rangers.
Are offered on Wednesdays, Thursdays and Fridays from 10 am - 2 pm.
Require Reservations.
Field trips can include: a viewing of the 15-minute video titled, "Alexander Hamilton," a viewing of the 9-minute video titled, "Moving The Grange," a 30-minute tour, and a Q&A session. We are able to host each group for a maximum of 1 hour each. Please note that the maximum group size that we are able to accomodate is 20 students.
Reserve Your Field Trip
To begin your reservation for a field trip to Hamilton Grange, please use the button below. Please note that this initial email is a request, and a reservation is only valid upon email confirmation from the park. Please allow one week for a confirmation for your trip.
To request a program, please provide the following to hagr_info@nps.gov
Contact name:
Email address:
Number of students:
Number of chaperones:
Grade level(s):
Date and Time (1st, 2nd and 3rd choices):

Asynchronous Distance Learning
Hamilton Grange National Memorial will offer a library of asynchronous distance learning lessons for primary and secondary school classrooms. These activities will be accessed through our website and include the lesson plans, videos, interactive timelines, and work sheets needed to complete the lessons. Curricula standards will be outlined as well.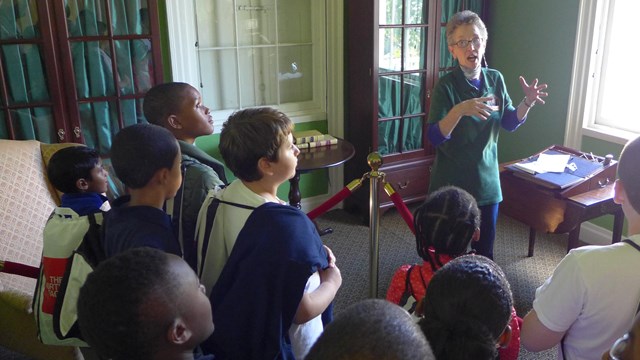 Elementary Lesson Plans
The staff at Hamilton Grange National Memorial would like to invite you and your students to visit our site!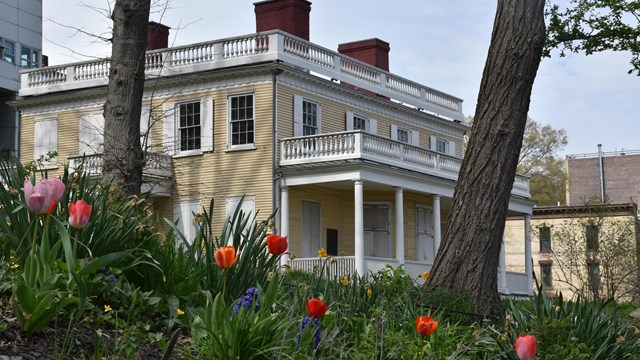 Middle/High School - Coming Soon!
Learn more about educational programs and activities at Hamilton Grange National Memorial.
Last updated: March 11, 2023