Work With Us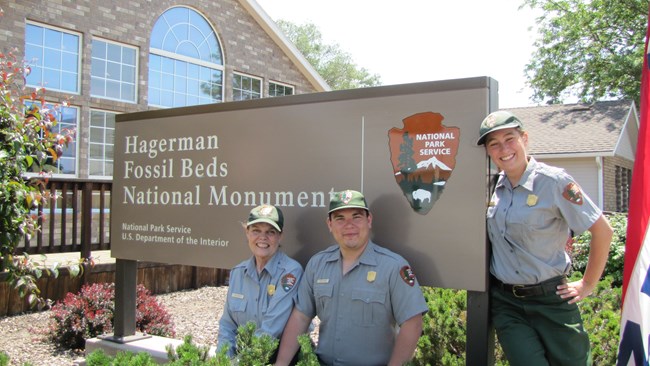 College Students
Many of our
park interns
at the college level are hired through
Public Land Corps
non-profit groups. The purpose of Hagerman Fossil Beds National Monument is "to preserve outstanding Pliocene paleontological resources, to serve as a center for furthering scientific research, and to broaden public understanding of the science of paleontology and the significance of the Hagerman fossil record." Interns with a science background, especially paleontology or geology, often work with the park through the
Geoscientist-in-the-Parks
program. Another internship program to consider would be the
Student Conservation Association
(SCA), many of our public contact interns are hired through the SCA program.
High School Students
High school students, age 15 to 18, are most often hired through the
Youth Conservation Corps
. The United States Youth Conservation Corps (YCC) is a summer youth employment program. YCC programs are generally 8 to 10 weeks and members are paid the minimum wage for a 40-hour work week. The YCC opportunities at Hagerman Fossil Beds are non-residential programs which provide paid daytime work activities with members who commute to the Federal unit daily. Work crews through the
Idaho Conservation Corps
are also assembled from time to time for specific projects generally 5 weeks in length.
Summer Seasonal Jobs
Funding permitting, Hagerman Fossil Beds does hire summer workers. The jobs are advertised on USAjobs and the
application period
is open for an established time many months before summer (between October and February usually). We post all seasonal vacancies on USAjobs. Search "National Park Service" and select "Temporary" in the Work Type field. Currently open positions should be noted at the bottom of this page as well.
Permanent Full-Time Jobs
Please realize that the staff at Hagerman Fossil Beds is a small one and includes many staff members who are shared with other parks or park regions. In 2017 the number of staff assigned to Hagerman Fossil Beds exclusively, and full-time year-round, is two: the park paleontologist and the chief of visitor services. The park superintendent, chief of integrated resources, chief of maintenance, and education specialist positions are shared between Hagerman Fossil Beds and
Minidoka National Historic Site
. Our budget, information technology/computer, and personnel/administrative positions are shared in a regional consortium. Hagerman Fossil Beds does not have a law enforcement postion, law enforcement is done through cooperative agreement with local authorities or through a regional NPS group. If there are any vacancies you will see them listed on USAjobs. Currently open positions should be noted at the bottom of this page as well.
Current Job Opportunities
Last updated: March 3, 2017