News Release
Storytelling Day 2021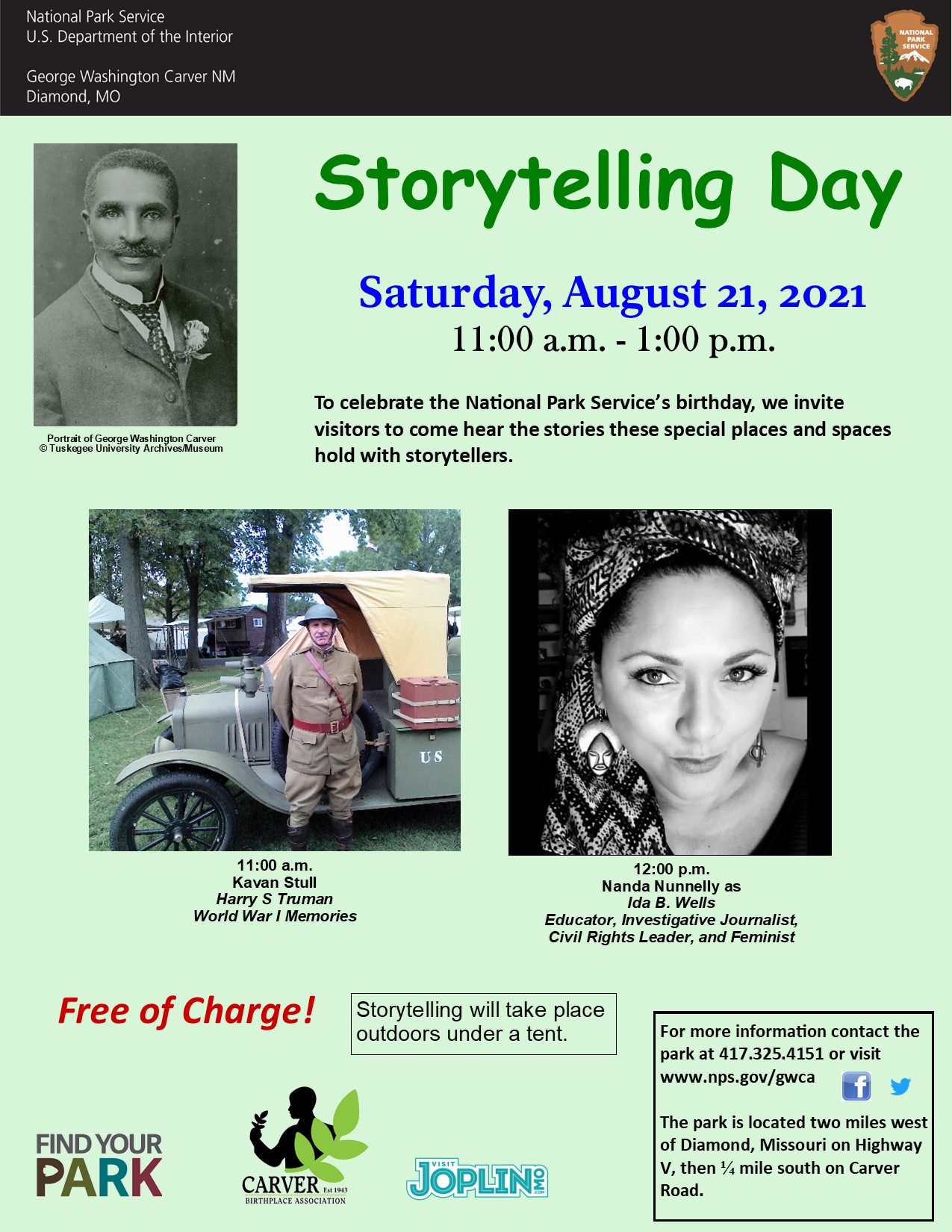 News Release Date:
August 8, 2021
Fifth Annual Storytelling Day Event 
George Washington Carver National Monument is pleased to host the 5th annual "Storytelling Day" event on Saturday August 21, 2021 from 11:00 am to 1:00 pm. This event celebrates the National Park Service's 105th birthday (August 25, 2021), and focuses on stories about American culture and history. Come hear the stories of diverse experiences and special places and spaces from these dynamic storytellers. Our history is part of who we were, who we are, and who we will be. The event will take place outdoors under a tent and is FREE of charge. Limited seating is available, please bring your own folding chairs if you'd like. 

11:00 a.m. Harry S Truman, World War I Memories (as portrayed by Kavan Stull) Long before serving as the 33rd President of the United States, Harry S Truman served on the front lines of World War I. During his time in Europe, he and Bess Wallace exchanged countless letters. Many of these letters are preserved today giving us insight to life on the home front and on the battlefield. They married on June 28, 1919.  Please join local World War I historian, re-enactor, and storyteller Kavan Stull as he portrays President Truman in his old WWI uniform after retirement from public life. Stull will share Truman's wartime memories. Many of these stories are told through letters between Harry and Bess. 

12:00 p.m.  Ida B. Wells (as portrayed by Nanda Nunnelly) – Storyteller Nanda Nunnelly will perform as educator, investigative journalist, African American civil rights advocate, and feminist Ida B. Wells. She was a contemporary of George Washington Carver, and leaves a legacy of social and political activism. In 2020, Ida B. Wells was posthumously awarded a Pulitzer Prize "for her outstanding and courageous reporting on the horrific and viscous violence against African Americans during the era of lynching."  

Administered by the National Park Service, an agency of the Department of the Interior, George Washington Carver National Monument preserves the birthplace and childhood home of George Washington Carver, scientist, educator, and humanitarian. The park is located two miles west of Diamond, Missouri on Highway V, then ¼ mile south on Carver Road. For more information, please call the park at 417-325-4151 between 9:00 a.m. and 4:30 p.m.
Last updated: August 8, 2021