News Release
Art in the Park 2019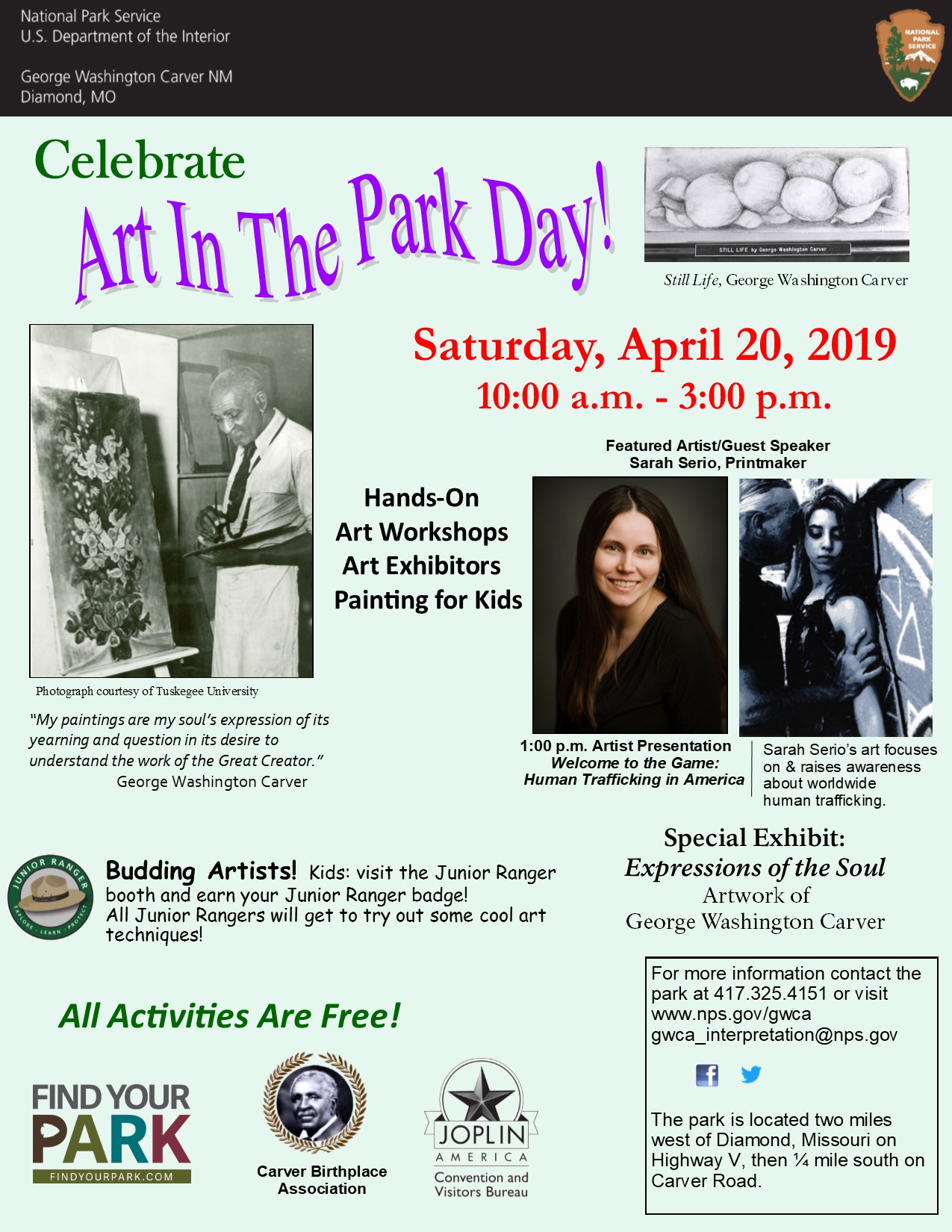 News Release Date:
February 6, 2019
Art in the Park
Saturday, April 20, 2019 
10 a.m. to 3 p.m.
 
Mark your calendars for "Art in the Park/Earth Day," the annual event at George Washington Carver National Monument, on Saturday, April 20, 2019 from 10:00 a.m. to 3:00 p.m. Presented in conjunction with National Park Week, Art in the Park/Earth Day is a free event showcasing the artwork of George Washington Carver and an opportunity to celebrate Earth Day early.

George Washington Carver was inspired by the natural environment and gained a sense of serenity and personal rejuvenation from his artistic work. Plein air artists will set up along the trail, capturing the beauty of the woodlands, prairie, and streams. Artists will conduct art workshops throughout the day and visitors are encouraged to participate. A "budding artists" area will feature natural dyes, painting color swatches, and other children's art activities.

At 11:00 a.m., a park ranger will share the program "Expressions of the Soul," featuring Carver's artistic creations including some of his original artwork on display in the museum.

Also at 11:00 a.m., Park volunteer and retired Missouri Southern State University professor, Dr. Carolyn M. Hale will conduct an art workshop, Drawing Daffodils for Beginners in the visitor center. Participates will learn to draw and paint similar to the experience of George Washington Carver. The session lasts 1 ½ hours and is not a come and go activity. The instructor will take the first 25 visitors, with a required of age 16 to adults. All supplies & materials will be provided.

At 1:00 p.m., Featured artist/guest speaker Sarah Serio, a native of Neosho, Missouri, will give an artist talk, entitled, "Welcome to the Game: Human Trafficking in America." Serio is a printmaker and creates in traditional methods of hand-carved, hand-inked, and hand-pulled works. Her work focuses on and raises awareness about the millions of people worldwide who are victims of human trafficking. Serio is a nationally exhibiting printmaker. She has exhibited in galleries including New York, Los Angeles, Chicago, Miami, and Southwest Missouri.

The Earth Day celebration will include a special film, Earth, The Inside Story, (12:00 p.m., Length: 56 minutes) and crafts from recycled materials throughout the day.

At 2:00 p.m., visitors are invited to view the film, Against the Odds, the Artists of the Harlem Renaissance. This 60-minute documentary features rich archival footage and more than 130 rarely seen paintings, prints, photographs, and sculptures by black artists.

This "Find Your Park" event invites the public to see that a national park can be more than a place -- it can be a feeling, a state of mind, or a sense of American pride. Beyond vast landscapes, the campaign highlights historical, urban, and cultural parks, as well as the National Park Service programs that protect, preserve and share nature, culture, and history in communities nationwide.

Administered by the National Park Service, an agency of the Department of the Interior, George Washington Carver National Monument preserves the birthplace and childhood home of George Washington Carver, scientist, educator, and humanitarian. The park is located two miles west of Diamond, Missouri on Highway V, then ¼ mile south on Carver Road. For more information, please call the park at 417-325-4151 between 9:00 a.m. and 4:30 p.m.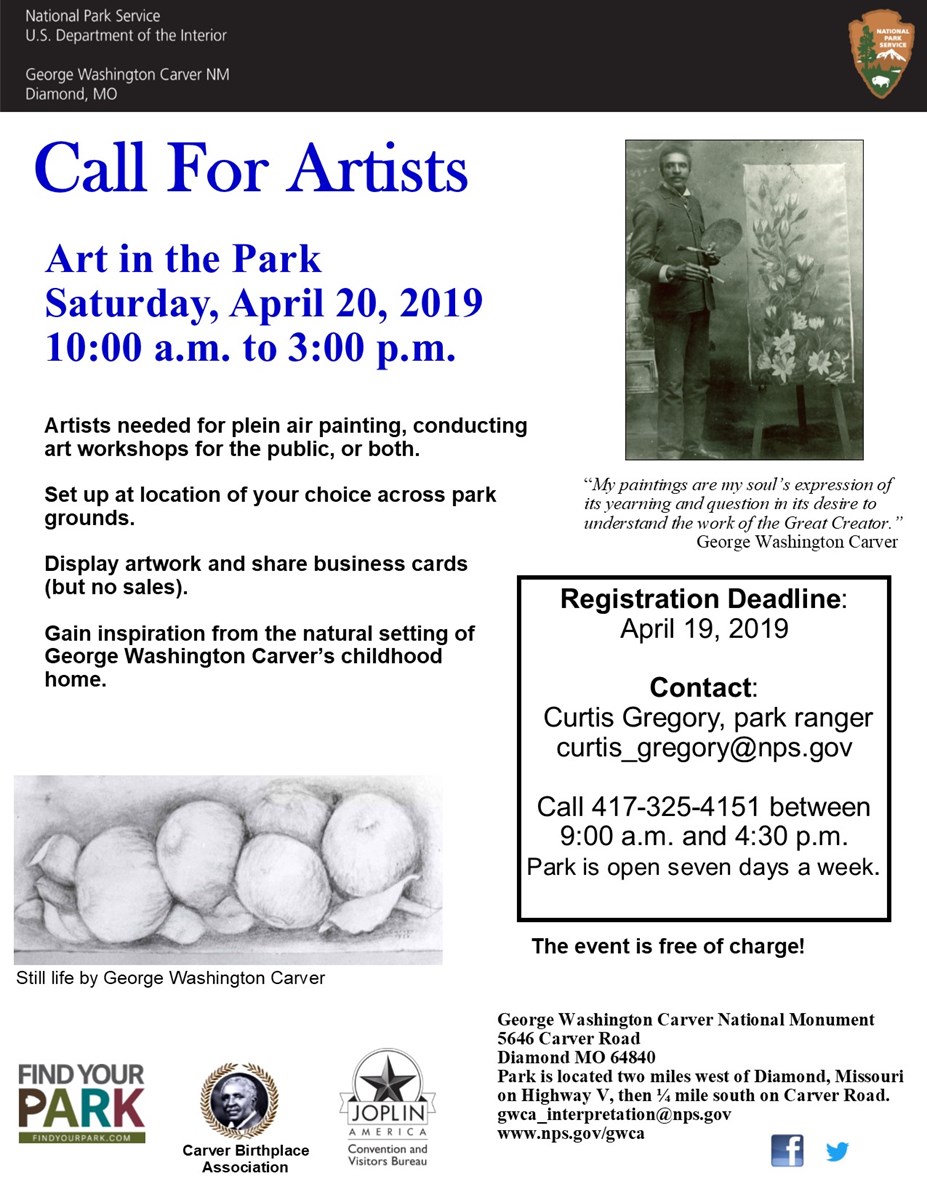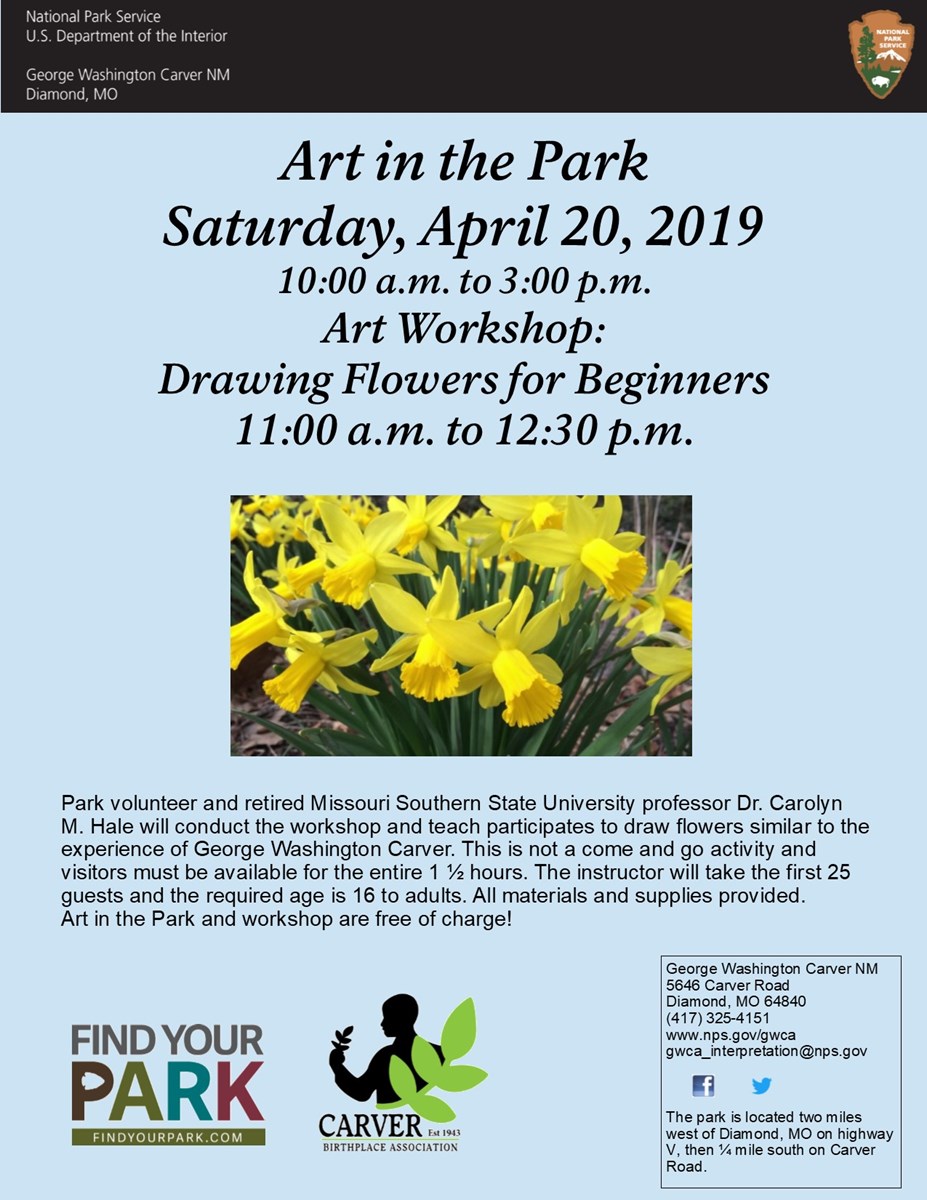 Last updated: April 12, 2019