News Release
Announcing Carver Day on July 9th, Save the Date!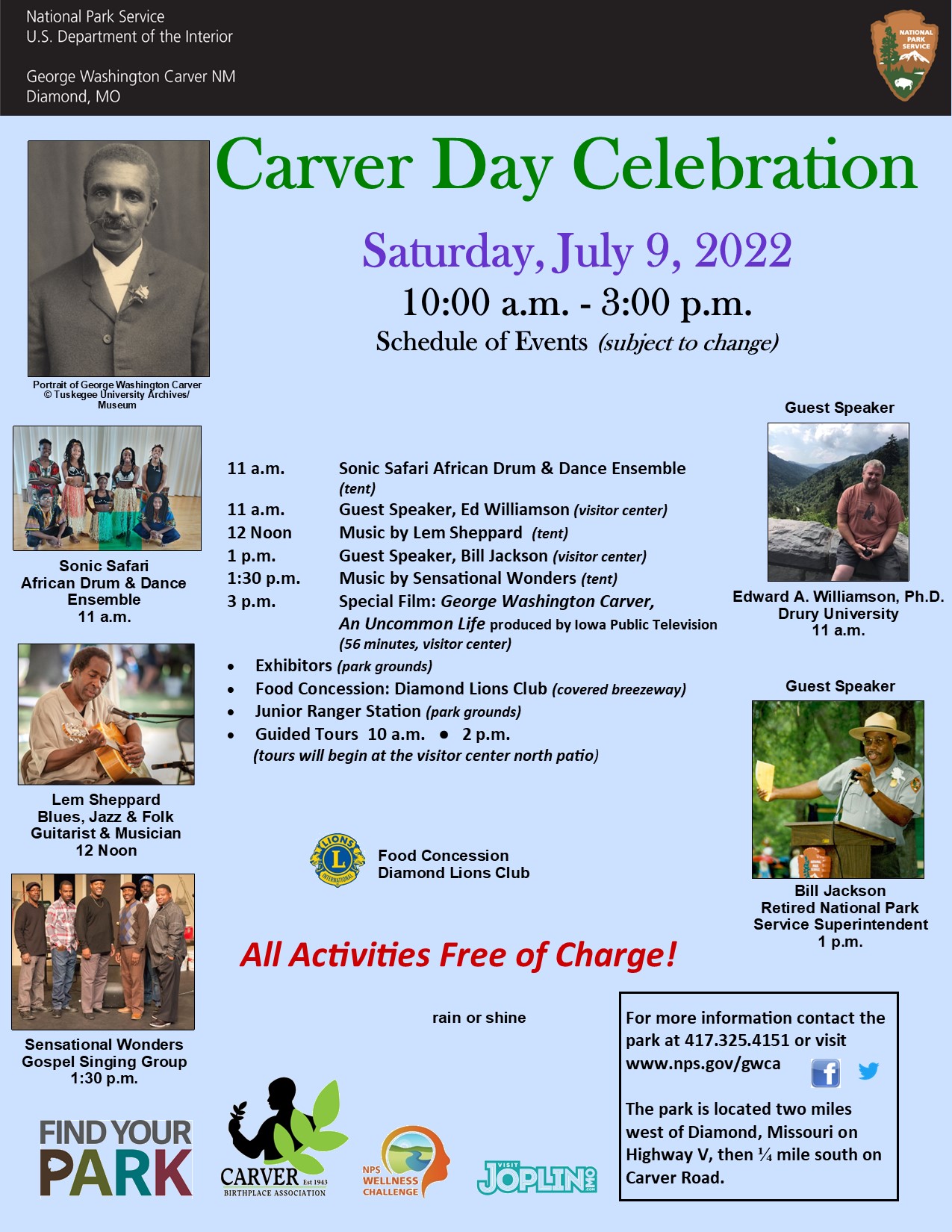 News Release Date:
May 25, 2022
Announcing Carver Day on July 9th, Save the Date! 
George Washington Carver National Monument is pleased to announce the park's annual Carver Day celebration will be held on Saturday, July 9, 2022, from 10 a.m. to 3 p.m. Carver Day celebrates the life of George Washington Carver and the establishment of the national monument in his honor. This year we are commemorating the 79th anniversary of Carver's passing and the subsequent establishment of the national park on July 14, 1943, the first to honor an African American. The event is free of charge.

Guest speakers include Edward A. Williamson, Ph.D., Associate Professor of Education and Child Development at Drury University, Springfield, Missouri. Dr. Williamson is a longtime park volunteer and will share his appreciation for George Washington Carver at 11 a.m. We also welcome back to the park retired National Park Service Superintendent, William "Bill" Jackson. Jackson was Superintendent of George Washington Carver National Monument from September 19, 1993, to October 31, 2002. Mr. Jackson will speak at 1:00 p.m. on his years of service at the park.

Music is a huge part of the Carver Day fun.The music begins at 11 a.m. with the Sonic Safari African Drum and Dance Troupe from St. Louis, Missouri. This act is a showcase of highly energetic West African and modern African American dancers. Comprised of traditional drummers and dancers in colorful costumes, the ensemble's performances are often scripted from storylines that highlight and celebrate positive role models from the African American cultural experience. The performance is interactive and designed for multi-generation audience participation. Sonic Safari African Drum & Drum Troupe is a community outreach program of the Intercultural Music Initiative.

Performing at 12:00 p.m.is Lem Sheppard. Lem is a local jazz, blues and folk musician who traces the history of African American music from both the North and South. Lem will perform African American music/stories from George Washington Carver's lifetime and share the African American experience with visitors. Also sharing the music stage will be gospel greats Sensational Wonders at 1:30 a.m.

Carver Day is co-sponsored by the Carver Birthplace Association, with support from the Joplin Convention & Visitors Bureau. Activities are scheduled throughout the day including guest speakers, musical performances, exhibitors, guided tours, educational programs, children's activities, a Junior Ranger station, and much more. The Diamond Lions Club will provide a food concession. Mark your calendars and save the date for Carver Day, July 9th!
Last updated: July 4, 2022