Dog Canyon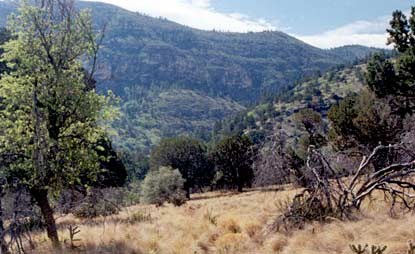 Dog Canyon lies in a secluded, forested canyon on the north end of the park at an elevation of 6,300 feet. Remote and far removed from civilization; it stands at the edge of the wilderness boundary, and offers an ideal location for quiet camping, birding, hiking, and solitude.
Camping
Due to its higher elevation and protected location beneath steep cliff walls, the campground at Dog Canyon is cooler than Pine Springs campground in the summer, and sheltered from strong gusty winds in winter and spring. The campground has 9 tent sites and 4 RV sites (no hookups, no dump station, no RV's longer than 23 feet). Picnicking is also permitted in the campground. Restrooms have sinks and flush toilets, but no showers. Charcoal and wood fires are not permitted.
Hiking, Backpacking and Horseback Riding
Trails from Dog Canyon offer excellent access, with relatively easy grades, to the highcountry of Guadalupe Mountains National Park. A variety of one-day or shorter day hikes, overnight backpacking trips, and horseback riding trips can be made from here. Check in at the ranger station for information about backpacking and horseback riding.
Trails
Indian Meadow Nature Trail
A free trail guide offers information and insights on the natural and cultural history of the meadow and the surrounding area. The trail is 0.6 miles long; at a leisurely pace it takes 30-45 minutes. The trail is rated easy as it remains almost level after crossing an arroyo.
Marcus Overlook
Follow the Bush Mountain Trail to Manzanita Ridge. Once on top, the trail abruptly levels off for a short distance. Stop at the point where the trail drops steeply, and enjoy the view down West Dog Canyon. Turn back here and return to Dog Canyon along the same route. The trail is rated moderate and the distance is 4.5 miles.
Lost Peak
Follow the Tejas Trail through open meadow and into the canyon bottom that is lined on either side by alligator juniper, ponderosa pine, chinkapin oak, and big tooth maple. Shortly ahead you will begin climbing up toward Lost Peak, gaining 1,540 feet in elevation. At the summit the trail levels out and soon reaches a junction with the McKittrick Ridge Trail. The distance to Lost Peak and back is 6.4 miles. It is rated moderate to strenuous, and takes 5-6 hours.
Remember
Please pay your entrance fee (self-pay at the trailhead) before beginning your hike.
Please camp in designated campsites at the campground and in backcountry areas.
Pets may not accompany you on trails into the backcountry.
All fires are prohibited. Bring a self contained stove for cooking.
Overnight backpackers and horseback riders must obtain a permit for backcountry use.
Plants, animals, rocks and other natural and cultural features may not be disturbed or removed.
Hunting and hunter camping is prohibited.
Last updated: April 20, 2021