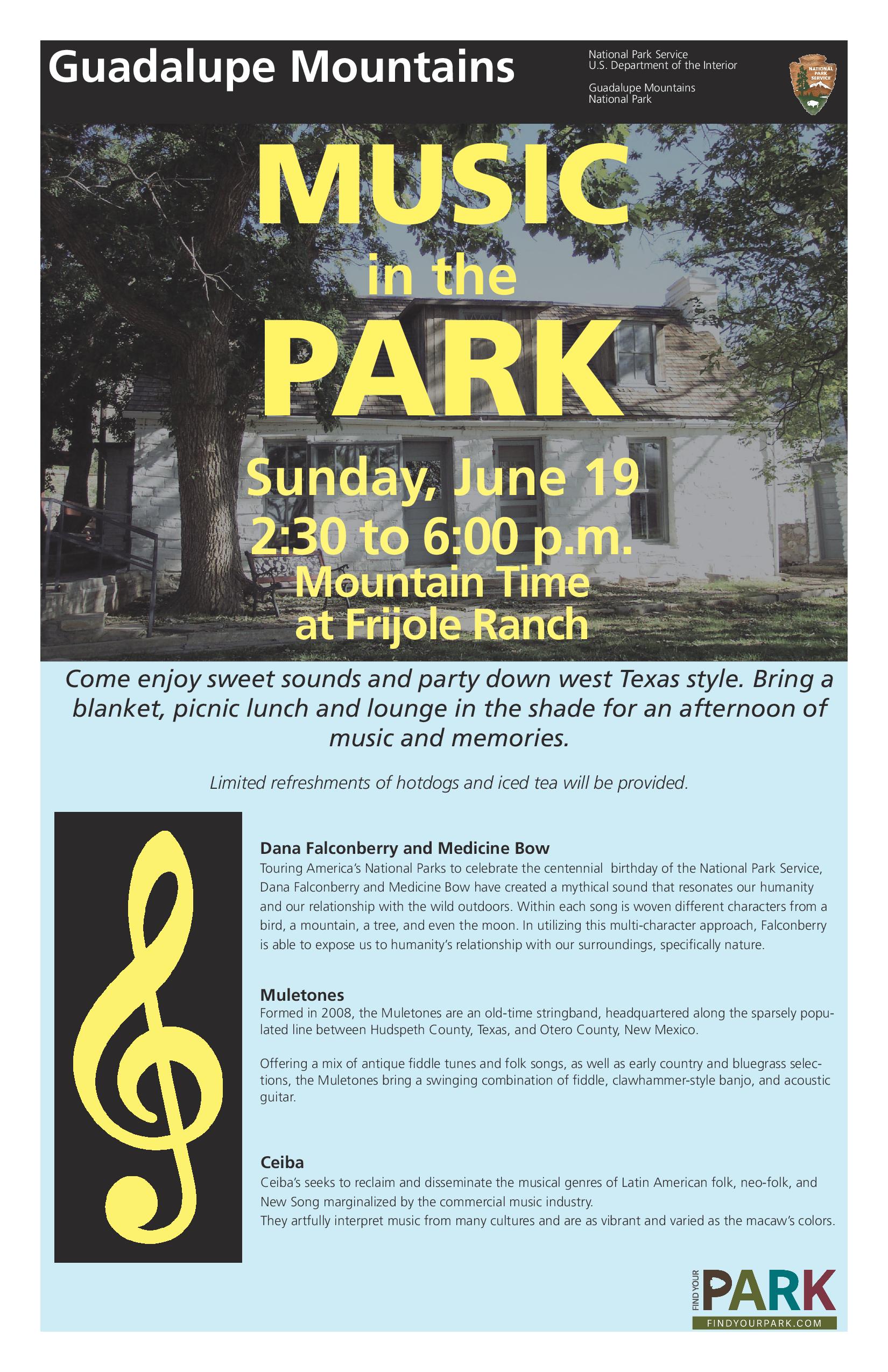 News Release Date:
June 14, 2016
Contact: Elizabeth Jackson, (915) 828-3251 ext. 2300
Salt Flat, Texas - Help celebrate the 100th birthday of the National Park Service at Guadalupe Mountains National Park on Sunday, June 19 from 2:30 p.m. to 6:00 p.m. Bring a blanket, a picnic and lounge in the shade at Frijole Ranch for an afternoon of music and memories. Activities will include ranger led hikes and living history talks. Come find your park and enjoy some music west Texas style!
Live music will be provided by bands Dana Falconberry & Medicine Bow, The Muletones and Ceiba. Refreshments will be provided by park cooperative association sponsors Western National Parks Association (WNPA). Hot dogs and iced tea will be offered free to visitors on a first come, first served basis. 
"This National Park Service centennial event is for the whole family, so bring your father or grandfather and make it a very special Father's Day this year!" said Guadalupe Mountains Superintendent Eric Brunnemann. 
The event will include performances from:
Dana Falconberry and Medicine Bow, a band touring America's National Parks to celebrate the centennial birthday of the National Park Service have a mythical sound that reflects humanity and the wild outdoors. Each song reminds us of our natural surroundings by weaving different characters form birds, mountains, trees and even the moon.
The Muletones are an old-time string band with local members that live along the sparsely populated line between Hudspeth County, Texas, and Otero County, New Mexico. Offering a mix of antique fidle tunes and folk song, as well as early country and bluegrass selections, the Muletones bring a swinging combination of fiddle, claw hammer-style banjo, and acoustic guitar. 
Ceiba artfully interprets music from many cultures and seeks to disseminate the musical genres of Latin American folk, neo-folk, and some original songs.
There is no fee for events in the park, but there is the usual entrance fee of $5.00 per person for ages 16 and over. Park information, including park conditions and weather are available on the park's website at www.nps.gov/gumo or call the Pine Springs Visitor Center at (915) 828-3251.