GUMO Youth Poster Contest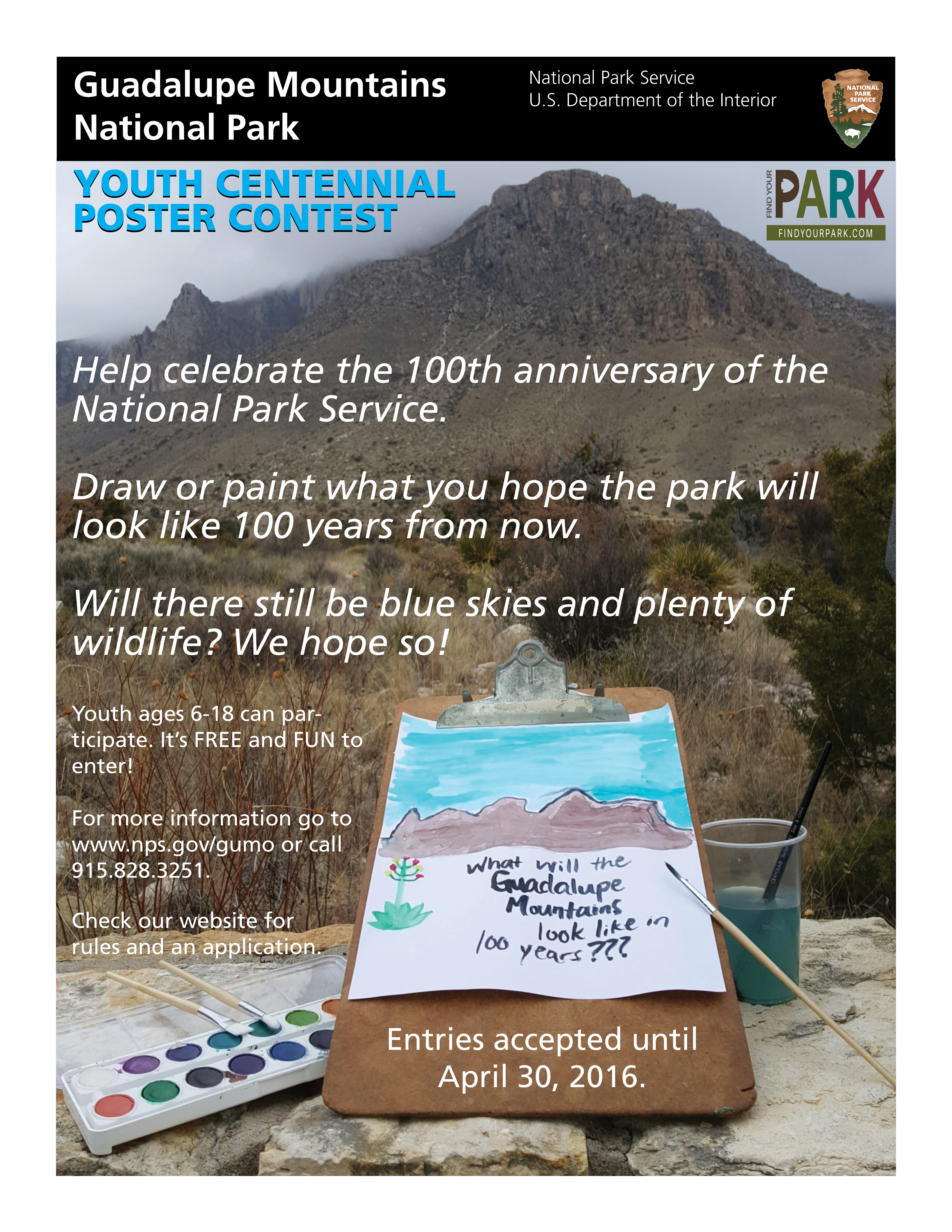 News Release Date:
January 30, 2016
Contact: Elizabeth Jackson, 915-828-3251 x2300
Salt Flat, Texas - What do you think Guadalupe Mountains National Park will look like in 100 years? In celebration of the 100th birthday of the National Park Service, Guadalupe Mountains National Park is sponsoring a youth poster contest. From January - April 30th, 2016, youth ages 6-18 years can submit artwork to express what they feel Guadalupe Mountains night look like in 100 years from now.
Imagine what the park might look like? Will there be mountains, Chihuahuan desert habitat and wildlife? Accuracy counts, so visit the Guadalupe Mountains National Park for a hike and study the wildlife and plants that live in this landscape, or go online, visit the park website (www.nps.gov/gumo) and research West Texas wildlife and plants. 
All poster submissions must be on at least an 8 1/2" x 11" poster board or paper. Suggested media can be crayons, pastels, acrylic, color pencils, markers, pen and ink or paint. Entries can be dropped off at the Pine Springs Visitor Center in the park, Carlsbad Caverns National Park Headquarters in Carlsbad, New Mexico or mailed to: Guadalupe Mountains National Park, Attn: Poster Contest - 400 Pine Canyon Drive, Salt Flat, TX 79847. The winning entry will receive a gift certificate and have their winning art made into the Guadalupe Mountains Centennial Poster and will be featured on the 2017 Guadalupe Mountains Annual Park Pass. Honorable mentions, prizes and recognition will also be awarded in three age categories. Check the website for information about prizes and contest rules. For updates on status of the contest and current entries follow Guadalupe Mountains National Park on Facebook, Twitter, and Instagram.
Last updated: March 30, 2016