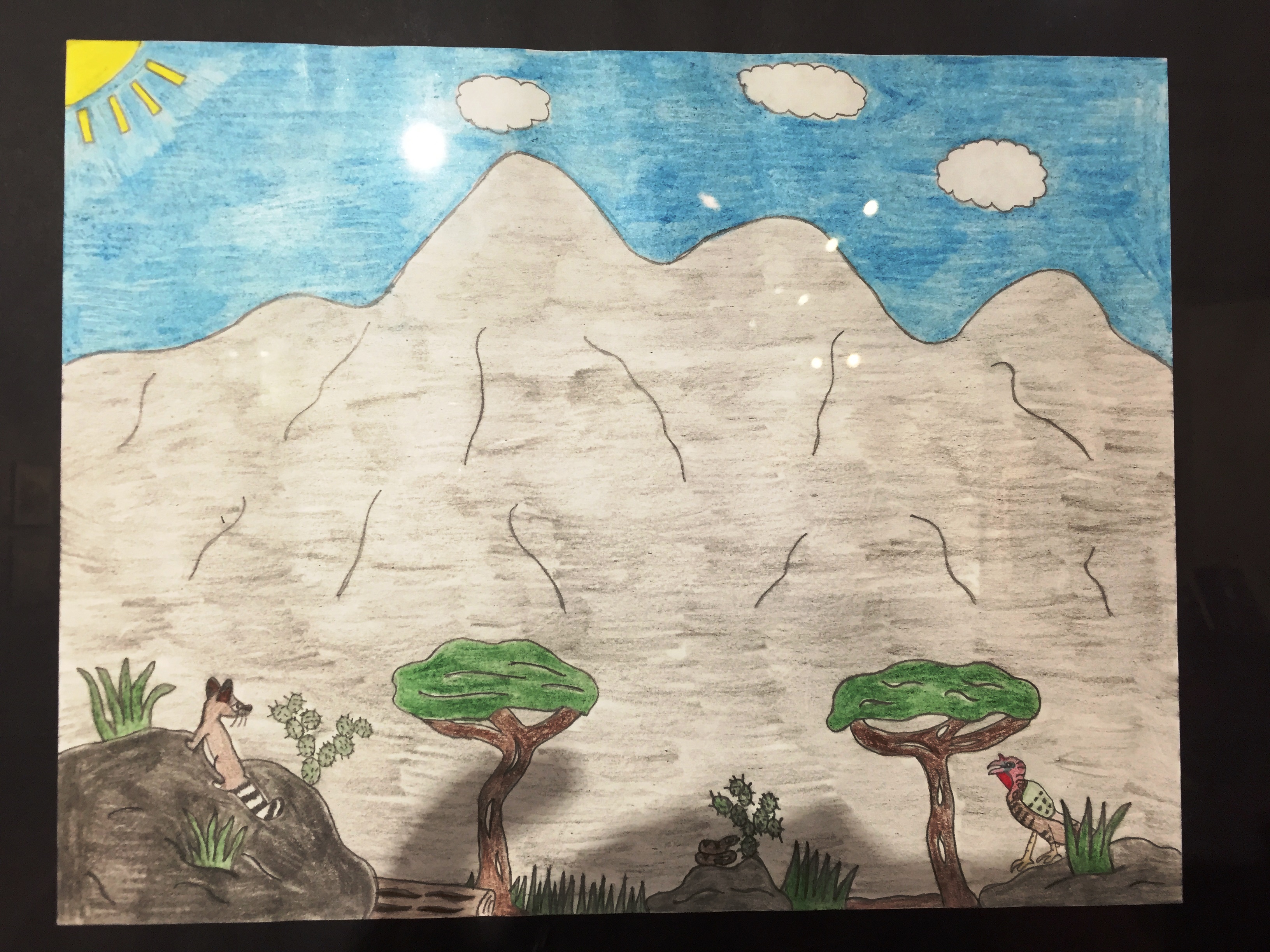 News Release Date:
July 19, 2016
Contact: Elizabeth Jackson, (915) 828-3251 x2300
Guadalupe Mountains Youth Centennial Poster Contest Winner Announced
Salt Flat,Texas–Guadalupe Mountains National Park has selected the winning entry to the park Centennial Youth Poster Contest launched early January through April, 2016. Youth ages 6-18 years submitted artwork to express what they thought Guadalupe Mountains National Park might look like 100 years from now to celebrate the National Park Service Centennial. The winning entry was created by a home school student, Phineas Rouland, age 12 from Saratoga, California. The entry, drawn in color pencil, features a ringtail in the Chihuahuan desert landscape. A ringtail is a small mammal, similar to a raccoon found in the park. The winning entry will be featured on the Guadalupe Mountains National Park pass for 2017.
Over 75 entries were received for the contest. One winning entry and 3 honorable mentions were selected to receive gift cards, books and prizes from contest sponsors McDonalds and Western National Parks Association (WNPA). A panel of 4 local residents from the Carlsbad area led by Carlsbad Mayor Dale Janway judged the competition. "The children's entries were so detailed and creative. It was very difficult to select just one winning entry!" said Mayor Janway.
Students studied the Chihuahuan desert habitat and animals before working on their entries to ensure entries included the correct species that were in the Guadalupe Mountains. Many came for a visit to hike in the park and experience and study the landscape. Most contest entries came from local schools and youth at the Boys and Girls Club in Carlsbad, New Mexico. There were also entries received from Van Horn and El Paso, Texas, as well as from youth as far away as California.  
The winning entry and top 19 selected works are being exhibited at the Carlsbad Museum and Arts Center in Carlsbad, New Mexico in the Carlsbad Caverns and Guadalupe Mountains National Parks Centennial exhibit "A Century of Inspiration" now through September 23, 2016.Museum hours are Monday–Saturday from 10:00a.m. to5:00 p.m.  
 "A Century of Inspiration" showcases works of art, photography, artifacts and pop culture that both Carlsbad Caverns and Guadalupe Mountains National Parks have inspired for generations.
For visitation information for Carlsbad Museum and Art Center contact the museum at
(575) 887-0276 or visit http://www.cityofcarlsbadnm.com/museum.cfm.