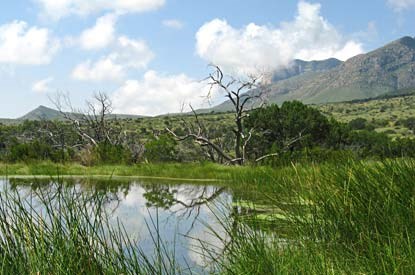 While enjoying their experience at Guadalupe Mountains National Park, visitors rarely consider what operating a national park entails. Some visitors may stop by the Visitor Center for assistance in planning their visit, may attend a ranger-led program, or may encounter a ranger out on patrol or a trail crew maintaining a trail, but many do not see the management and support personnel who are essential to the operation of the park.
Learn more about how our park works from our management documents located in the
Park Planning
section. Click on the links below to see information on much of the "behind-the-scenes" operation of Guadalupe Mountains National Park and to learn about our plans for the future of the park.
Planning, Environment and Public Comment
Each person has an important perspective on the management of Guadalupe Mountains National Park and can make a unique contribution to the planning process that will help the National Park Service produce better planning documents. The National Park Service has developed a web-based tool, the
Planning, Environment and Public Comment site (PEPC)
, for informing the public about projects and plans that are being considered or developed.
This system will allow people to gain access to current plans and related documents that are available for review and open for comment. Public comments can be submitted through the PEPC system. The public will also be able to access schedules for particular projects as well as specific information about public meetings. While the PEPC system will become the primary vehicle to submit and review comments on planning efforts and projects, the park will continue to accept comments from the public as it always has, by mail, fax, and e-mail.