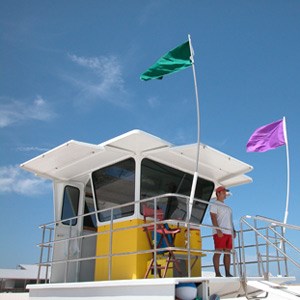 Because of the miles of shoreline and water access, opportunities to swim throughout the Seashore are numerous. However, it is better to swim in lifeguarded or designated swim beaches that are located at Johnson Beach, Langdon Beach, Opal Beach and Perdido Key Area in Florida and at West Ship Island in Mississippi.
Season for Lifeguards will end in September. For information on times please call 850-232-5883.
Lifeguards' Safety Tips:
Learn to swim.
Watch for beach safety flags and heed the warnings. During lifeguard season call 850-934-2600 for current Florida District flag conditions at Opal Beach, Langdon Beach, and Perdido Key Beach after 10:00 A.M.
Red over Red (two flags flying): Water closed to the public.
Red: High hazard, high surf and/or strong currents.
Yellow: Medium hazard, moderate surf and/or currents.
Green: Low hazard, calm conditions, exercise caution.
Purple: Dangerous marine life.
Swim near a lifeguard.
Never swim alone.
Parents should always watch their children.
No Diving. Sandbars can be shallow. Feet first first time!
If you are in trouble, call or wave for help.
Follow all rules and regulations of lifeguard or local beach patrols.
Please No glass containers at the beach.
Junior Lifeguard is offered in the summer months, for more information please call 850-916-5634.