Rip Currents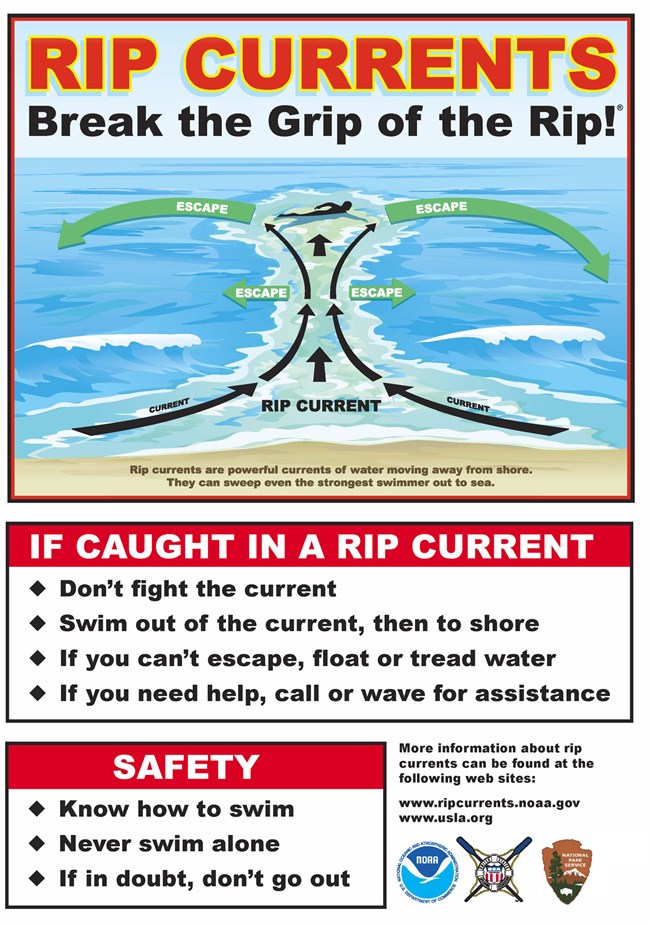 Rip currents are narrow channels of fast-moving water that pull swimmers away from the shore. They can occur at any beach with breaking waves, including the Great Lakes. They are common along the U.S. coastline even when the skies are clear. As more people head to the beach this summer, rip current rescues will rise—as, unfortunately, will deaths. On average more than one hundred people die each year from rip currents.
NOAA, the U.S. Lifesaving Association, and the NPS, are working to reduce the death toll by educating people about the danger of rip currents and how to avoid them or survive if caught in one.
Helpful Links:
If you get caught in the grip of a rip current:
Yell for help immediately.
Don't swim against a rip current – it will just tire you out.
Escape the rip current by swimming parallel to the beach until you are free.
If you are unable to swim out of the rip current, float or calmly tread water.
When out of the current, swim toward the shore at an angle away from the rip current.
Last updated: May 22, 2018