News Release
Park Day/Earth Day Volunteer Service at Guilford Courthouse National Military Park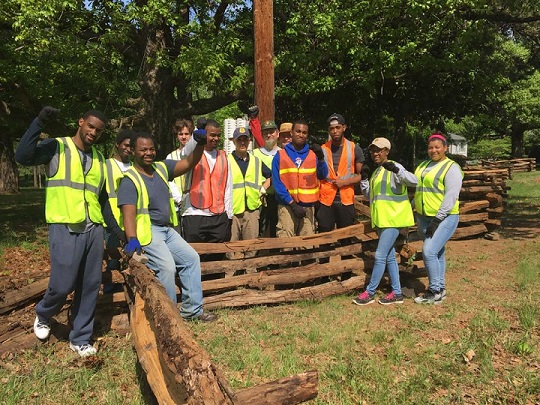 News Release Date:
April 28, 2017
Contact: Stephen Ware, (336) 337-6310
On April 22nd, Guilford Courthouse National Military Park celebrated Earth Day for National Park Week and partnered with the Civil War Trust for Park Day. Rebecca Lowe, the Centennial Volunteer Ambassador (Student Conservation Association) recruited volunteers from three universities/colleges and high school students to remove invasive plants and construct a period correct split-rail fence. Forty-two volunteers from North Carolina A&T State University, the University of North Carolina Greensboro, Guilford College, Grimsley Senior High School's Sierra Club, and local community families.

Volunteers from NC A&T joined the Vance Noles, Chief of Visitor Services, and Doyle Sapp, Superintendent, in building a historically accurate split rail fence to mark the boundaries of the park along a main road. Volunteers from UNCG, Guilford College, Grimsley, and families joined the Centennial Volunteer Ambassador, the SCA Interpretation Intern, and Maintenance staff in removing English Ivy, periwinkle, Japanese honeysuckle, briars, and trash from former housing areas that will be restored as directed by the Cultural Landscape Report.
As an icebreaker, we had volunteers identify their goals for the day to get them pumped for service. A few volunteers stated they wanted to "Learn how to build a split rail fence" and "Wanted to work out and gain service hours." As we prepped the volunteers with safety information, several stated, "I don't want to see Mike today (our EMT VIP)" and "I don't want to be bitten by snakes." Park staff created a safe environment where volunteers were clear of injury, snakebites, and tick bites. At the end of the workday, we gathered volunteers to reflect upon their service, and many were pleased with their successes in building a new fence and removing major amounts of weeds! Barriers were broken for many volunteers some stating "I have never worked outside for so long!" GUCO made new connections, and cannot wait to keep getting our Next Generation VIPs involved in service.
Last updated: December 24, 2017