Frequently Asked Questions
Where is the Courthouse?
The courthouse would have been located in the vicinity of Tour Stop 6, but its actual location is an archaeological mystery! The original courthouse was poorly built and fell into disrepair in the 19th century.

Does the park have a list of the soldiers who fought in the battle?
The park does have a card file and records of over 90% of the estimated 4500 American soldiers who fought in the battle of Guilford Courthouse. Each card in the file will list name and basic service information along with one or more sources for the information given. The park library and/or historical files will usually house these sources. The file is, of course, not complete, so you are invited to supply information to this on-going project.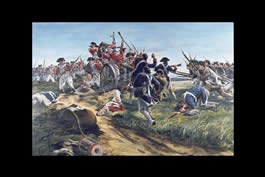 What were the casualties in the battle?
The casualties were 28% for the British and 6-7% for the Americans.
American (4500) British (1900)
Killed........185 Killed........93
Wounded...185 Wounded..413
Total.........264 Total........506
Note: The American army reported 1,046 missing, an encompassing figure. Some of these who had not fled the field may have been killed or wounded. The British reported 26 of their army missing.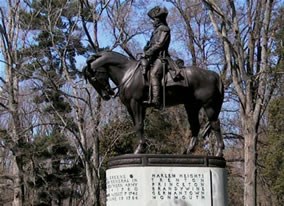 Where is the Nathanael Greene Monument?
The Greene Monument is located near Tour Stop 8 on the tour road. You can also walk to the monument from the visitor center. Approximate distance from visitor center to monument is 500 yards. You may also drive your automobile to Tour Stop 8 via the Battlefield Tour Road.
The monument was erected in 1915. The sculptor was Francis H. Packer of New York. The monument has been a popular symbol of the city since Greensboro is named after Nathanael Greene.
Information about all park monuments is in the bookstore publication The Monuments at Guilford Courthouse National Military Park by Thomas E. Baker. Additional or specialized information is available in the park's library.


Last updated: January 9, 2018