News Release
GUCO NPS Chainsaw Safety Program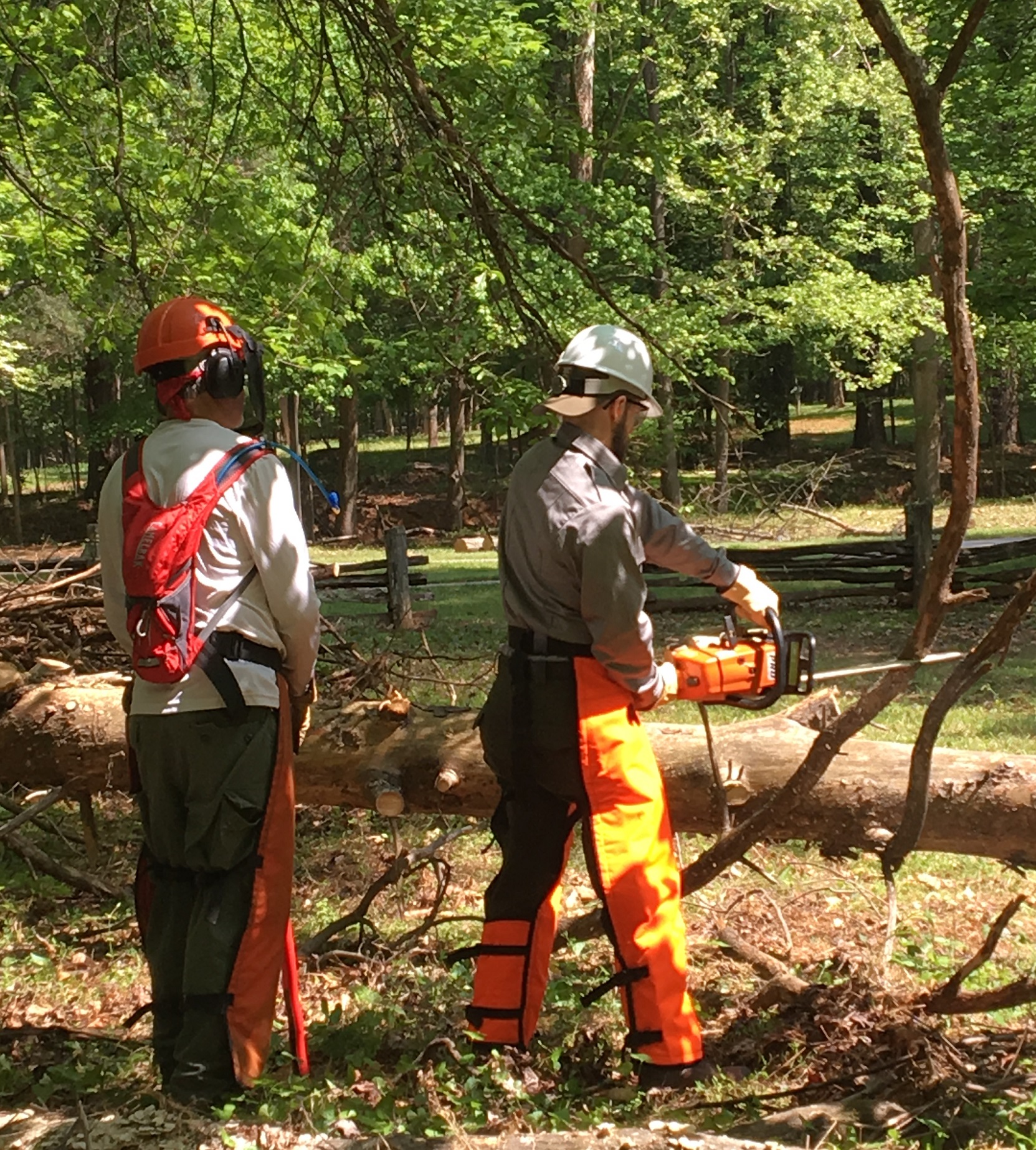 News Release Date:
April 28, 2017
Contact: Vance Noles, (336)288-1776
Guilford Courthouse National Military Park is the first Southeast Region Park to fully comply with guidelines set forth in the new NPS Chainsaw Safety Program for Non-Wildland Fire Operators. Toby Obenauer, SEEPMT Leader, trained and certified the Chief of Visitor Services, the Chief of Maintenance and the division, a ranger, and the Centennial Volunteer Ambassador. This certification helps Maintenance fast track their seasonal work to remove fallen trees in the forest and trails of the park. Obenauer demonstrated felling trees, and used downed trees for bucking, limbing, and boring.
NPS Sawyers certified under the new program follow the jurisdiction of OSHA, the American National Standards Institute Z133 Requirements for Arboricultural Operations, and RM50B Section 11, "NPS Chainsaw Safety Program for Non-Wildland Fire Operators." Though the majority of the staff operated chainsaws before, Obenauer created a safe and educational environment to prepare the GUCO staff for any hazardous situation. The team developed and practiced strong communication techniques, learned how to identify and mitigate hazards, and prepared site hazard analysis.
The park maintenance staff implements their chainsaw certification in the summer time to remove deadfall trees in the park. The park has 250 acres of woodlands, similar to the 1781 battlefield. Receiving this certification allows the park to effectively control deadfall, but this is an ongoing process. Rangers also use their chainsaw certification in the wintertime when ice and snow storms cause trees and limbs to break and fall.
Last updated: December 24, 2017