Green the Eclipse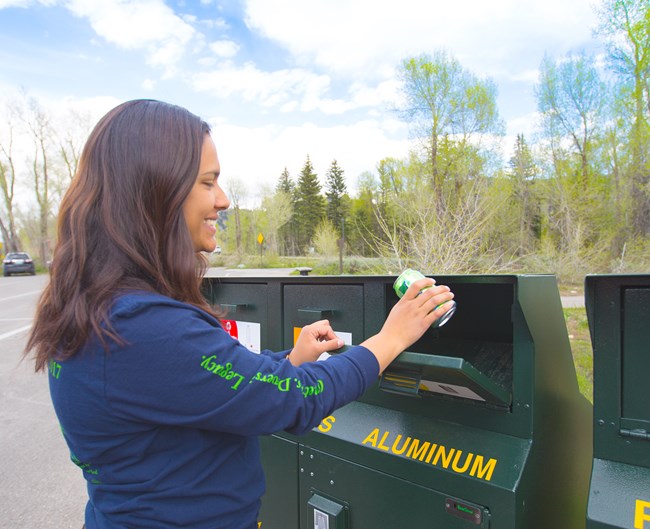 Look for the pink and blue, Don't Feed The Landfills bikes on Gros Ventre Road and at park viewing areas on August 21. Grand Teton National Park ambassadors, rangers, and volunteers will be on these bikes handing out recycle and trash bags.
To Green Your Visit consider the following:
Recycle. Bear-resistant trash and recycle containers are available throughout the park. Plastic bottles, glass, and aluminum recycling are found in most visitor use areas. On eclipse day pack out your recyclables and trash. Additional items can be recycled, including propane canisters and bear spray. You can help Grand Teton reach its goal to be the first zero-landfill national park.
BYOB, Bring Your Own Bottle. Nothing tastes better than fresh Grand Teton water. Use one of our many refilling stations to refill your reusable water bottle, note refill stations will not be available along the Gros Ventre Road. On eclipse day bring 2 quarts of water per person at minimum. For coffee or other beverages bring an insulated mug. Reusable bottles and mugs are also available for purchase throughout the park.
Keep the Air Clean. Don't idle your car. Idling more than 10 seconds uses more fuel than restarting your car.
Ditch the Plastic Bag. Bring your own reusable bag or tote for your supplies and souvenir items to help eliminate plastic bag waste.
Be responsible when you're out and about. While you are having fun in the park, please respect this special place. Do not approach wildlife and stay 100 yards from bears and wolves and 25 yards from other wildlife. And, please do not feed the wildlife, or pick the flowers and plants.
Leave the car behind. Avoid the gridlock—bike or hike. The park has 16 miles of multi-use pathways to get around the park plus connections to Jackson. So bring (or rent) your bike, to slow down and enjoy the view.
The National Park Service, Subaru of America Inc., National Parks Conservation Association, and park concessioners have partnered together to reduce the amount of visitor-generated waste that national parks send to the landfills. Together, we are working to raise public awareness about the trash problem at our parks and to better educate visitors on how to lessen their environmental footprint when visiting our parks
Last updated: August 9, 2017