Elk Management Reduction Program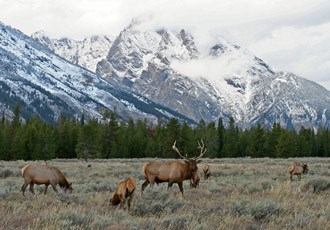 Elk Management Reduction Program
The elk (Cervus elaphus) that summer within Grand Teton National Park migrate between the park and the National Elk Refuge located southeast of the park. These elk are managed as a part of the Jackson elk herd, the largest elk herd in North America. In 1950 when Congress expanded the boundaries of Grand Teton National Park, they included a provision to manage the elk population through an annual elk reduction program.
Elk management is complex. The 2007 Bison and Elk Management Plan calls for 5,000 elk to winter on the National Elk and a summer herd segment in Grand Teton National Park of 1,600. The Wyoming Game & Fish Department has set a target objective of 11,000 elk for the Jackson herd that includes the park herd segment.
Hunters with a valid Wyoming elk hunting license and a park permit harvest elk during the annual elk reduction program. Hunters interested in participating in the program should contact Wyoming Game & Fish Department. Hunting occurs in the park from early-October through early December. The dates vary slightly from year to year and from area to area. Please see the elk brochure for more information about elk ecology and a map of the hunt areas. Please read the 2016 elk reduction press release for more information.
If you are recreating in the park during the reduction period in areas open to hunting, the park recommends that you wear orange or other bright colors to alert hunters of your presence. Please read the Elk Reduction in Progress flyer for more information.
Last updated: August 14, 2017