Scenic Drives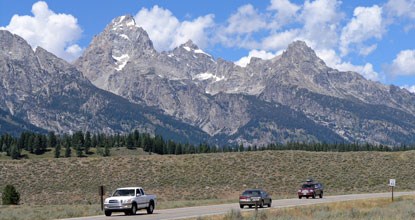 ---
Many turnouts along park roads offer exhibits on park geology, wildlife and plants. Turnouts also provide safe places to enjoy scenic views, view wildlife and take photographs. Do not stop in the middle of the road to view wildlife.
The Teton Park Road follows the base of the Teton Range from Moose to Jackson Lake Junction.
The Jenny Lake Scenic Drive skirts the east shore of Jenny Lake and provides spectacular views of the peaks. Access the scenic drive from North Jenny Lake Junction. Drive west toward the mountains, and turn left (south) onto the one-way scenic drive. The scenic road returns to the Teton Park Road just north of South Jenny Lake.
The Signal Mountain Summit Road climbs 800 feet (242 meters) to panoramic views of the Teton Range, Jackson Hole valley and Jackson Lake. Two overlooks provide valley views.
View maps of Grand Teton National Park>>
Drive Safely
Watch for large animals on the road. Drive slowly at night. The speed limit on US Highway 26/89/191 is 45 mph from 30 minutes after sunset to 30 minutes before sunrise. Elk, bison, and mule deer frequently migrate at night and may be difficult to see. Moose use roads as travel corridors. Hitting a large animal at highway speeds has resulted in fatal accidents. Careful driving protects you and the wildlife. Always wear your seatbelt. More>>


Last updated: December 8, 2016