How Do I Use a Bear Canister?
All food, trash, toiletries, and other odorous items must be stored inside an Interagency Grizzly Bear Committee (IGBC) approved bear canister. This includes but is not limited to all sealed or packaged food, sunscreen, soap, mosquito repellent, lip balm, deodorant, medications, and feminine products. As a general rule, if you put it in your mouth or on your skin, it should probably be stored in a bear canister.
Prepare food, eat, and store your bear-resistant food canister at least 100 yards downwind from your tent.
Store your canister on the ground hidden in brush or behind rocks.
Do not place canister near a cliff or water source. Bears may knock the canister around or roll it down a hill.
Watch for approaching bears. Be ready to quickly put your food away.
Keep your bear canister closed and locked, even when you are near your campsite. The bear canister only works when it is closed and locked!
Do not attach anything to the canister (ropes attached to the canister may allow a bear to carry it away).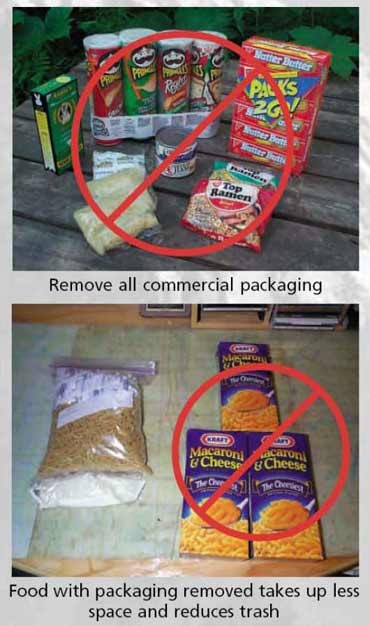 Techniques to reduce trash and overall weight on trip:
Buy in bulk.

Buy dehydrated and other low volume/high calorie foods - they take up less space.

Remove all commercial packaging.

Repack food.

Add spices to repacked meals ahead of time.

Label bags with contents and cooking instructions.

Less packaging means less weight and less trash to carry.

Consider pot size and fuel needs for cooking.

Keep notes about what works what does not.
Pack out what you pack in! Burning trash in the backcountry of GTNP is illegal.
Bears and Backcountry Information>>
---
Never approach a bear.
Never feed a bear.
Stay 100 yards (1 football field) from bears at all times.
Last updated: March 31, 2012