Grand Teton Hosts NPS Academy for Fifth Year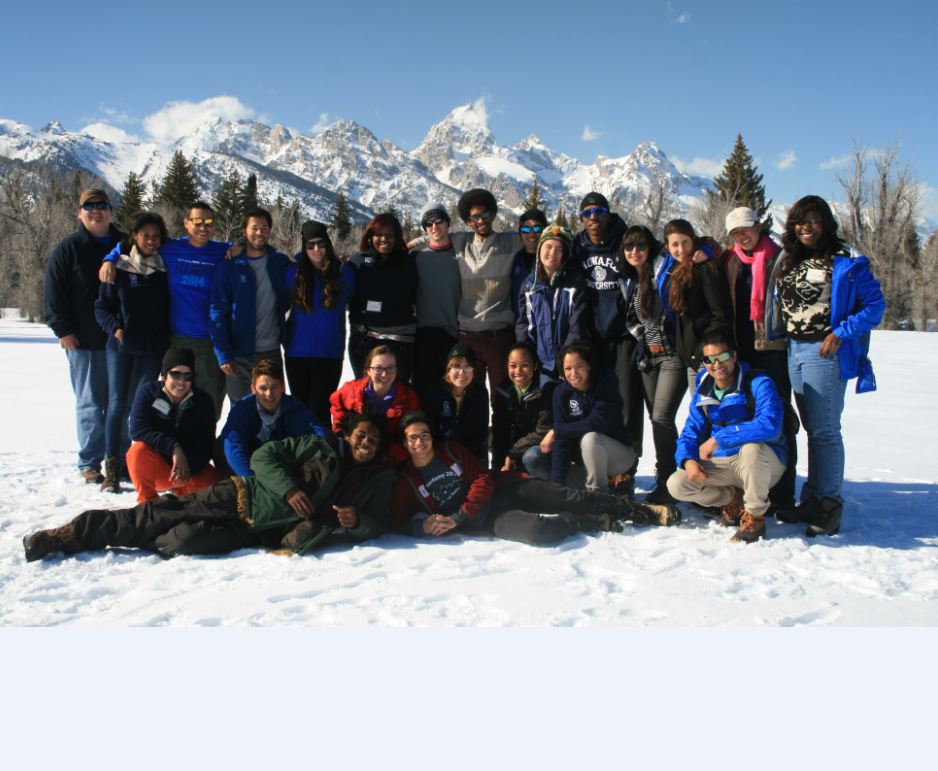 News Release Date:
March 5, 2015
Contact: Public Affairs Office, 307.739.3393
This happens to be a benchmark year for Grand Teton National Park's NPS Academy Internship Program. In 2011, Grand Teton developed the first-ever NPS Academy as a pilot program for college students from diverse backgrounds and successfully launched the initiative through collaboration with The Student Conservation Association (SCA) and Teton Science Schools (TSS). National Park Service (NPS) leadership in the Washington office took note of Grand Teton's new program and initiated a national level momentum that led to recent placements of NPS Academy interns at all seven Park Service regions. With supporting organizations, Grand Teton is poised to host its fifth Academy during a spring break session scheduled for March 8-14, 2015.
Twenty students from universities across America will attend Grand Teton's 2015 NPS Academy to learn about career opportunities with the NPS via workshops, field trips, and recreational activities. Critical funding for this innovative program comes from the Grand Teton National Park Foundation and the Grand Teton Association, two dedicated and long-standing park partners.
After successful completion of the March program, NPS Academy students are placed into summer internships at a number of national parks across the United States: parks that range from Acadia in Maine to Wrangell-St. Elias in Alaska, from Great Smoky Mountains in Tennessee to both Yellowstone and Grand Teton in Wyoming.
Prominent NPS professionals will address this year's participants, serve as mentors to the students, and help inspire these young adults toward careers with federal agencies. Key NPS leaders for the 2015 session include: Robert G. "Bob" Stanton, former NPS Director (1997-2001) and retired Senior Advisor to the Secretary of the Interior and Dennis Vasquez, Superintendent of Petroglyph National Monument. These NPS leaders will serve as keynote speaker and program facilitator, respectively.
"Through this and other programs, we are working towards building a more diverse and inclusive workforce," said Grand Teton National Park Superintendent David Vela. "It's worth noting that since its inception at Grand Teton in 2011, the NPS Academy program has been replicated across the Park Service. We look forward to enhancing this successful program with the assistance of SCA and other key partners. We are also proud to include two NPS Academy alumni, Alfredo Saenz and Millie Jimenez, as part of our permanent workforce family at Grand Teton."
The NPS Academy was inspired by a Department of the Interior proposal aimed at engaging America's youth in the great outdoors and introducing them to careers as professionals in resource conservation.
As part of a broader NPS initiative titled, A Call to Action, the program addresses concerns that few youth are engaging in the outdoors and few Americans from diverse backgrounds are visiting national park areas, despite growing minority populations. The 'Call to Action' is a plan designed to prepare the Park Service and its employees for a second century of conservation and service. This 21st century initiative creates a vision, charts a path to stewardship and public engagement, and advances the NPS mission through four themes: Connecting People to Parks;Advancing the Education Mission;Preserving America's Special Places;and Enhancing Professional and Organizational Excellence. These themes are supported by specific goals.
______________________________________________________
The Student Conservation Association (SCA) is the only national organization that develops tomorrow'sconservation leaders by providing high school and college-age students with conservation service opportunities in all 50 states, from urban communities to national parks and national forests. Since 1957, SCA's hands-on practice of conservation service has helped to develop new generations of conservation leaders, inspire lifelong stewardship, and help to save the planet. For more information, visit www.thesca.org.
Teton Science Schools (TSS) is a private, non-profit educational organization, operating year-round in Jackson Hole, Wyoming in partnership with Grand Teton National Park. Since 1967, TSS has provided education about the natural world and the Greater Yellowstone Ecosystem. The organization educates and inspires hundreds of youth and adults each year through the study of nature and place-based experiences. TSS' innovative programs serve students from across Wyoming, the Intermountain West, the nation and the world. For more information, visit www.tetonscience.org.
Grand Teton National Park Foundation (GTNPF) provides financial support to programs and projects that help preserve and protect Grand Teton National Park and its resources. Established in 1997, the GTNPF was created in the spirit of philanthropy exemplified by the generosity, stewardship and dedication of John D. Rockefeller, Jr. and others. The Foundation raised private funds for construction of the Craig Thomas Discovery and Visitor Center and fully funded an auditorium wing on the Discovery Center that opened in 2011. GTNPF also supports a variety of other important projects that contribute to protection of park resources, support scientific studies, promote stewardship, and fund youth-based initiatives such as the NPS Academy. For information, visitwww.gtnpf.org.
Grand Teton Association (GTA) is a nonprofit corporation established in 1937 to support Grand Teton National Park. The Association fosters understanding of the park's mission and increases visitor appreciation and enjoyment by publishing and distributing informational and historical reference materials, guidebooks, and a variety of other educational publications. GTA operates interpretive sales areas in all park visitor centers, the Menor's Ferry historic district, Jackson Hole Airport, Jackson Hole and Greater Yellowstone Visitor Center, National Elk Refuge and nineteen district ranger stations on two national forests. All profits earned support educational, interpretive, and scientific programs in Grand Teton and across the Greater Yellowstone Area. For more information, visit www.grandtetonpark.org.
Last updated: March 5, 2015