Hydrologic Activity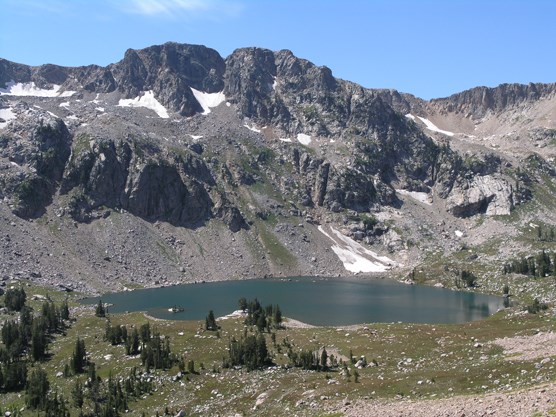 ---
A watershed is an area where all precipitation flows from a drainage divide into a particular river, lake or ocean. In North America, the continental divide separates flow into the Atlantic Ocean from flow into the Pacific Ocean generally following the high peaks of the Rocky Mountains. Grand Teton National Park lies west of the continental divide, but the divide cuts through Yellowstone National Park.
The Teton Range drainage separates flow into Jackson Hole from flow into eastern Idaho. The rate of uplift of the Teton Range is so rapid that the high mountain peaks are not the dividing line. The divide is more than two kilometers west of the high peaks because uplift is greater than erosion. On a map, the park's west boundary is the drainage divide. Precipitation east of the divide flows into the Snake River in Wyoming that then flows into eastern Idaho merging with the west flow.
Two Ocean Lake, in the northeastern portion of the park near Moran, was named for Two Ocean Pass many miles to the northeast in Yellowstone National Park where Atlantic Creek flows east and Pacific Creek flows west. Two Ocean Lake only flows into Pacific Creek so the name is a misnomer.


Last updated: April 16, 2020