Lakes and Ponds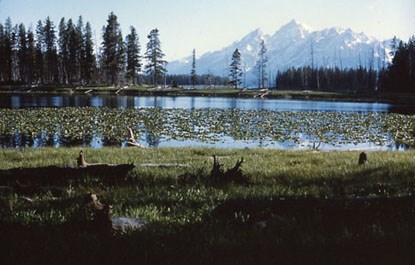 ---
Glaciers carved most of the lakes in the park thousands of years ago. As the glaciers moved they gouged out the valley floor. When the glaciers melted they left behind a depression in the ground that filled with water from melting glacial ice. These depressions became the lakes that we see today. Jackson Lake, the park's largest lake, is a natural lake raised by a 39-foot tall man-made dam.

Many different processes form ponds. Ponds may form due to glaciers gougin out a shallow depression, meltwater piling up sediment around a block of ice that later melts forming a depression, part of a river becoming blocked, beavers building a dam, natural sinkholes in the ground, or even human activity. The plant and animal life in a pond area is very diverse and productive.
Ponds and lakes provide a variety of habitat in and around them. From cutthroat trout to crawfish, from great blue herons to moose, almost all wildlife in the park derive some benefit from lakes and ponds. Ponds and lakes also provide recreational opportunities for visitors. Some of the easiest and most popular hikes are around small lakes and ponds. All of the lakes are open to swimming and non-motorized boating. Jackson Lake also allows motorized boats for recreational use.

Last updated: December 8, 2016