Gray Wolf Monitoring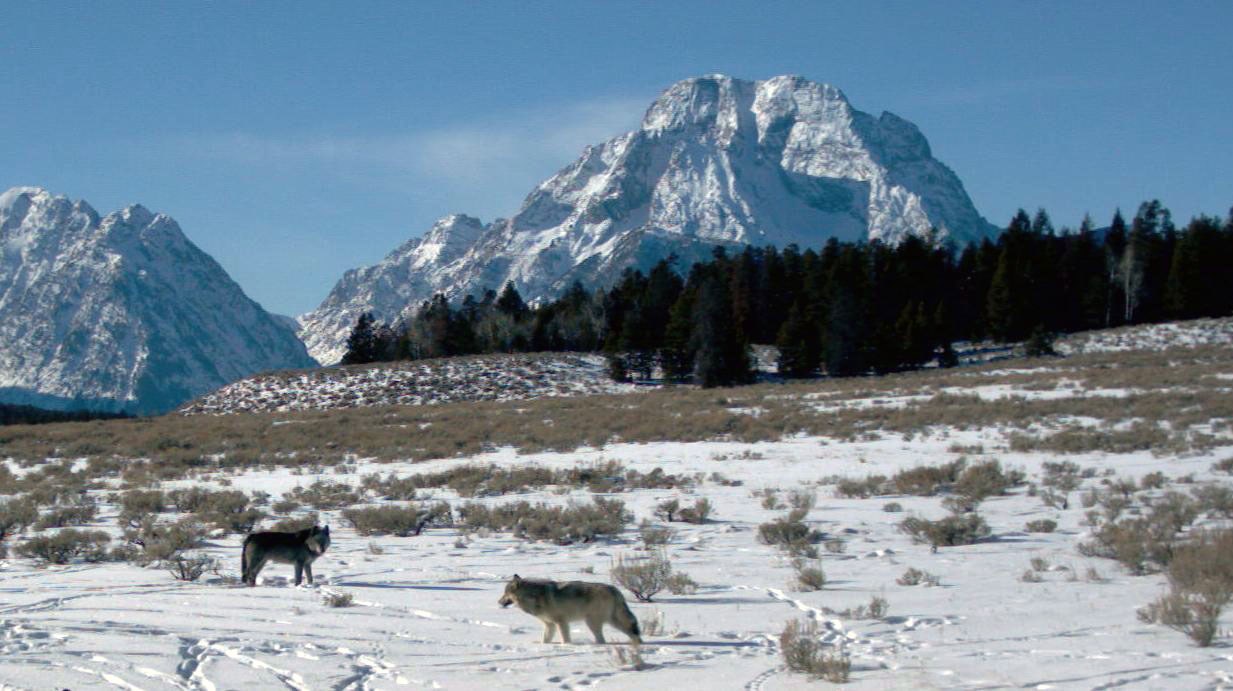 After the US Fish and Wildlife Service and National Park Service reintroduced gray wolves (Canis lupus) into Yellowstone National Park in 1995–96, wolves dispersed to Grand Teton National Park and surrounding areas. In 1999, a wolf pack denned in Grand Teton and produced a litter of pups—the first in the park in over 70 years. Since then, wolves continue to live and reproduce in the Jackson Hole area, including Grand Teton and the John D. Rockefeller, Jr. Memorial Parkway. The reintroduction of wolves restored a predator-prey relationship absent since humans eradicated wolves from the ecosystem in the early 20th century.

At the end of 2021, a minimum of 43 wolves in 6 packs resided in the Jackson Hole area with home ranges in Grand Teton National Park. Jedediah (2 wolves), Horsetail Creek (10), Long Hollow (2), Lower Gros Ventre (13), Pacific Creek (12), and Wildcat Ridge (4) packs all had home ranges that included the park. Lower Gros Ventre (6 pups) and Wildcat Ridge (3 pups) denned in the park, and managers implemented closures around their den and rendezvous sites to minimize human disturbance to wolves raising young. Horsetail Creek (5 pups) and Pacific Creek (5 pups) denned outside the park.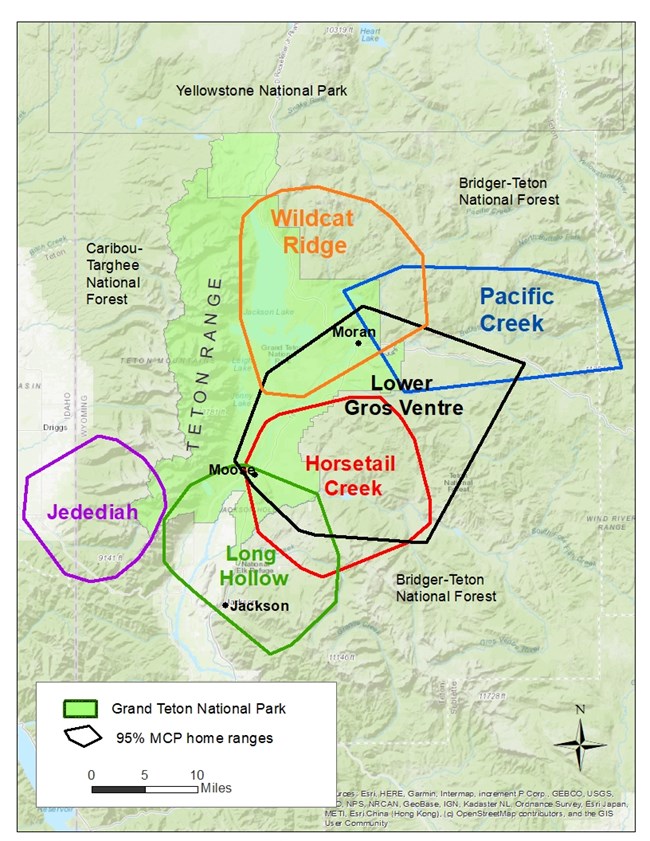 There were three known wolf mortalities in the park in 2021. From the Wildcat Ridge pack, a pup was struck by a vehicle and an adult female was likely killed by other wolves; and one adult male from the Lower Gros Ventre pack died of natural causes. Two adult males from the Long Hollow pack and three Huckleberry wolves dispersed out of the area. Ten wolves were captured in 2021 and fitted with seven GPS and three VHF collars.
The return of wolves to Grand Teton and the surrounding area presents researchers with an opportunity to study the complex relationships of an ecosystem with an intact suite of carnivores and ungulates. Wolves and other predators affect prey populations and behaviors. In a five-year study, biologists found that in the winter when elk densities were relatively low, wolves preyed primarily on elk (71%) and moose (26%) and fed on deer and bison infrequently (3%). In the summer, when elk densities in the park were high, wolves preyed almost exclusively on elk and their calves, representing more than half of the kills in June and July.
Wolves also prey on other species, including livestock which bring wolves into conflict with humans outside the parks. A long history of controversy surrounds wolf management and the effects of wolves on ungulates and livestock. Wolves in Wyoming were removed from the federal list of threatened and endangered species in September 2012. In 2013, the State of Wyoming implemented a wolf hunt in the trophy management area of northwest Wyoming outside national parks, parkway, refuge, and the Wind River Indian Reservation. On September 26, 2014, a court ruling suspended the hunt and again granted Wyoming wolves federal protection. However, on March 3, 2017, the US Court of Appeals for Washington DC ruled to reverse the 2014 decision and once again remove Wyoming wolves from the endangered species list, which became official April 25, 2017.
Last updated: May 9, 2022