Flood Plains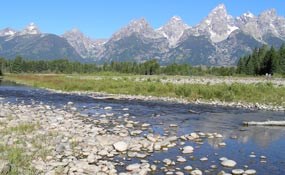 ---
River levels fluctuate throughout the year. The flood plain is the area around a river that experiences flooding while water levels are high. In the park you can see the Snake River meander through its flood plain, creating a braided effect.
Wetlands and marshes are found in the flood plain and provide vital plant and animal habitat. A great place to view wildlife in the flood plain is Schwabacher Landing, where you can observe an active beaver colony.
Flooding brings nutrients to the flood plain because rivers carry rich sediments and material that serves as fertilizer. Efforts to control natural flooding in one area often leads to worse flooding in other areas. Wild rivers without levees or dams are becoming increasingly hard to find.

Last updated: December 8, 2016