Management
Grand Teton National Park was established in 1929; Jackson Hole National Monument was created in 1943. The two units were combined to become present-day Grand Teton National Park in 1950. John D. Rockefeller, Jr. Memorial Parkway was established in 1972 to commemorate the philanthropic activities of John D. Rockefeller, Jr. and his generous donations of lands to the National Park System. The parkway is managed as a recreation area under the administration of Grand Teton National Park.

Grand Teton National Park is in many ways emblematic of the entire National Park System. Located in the heart of the Greater Yellowstone Ecosystem, near the community of Jackson, Wyoming, this park is an icon for a myriad of nationally significant conservation issues including grazing, brucellosis, winter use, open space, fire management, wolf reintroduction, and water and air quality monitoring.

Grand Teton National Park is much more than a stunning mountain landscape. The park has enormously challenging issues, some of which have never been addressed. Park staff face these complex challenges at a time of limited federal budgets. In order to carry out the core mission of resource protection and visitor service, the park relies on a wide range of assistance from partner organizations, stakeholder groups, park volunteers, and a very active and involved citizenry.
You can learn more about park projects by visiting our park planning page. This page provides links to planning documents for projects in in Grand Teton National Park, including Environmental Impact Statements (EISs), Environmental Assessments (EAs), management plans, and decision documents, such as Findings of No Significant Impact (FONSIs) and Records of Decision (RODs).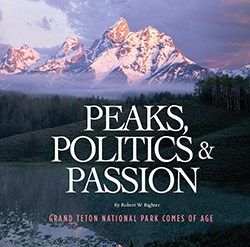 Peaks, Politics, and Passion: Grand Teton National Park Comes of Age is a fitting sequel to Robert Righter's Crucible for Conservation: The Struggle for Grand Teton National Park.
Peaks, Politics and Passion continues the park story from its expansion in 1950 by the addition of the Jackson Hole National Monument, and discusses what are often controversial topics then and now. Topics such as grazing and elk hunting within the park, cultural resource management, the failure to establish any designated wilderness in the park, wildlife management, interpretation and education history, the growth of the Jackson Hole airport and other management issues that the park still struggles with .


Last updated: March 18, 2015