Ramshorn Lodge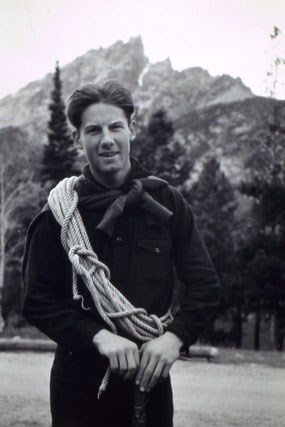 In 1998, the Ramshorn Lodge was added to the National Register of Historic Places.
Legendary mountaineer and founder of the National Outdoor Leadership School (NOLS), Paul Petzoldt purchased a cattle and guest ranch in 1935 with Gustav Koven. They expanded the ranch to include a dude ranch, hunting camp and climbing headquarters. Petzoldt helped build three cabins while gathering logs and excavating a cellar for the Ramshorn Lodge.
Petzoldt withdrew from the partnership after two years, but the Ramshorn continued for years as one of the valley's most exclusive dude ranches. Grand Teton National Park purchased the ranch in 1956, and then leased the ranch to Katie Starratt, who relocated the Elbo Ranch operations. After she died in 1974, the park leased the property to the cooperative and independent Teton Science Schools still in use today.
How to get there: Drive north from Jackson on highway 191 past Moose Junction and turn right onto Antelope Flats Road. Drive three miles and turn right on the Kelly Road, in another one and a half miles turn left following signs to the Teton Science Schools Kelly campus. The Ramshorn Lodge is a central structure that houses the campus' cafeteria.
Last updated: February 24, 2015