Snake River Land Office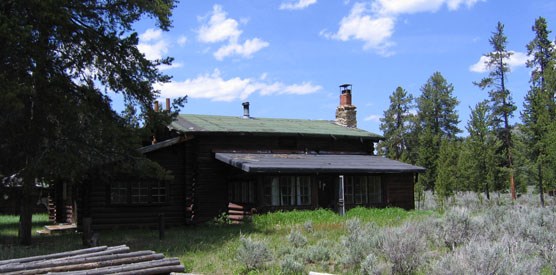 In 2006, the Snake River Land Company Office was added to the National Register of Historic Places.
Around 1926, retired eastern politician John Hogan bought a homestead to establish a fox farm and guest ranch. He built a lodge along with guest cabins, an icehouse, barn, and blacksmith shop. The lodge's distinctive stone chimney contains pieces of petrified wood along with river cobbles and angular rock. When silver fox fur coats became fashionable in the 1920s, many dude ranchers operated fox farms for extra income. Putrid odors reportedly emanated from carcasses fed to foxes at Hogan's Ranch.
In 1930, John D. Rockefeller, Jr.'s Snake River Land Company purchased the ranch. The company, that purchased valley lands for the expansion of Grand Teton National Park, used the lodge as a residence and headquarters until 1942. The Rockefellers later used this site to oversee the Jackson Hole Wildlife Park where buffalo were reintroduced in the 1940s. The Snake River Land Co. office debuted on the silver screen in 1963 as the set for Henry Fonda's home in the movie, Spencer's Mountain.
The park has started renovation efforts on this building.
How to get there: This building is located in an employee area and not designated as a visitor area. Please use caution when visiting this area. At Moran Junction drive about a quarter mile toward the Moran Entrance Gate and turn left on the unmarked access road. The large building on your right is the Snake River Land Company Office.
Last updated: February 24, 2015